Some discussion about the Oval badges used by Wheatstone has been made in an item in the Buy & Sell forum. To avoid detracting from the main purpose of the OP, I have added below an image of such a label which, although worn, still shows the actual wording that was used.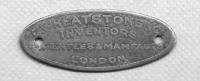 C Wheatstone & Co
Inventors
Patentees & Manufacts
London
Blank ovals (brass or nickel silver) were impressed from the front such that the wording and edge (rim) were left slightly raised. The background was sometimes 'blacked'.
Geoffrey