Hello  everybody,
first I want to thank all the concertina players who posted on this forum and elsewhere, also Robert Gaskins for concertina.com which is such a helpful source of knowledge. Without you all, my fascinating and addictive journey witht he concertina wouldn´t have been possible. After getting so much from you, I feel that it´s time to give something back. 
This thread is inspired by Geoff Wooff who shared so much of his valuable knowledge and had the idea of swapping playing tips.
Maybe I should introduce myself: Since April 2009 I play the Maccann, currently a 46key Wheatstone made in 1925 (by the way – I´m still looking for a good 57key – anyone has one?). I´m a part-time professional musician, my main instrument is (or was?) electric bass. I also play saxophone, guitar and a little bit of everything. Also, I did a lot of recording work and mixing. 
I try to play contemporary music with the concertina, in the direction of Pop Rock and Blues, mainly to accompany my singing, therefore my approach might be different to yours. I will give  some playing-tips about what was helpful to me, but be aware that I´m a mere beginner and if you more experienced players disagree with me, please post your comments. 
Here are some random tips:
Chordplaying:
When I started, I first wanted to be able to play chords. For the Maccann, these chordcharts where helpful:
http://www.concertin...oncertina-3.pdf
The fingering is good because it leaves free fingers for extra notes, mainly the7ths of the chords. I disagree though with the fingering of the A-chord (or similar), because there, one finger is used for two keys. I still find it difficult to control the sound or play um-pah chords like that. Also I find it strenuous for the hands. Even though it´s kind of difficult, I finger (A-chord,left hand): A-ring finger, C#-index, E-middle finger. 
Scale playing:
Even though I´m no fan of too much scale playing, this little exercise was helpful (scale of C): CDEC-DEFD-EFGE … and so on. Then the same downwards, then the otherside, then both sides simultaneously, legato, staccato ……
Instead of practicing the scale of C, I often play this tune (Tune2, Family Jig) or my version of it:
http://www.concertin...mples/index.htm
  . It is also very helpful for practicing fingering of consecutive notes on the same button, I mean not using the same finger twice on one note. I´m sure you have your own favorite tunes.
Finger bodybuilding:
Sometimes,I still find it hard to get an even and smooth sound. The concertina feels wobbly and I hit wrong notes. That´s mainly because the fingers don´t exactly know where to move and some are too weak (or I had a beer too much). Two exercises helped me lately:
Practicing without a sound:
When I cannot play loud or sometimes when I watch TV, I have a little exercise. I play a tune or a scale, only by placing my fingers, not even pushing the keys down. I place the fingers slightly above the key and pull the key towards me (not too hard though), that gives me a feeling of control. It helps me for my "micro-fingering".
Strength:
 Another exercise is, to play, by pushing down the keys real hard and holding them down. You should do that very slow though because it can harm your hands. 
I like to play standing, mainly because I want to be able to move on stage but also because I have the feeling that I get a "livelier" sound. The above exercise helps me here: try to play standing, while holding down one key on each side. If you hold down the keys firmly, you can also hold part of the weight of the concertina with the keys. To avoid an ambulance you probably should not try this with an 81 key. 
For playing standing up, I use my handstraps like this: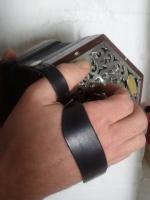 My thumb goes
under
the strap. It´s a little strange first and the airbutton can only be reached with the index finger, but I got used to it. Like this, the thumb helps for stability and to carry the weight.
Reuben Shaw video:
For the Maccann players (and of course everybody else) there is a video of Reuben Shaw available here:
http://www.garlandfi...reubenshaw.html
.  It costs 11,50 pounds and is absolutely worth it. 
Mr. Shaw talks about his beginnings of concertina playing and how he thought it was "impossible to master" this instrument (he even sent his first Maccann back to Wheatstone). He demonstrates his concertinas and some recordings. Then he plays tunes, mostly from Henry Stanley. The music sheets he is playing from are available here:
http://www.concertin...anley/index.htm
(also Stanleys tutor). So you can watch and hear Mr. Shaw playing, while reading the very music he is reading. Thank you Mr. Gaskins, sometimes the internet is great. 
Maybe you have some playing tips too?