I started to discuss this particular instrument by posting on the topic 'New Reeds or Re-Tune'. But since re re-tuning of an English is really a different topic to re tuning for a key change, I thought I'd better start a new topic.
I thought this old concertina (S/N 32159) was in Old Philharmonic pitch (A=452), however I measured it last night and it seems that whilst a few of the sharps/flats do seem to be at this pitch, most of the most of the notes seem to be well flat by 20 to 40 cents... Is this to be expected on an old instrument which has not been never been re tuned?
I tried different pitches on the tuner and discovered that a note which is 30 cents flat at A=452, is only 10 cents sharp at A=440.  In other words the concertina seems to be actually closer to modern concert pitch, than it is to the old pitch standard...
I am still unsure as to how to re tune it, do I take it up to A=452, or down to A=440???
Please can anyone advise?
Tuning chart attached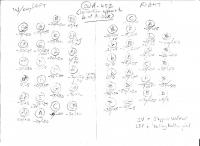 Edited by banjojohn, 14 November 2015 - 08:01 PM.