When you can't have your concertina in hand, have it on your back! Click here or here for cool official Concertina.net T-shirts, mouse pads and mugs.
BUY & SELL
• Buy & Sell home page

TUNE-O-TRON
• The Tune-O-Tron home page
• Search
• Tunes Message Board
• Add a tune to the database
• Your personal tunebook
• Register to create your own tunebook or add tunes to the database

DISCUSSION FORUMS
• General Discussion Forum: anything not related to Buy & Sell or Tunes

BUYER'S GUIDE
• Concertina Buyer's Guide: reviews, links, comments, photos, and more
• Buyer's Guide section on English Concertinas
• Concertina Weights
• Concertina Cases: New is Often Better, by Randy Merris
• Time for an English?, by Roger Digby
• Choosing a Chromatic Row Layout On Anglo, by Ken Coles
• If It's Not A C/G, What Is It? [Keys], by Ken Coles
• Wheatstone Anglos, numbers 50,000+, by Bob Gaskins
• Dating Your Concertina - A Summary Guide, by Wes Williams
• Dating Lachenal Anglo Concertinas: A More Accurate Method, by William Meredith
• A Thumbnail Classification of Concertinas, by Dan Richardson
• Another Opinion On Accordion-Reeded Concertinas, by Ken Coles
• Of Reeds, Shoes, and Acoustics, by Dana Johnson
• Concertina vs. Accordion Reeds, by Dana Johnson
• A "German Standard Concertina", by John Dallas
• Inside a Crabb, by Mark Stayton
• Concertina Guild, by Frank Edgley
• Some Commentary by Wes Williams
• Hayden Duet Resource List, by Ken Coles
• Psst, buddy -- wanna buy a concertina? Concertinas and internet auctions and sales.
• A Photo Gallery
• Mr. Coles goes to The Button Box: A shocking pictorial
• A Tale of Two Jeffries: How Paul went from one Lachenal to two Jeffries in under a month
• C&R Dipper "Cotswold" anglo concertina review
• Anatomy of an anglo concertina
• Info and photos of a 49-key Jeffries
• Mystery Lachenal
• Mystery Wheatstone

MUSIC
• Music Home Page: reviews, links, sound clips, and more
• "The Incredible Concertina" concert photos and report
• Scan Tester's "I never played to many posh dances"; review by Roger Digby
• Gearóid O hAllmhuráin Concert (1996): the page that launched this site
• Gift Shop: a portion of every sale goes to help support this web site -- thanks for your support!

LEARNING TO PLAY
• Learning to Play Home Page
• Advice for Newcomers to Intensive Music School, by Ken Coles
• Chord Relationships of the English Concertina, by William Meredith
• Color-Coded Button Layouts for C/G and G/D 30-Button Anglo Concertinas using the Wheatstone / Lachenal System, by Mark Stayton
• The Anglo Concertina: A Handbook of Tunes and Methods for Irish Traditional Music
• "The Concertina And How To Play It", book review by David Wallace
• Portsmouth, N.H. Maritime Festival report from 2003 by Ken Coles
• Scandinavian Squeeze-in 2000 report, by Samantha Boorer
• A report on the "Annual Gathering of the West Country Concertina Players" (Kilve Court, Somerset UK), by Alan Corkett
• Some Observations on Witney, by Jon McNamara
• Noel Hill Irish Concertina School 1998 Report
• Workshop by Bob Tedrow at Chicago, June 2000, by Ken Coles

AROUND THE WORLD
• Links
• Sponsors
• Pirates and Concertinas by Rhomylly B. Forbes
• Concertina Bands
• Concertina Museum
• Concertina with PA layout by Jeannie Grassi
• The Concertina in Children's Literature by Pam Berardino
• English Country Music, by Roger Digby
• H. Crabb and Son, concertina makers, by Roger Digby
• How I Acquired my Crabb, by Roger Digby
• Anglo Concertinas in South Africa
• A New Duet System from Jim Lucas
• A concertina story by Lloyd McDaniel.
• Photos by Peter Laban.
• More photos by Peter Laban.
• Death of the busker: saddest song in town by Raymond Travers.
• Confessions of a concertina player in Baghdad by Len Rheaume.

REPAIR & MAINTENANCE
• Repair Home Page
• Bellows Patching, by Bob DeVellis
• Correction of wrist position on Anglo concertina using foam pads, by Ken Coles
• Repairing wood handles whose holes are too worn to hold a wood screw., by Ken Coles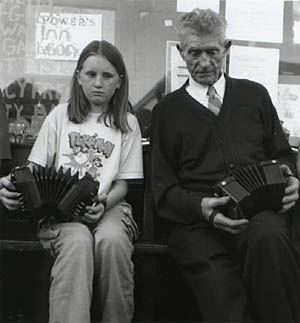 Photo © Peter Laban
NEWS & UPDATES
FORUMS FORUMS FORUMS
If you're new to Concertina.net, please note that all the action and up-to-date news, information, announcements, and classified advertising is now taking place in
the discussion forums
, so be sure to read, register and participate to get the most from our favourite instrument and music!
Public News & Announcements
This is a live feed from the Forums. You may post a news item here by registering in the Forums and posting a message in the Public News & Announcements section.
2013-5-22
Concertina Workshop At Sf Free Festival June 9
2013-5-14
Squeezers At Washington Folk Music Festival June 2
2013-5-8
Jody Kruskal Performs In Annapolis, Md, May 17-18
2013-4-29
Cascadia Irish Music Week - Concertina Classes In Washington State
2013-4-28
Folkworks Summer Schools 5-10 August 2013
2013-4-24
Frances Wilkins & Claire White (Blyde Lasses) Debut Album Release,
2013-4-20
San Diego Concertina Club
2013-3-21
Sf Bay Area Players Gathering Sat 3/30
2013-3-11
Oaim Concertina Retreat: August 14Th - 19Th, Liscannor, Co. Clare
2013-3-7
Melodeons And More. March 23Rd.
2013-3-6
Frittenden Old Fashioned Night Out, 6Th April
2013-2-26
Byfleet, Surrey (Uk) Tune Session - 2Nd Birthday
---