Following on from the thread
Alf Edwards Recordings Sold On Ebay
, I can now report that his concertina was also sold on eBay, only last week, and (seeing that nobody else seems to have recognised it) I was very happy to be the purchaser.
I last saw the instrument at a rehearsal of the Kensington Quartet in Alf's flat, and subsequetly at the ICA Festival (which they won in their class) in 1973, but it is illustrated both on the front cover of, and in detail inside,
Wheatstone's Instructions For the English Concertina
by Alfred Edwards [1960]:
Alf's playing of this instrument, at the International Concertina Association, on classical 78s and with folk dance bands in the 1950s, for the 1956 John Huston film adaptation of
Moby Dick
and especially the recordings he made accompanying the likes of Bert Lloyd (beginning with
The Iron Muse
in 1956), Ewan McColl and Peggy Seeger (including the Radio Ballads, 1958-64), Trevor Lucas (1966) and Frank Harte (1967) would have influenced many people (including myself) to take up the concertina in years gone by, even before we'd heard of Free Reed and "Concertina Consciousness" (sorry Neil!). The music of Alf Edwards was absolutely at the vanguard of "the concertina revival" and I would consider his famous gilt Ćola to be its most precious icon...
Accordingly, it was an awesome experience to take it out of its case, when it was delivered, and be the first person to play it since his death in 1985: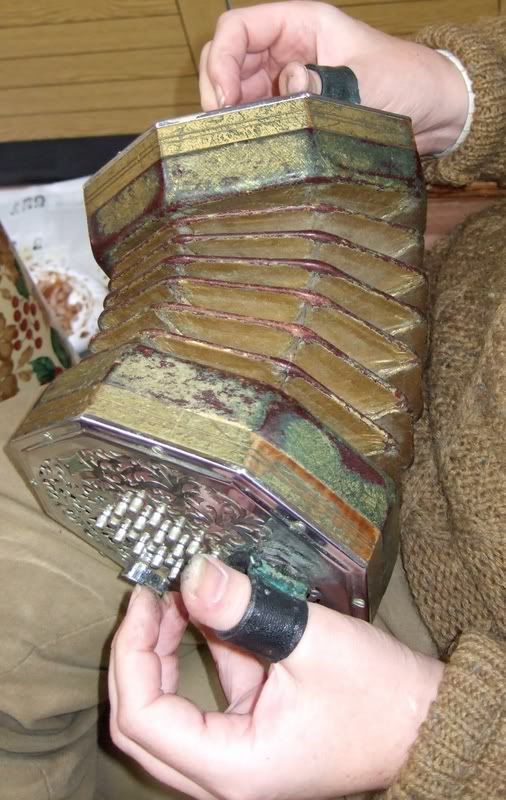 Edited by Stephen Chambers, 08 April 2008 - 02:49 PM.