"Irish Button Boxes - from Scotland" was the original full title of this topic, but the significant "from Scotland" subtitle seems to have somehow got lost along the way, perhaps in upgrades of the forum software? (Edited to add this comment, 25/2/2016.)
______________________________________________________
Trying to avoid the dreaded "thread creep", I have opened this new topic.

Well, there were certainly D melodeon players prior to the emergence of the half-step Paolos that (IIRC) established the modern style of Irish box playing in the 1950s.
I have made reference to some of those single-row melodeon players, and the instruments they preferred, in the Cajun Accordion Or Melodeon? thread, especially in this post, but 2-row semitone-tuned melodeons/button accordions with a D row do not seem to have been generally available before WWII (though I have evidence that 3-row ones in C/C#/D, described as "English scale", were available in the late '20s/early '30s).
Most were in the original C/C# "Anglo Chromatic Melodion" (sic) system tuning brought out by George Jones in 1883 (trade mark applied for 15th November 1883). He was perhaps inspired to do this by having been a performer on the French accordion in the 1840's (the latter being played from the outside-row-in. having the home-key on the outside row, and accidentals on the inside row). It fits in with what we know of his work on making the German concertina more chromatic - he claimed to have added the first semitones to the German system, making a 22-key instrument, for his own use in 1851 and his "chromatic Anglo-German" with 26 keys three years later, and in 1884 he patented his 42-key chromatic "Perfect Anglo-German Concertina".

The earliest player of the B/C system seems to have been Peter Wyper in Scotland, who played a 19-key "International" melodeon, and patented a 21-key version in 1915. His tutor book, Wyper's Melodeon Tutor for 19 keys (from which the photo of the two brothers is taken), shows fingerings for playing both from the "outside-in" and the "inside-out" on the C/C#, in the keys of C, D, F, G, A and Bb major, though commenting that if you play on the inside row "you are really playing on C#, and so on, always playing a half a tone higher than you are actually reading", which seems only a very short step from changing the inside row to C, and hence the outside one to B, to bring the "inside-out" method down to pitch.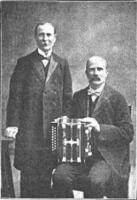 Peter and Daniel Wyper with 19-key "International" melodeon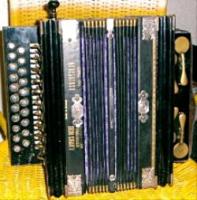 21-key P.Wyper's Patent "International" B/C melodeon
To be continued ...
Edited by Stephen Chambers, 22 December 2016 - 05:23 PM.