Concertina Music
By Paul Schwartz (and many others!)
---

More concertina CD reviews and information by Morgana Creely (external link).

---
Some are also available from Amazon.com. If you do and you follow this link and purchase something during the shopping session, a small portion of each sale will go towards supporting and expanding this web site. Your support is truly appreciated -- thanks!

---

Raven
John Williams & Dean Magraw. 2006.
Connie Dugan writes:
"There are some fine concertina tunes. Much of the album is new compositions. Some are very new, to my ear, and proove that Irish music is still alive and developing. Some others, while new, sound like they emerged from the rocks. Especially John's reels written for his babies (first track, I think.) I can't imagine them played on anything but the concertina."
See John's web site for more information, an interview, or click here to purchase.
---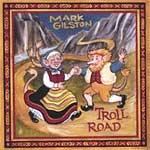 Troll Road
Mark Gilston: concertina, dulcimer, fiddle. 2005.
Review by Rhomylly Forbes, March 2006:
It's not often the first track of a CD leaps out and smacks you in the head with the pure subtlety of the musician's technique. However, that is exactly what happened to me when I recently played Mark Gilston's Troll Road for the first time. Troll Road features Swedish and Norwegian "spelsman" music played in traditional style with Gilston on English concertina and mountain dulcimer and guest musician, Tom Gibney, on fiddle. A few tracks feature Gilston alone on the dulcimer, and your ear would swear there has to be another instrument in there somewhere! The merriment in the dulcimer tracks set my toes tapping, and made me very sorry I didn't try harder to learn how to dance the hambo when I was a kid. But of primary interest to folk concertinists are the tracks where Gilston trots out his baritone Wheatstone (ca. 1910-1920) giving a haunting, dark-forest twist to the tunes, especially the aforementioned first track, Gänglät efter Olle Gustafson-Solne. The title track is also excellent. For a listener familiar with the mental images of cheerful pubs and ruddy faces gathered around cottage hearths that Irish and English music conjures up, Gilston's concertina-playing instead takes you to dark forests and lost, snow-drift nights. In some cases, his playing echoes organ music, although there is nothing particularly church-like about it. If you're looking to expand your concertina CD collection beyond the borders of England or Ireland, Troll Road would be an excellent place to start.
See Mark's web site for links to purchase and sample this and other CDs.
---
Anglophilia
Brian Peters, anglo concertina.
Pugwash PUGCD 006. 2005.
A cornucopia of music played on Anglo-concertina" is how multi-instrumentalist and singer Brian Peters describes his long-awaited CD focussing exclusively on the Anglo (39-button C/G Crabb). Instrumentals including English dance music, slow airs, ragtime, and Peters' original compositions, are interspersed with songs ranging from traditional to Beatles and Music Hall. Also two arrangements for multiple concertinas with Paul Walker (treble and baritone English).
Reviews/Notes:
"Richly varied selection of music and song.... a superb release" fRoots
"An important contribution to concertina conciousness" Stirrings
"Outstanding playing and content.... it is players like Brian who are pushing Anglo playing forward." Alan Day, Anglo International
Available direct from Brian; contact brian@brian-peters.co.uk for details.Also available from The Button Box.
Web site
Sample Track (Vive La Bagatelle)
---
Alf Edwards Recordings: Peter Perkins sent in this note: "Arthur Dulay worked as accompanist with Alf Edwards in a few early 1950's recordings.I know some of your forum members have found them, and commented on how excellent they were! [...] the recordings are available in real player format at present, but I hope to make mp3's and or wma files available soon. www.arthurdulay.co.uk. Alf's stuff is about half way down page. "
---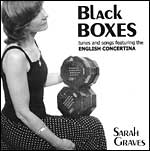 Black Boxes
Sarah Graves, english concertina; and guests.
MFCD4, 2001
"Tunes and songs featuring the English Concertina with a variety of other acoustic and electric instruments."
Some quotes include: "outstanding British concertina player.performs with skill, zest and finesse." SING OUT; "as a display of the English concertina's diversity it works and it's also highly entertaining and enjoyable too." IRISH MUSIC MAGAZINE; "Nic Jones' Ruins by the Shore.well sung by Mick Graves who also contributes some neat fiddle throughout. Good listening ensues." fROOTS; "lively arrangements that will bring a smile.including a smooth cover of the Traveling Wilburys' You took my breath away." DIRTY LINEN;
If you are interested in purchasing this CD, the easiest way to obtain a copy is from e-bay (immediate despatch from a highly reputable dealer). Cost £4.99 plus p&p.
Find under heading 'English Concertina', sellers name 'jonandjet'.
Sample MP3 sound file (track 1: Huckleberry Hornpipe / Little Billy Wilson).

---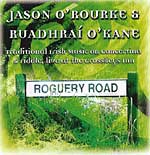 Roguery Road
Jason O'Rourke, anglo concertina; Ruadhrai O'Kane, fiddle.
Wren Records Ireland, released 2004
Available from the publisher.
Recorded live at the Crosskeys Inn, Feb. 2004. Jason plays a 30-key Jeffries anglo concertina, ca. 1920.
Sample MP3 sound file (track 6).

---
Come Under My Protection
The Angel Band: David Behm, guitar; Mary Paul, celtic harp; Bob Paul, hammered dulcimer; Cathryn Norris, violin; Emery Hutchins, anglo concertina, bodhran; Mark Rockwood, mandolin; Bob Frost, banjo
Angel Band ABCD3, released 2003
Available through Emery Hutchins
Comments sent a while back by Emery Hutchins
Here is another release from the Angel Band, which includes concertinist Emery Hutchins. The focus here is not on putting concertina up front, but on an ensemble combining a variety of sounds in Irish dance tunes, airs, O'Carolan compositions, and new compositions in a similar style. The concertina does set off the sound of plucked strings (harp, hammer dulcimer, banjo, guitar, mandolin) in an interesting way. One of my favorite tracks is a beautiful version of "The Green Fields of Rossbeigh" with Mary Paul on Harp and Emery on Concertina leading the way. Here is a photo of the group (rather than the album cover) from the New Hampshire Arts web site. -- Ken Coles

---
Free Inside!
Gysophilia: Scott Robinson, tenor English concertina, voice, percussion; Claudia Hall, violin, voice; Alfred Goodrich, cello, bass guitar, rhythm guitar, mandolin, percussion, voice
Wyndfall Records, released 2002, www.wyndfallrecords.com
This group, which includes tenor English concertinist Scott Robinson, has a strong focus on Balkan and Middle Eastern musical traditions, with some Jewish and British elements. This is not the first kind of music I'd think to use concertina for, but it certainly sounds fascinating. Scott Robinson's own composition, "My Heart Teaches Me," combines Sufi influenced music with words from Western Scriptures into a combination one could fairly say you've never heard before. Combining more than one tradition gives unexpected and fascinating results. Gypsophilia's ensemble playing is very tight, and the result is musical. As for having fancy equipment: it is interesting to note that the photo in the liner notes shows Scott playing an 8-sided Stagi English concertina! -- Ken Coles

---
Just a Little Jazz
John Nixon, treble, baritone, and contra bass English concertinas, guitarone acoustic bass guitar; Bill Taylor, piano, Benny Bower and Wally Mackenzie, drums; Harry Hussey, piano accordion; Ray Garrett, string bass
E.C.S. Records, ECS104, released 2003; originally recorded between 1965 and 1995

Available from: Roots2Music in Europe; Phone: (UK) 0191 423 6256 and The Button Box in North America.
Review by Wes Williams:
We are very lucky that amoungst our ICA members we have some real gems, and John Nixon is one of the foremost. Born in 1927, he started off with the Bolton Concertina Band aged only six, and is still playing strong. I will leave you to work out his age today!

Like every new generation, John had the music of his own generation, and that was jazz. Not the stuff for concertina, you might think. But how wrong you would be!

This is John's second CD. On the first -The English Connection (ECS103) - he ably demonstrated the versatility of the English Concertina with a mixture of classical, popular and jazz. The latest CD is John playing the jazz he loves, mostly in a 'small ensemble' format, and is a compilation of fourteen recordings made between 1965 and 1995.

I find it very difficult to review music, because there is no way you can possibly describe what you hear, but my reaction is that you need to hear this CD. No matter what style of music, or type of concertina you play, there is so much to be found in John's playing. Phrasing, chording, improvisation, syncopation, interaction between instruments - its an almost endless list - and so much fun to listen to.

When John phoned me to check that I'd got my copy, I told him my favourite track was "There's a small hotel" where he plays purely concertinas, but the more I listen to the CD the more unsure I become - I've just been listening to "The Song is You", where he uses a contra bass concertina, and now I think its that one. Well, perhaps. But I could change my mind yet again, as the more I listen, the more I find some new aspect of each track to enjoy. You'll have to excuse me, I'm just off to play it through again! -- Wes Williams
I find this album fascinating. It combines two of my own strong musical interests -- I have played jazz off and on (as a trumpeter) for 25 years, and here we have this music on concertina! John Nixon's roots in concertina playing go very deep, as he has been at it for over 60 years and comes from a concertina-playing family. How many others do we know who play a Wheatstone bought bought new by their father during the "Golden Age" of concertina making? I can vouch that to play jazz this well takes a strong knowledge of the songs, the ways to work through the chord structures and harmony, and where to find all this on one's instrument with consciously thinking about it. Some of the great jazz accordionists have done this, and John Nixon's work (check the opening track, "Slipped Disk") is at the same level of sophistication and expression. Some nice accordion work is provided by Harry Hussey, and there is able rhythm accompaniment. Here is an album you should check out if jazz on concertina is one of your interests or aspirations. -- Ken Coles

---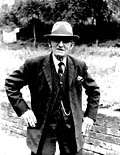 I Never Played To Many Posh Dances
Scan Tester: Sussex Musician 1887-1972
---

This Label is Not Removable: A Celebration of 25 Years of Free Reed
Free Reed FRTCD 25, 2002
Featuring a large of assortment of concertina players and other musicians.
Here is a three-CD set containing 61 tracks from the marvelous back catalog of the Free Reed label started by Neil Wayne in the 1970s.
Review by Ken Coles, December 2002
Available at the Free Reed web site

---
The Big Day In
Simon Thoumire, concertina; David Milligan, piano.
2001, Foot Stompin' Records, CDFSR1713.

Simon Thoumire (from Edinburgh, Scotland) is a very well-known English-system concertina player, and this CD is chock full of his precise and nimble playing. This guy can REALLY fly on the concertina and yet never gives the impression that he's rushing or doing anything other than exactly what he wants to. Definitely worth owning if you're a concertina fan. The whole CD is pleasant and easy to listen to -- I find myself going back to it over and over again and my whole family enjoys it (not something I can say for all concertina recordings!) Nice selection and variety of tunes, with excellent piano accompaniment.
• Available from the Footstompin' Records web site
• Review at BBC
Music Excerpts:
---
Roger Digby's article on English Country Music, with many audio excerpts, including some previously unreleased material.
---
The Nervous Man
Traditional Irish Music on concertina
Mícheál Ó Raghallaigh, concertinas: 38-key Suttner C/G, 38-key Shakespeare C/G, 46-key Jeffries G#/D#; Michael Rooney, harp; Eoghan O'Brien, Guitar; Frank McGann, Bodhrán.
2001, MOR Music, MOR CD 001.

Well-known for his work with the Irish band Providence, Ó Raghallaigh is widely considered one of Ireland's top Irish concertina players today. He has now released this fine solo recording, featuring lively and talented renditions of some excellent tunes.
• Mícheál Ó Raghallaigh's web site
Music Excerpts:
---
The English Connection
John Nixon, His English Concertinas, and other friends including Harry Hussey & Frank Marocco
John Nixon, english concertinas: Wheatstone Treble Aeola, Bariton Aeola, Double Bass; Selmer Alto Saxophone Mk.6; L.E.Luck Guitarone - acoustic bass guitar; Harry Hussey, Borsini Piano Accordion - 'Superstar'; Frank Marocco, Guilietti Piano Accordion - 'Classic 127'.
1999, ECS Records, ECS 103.

From the back cover, by Jack Emblow: "John is one of the most versatile musicians I know. I have had the pleasure of playing jazz club dates with him when he has been featured on alto sax or bass, but on this record he is mainly using the instrument for which he is so well known - the English Concertina. The album consists of a wide variety of material, well arranged and beautifully played, and it also contains a big bonus for me; on several tracks John is joined by the marvellous American accordionist, Frank Marocco. I'm sure that you will enjoy listening to this CD as much as I did".
Music Excerpts:
---
Scanned
Music for lungs and bellows
Will Duke, anglo concertinas, voice; Dan Quinn, melodeons, voice.
2001, Hebemusic, HEBE CD003.

To order, please e-mail Dan Quinn at quinn@unisonfree.net
Dan Quinn is a melodeon player and was a member of Flowers and Frolics along with Roger Digby. Will Duke owns one of Scan Tester's concertinas and plays it on this recording. Here's a review on mustrad.
Music Excerpts:
---
A Touch of Clare
Traditional Irish Concertina Music
Kitty Hayes
2001, Claddagh CMCD 004.


For more information, visit the Claddagh Records web site.

---

Steam
John Williams (www.johnwilliamsmusic.com)
2001, Green Linnet GLCD 1215
John Williams: Concertina (Dipper), button accordion, flute, whistle, bodhrán; Liz Carroll: fiddle; Seamus Egan: banjo; and more...

The latest CD by multi-instrumentalist virtuoso John Williams, who played with Solas for a while. If you like Solas, you'll like this, and I mean that in a good way! This has some really superb button accordion and concertina playing by Williams, who is joined by a number of other very well-known musicians. Definitely worth owning if you're a fan of traditional Irish music, anglo concertina and button accordion. Williams plays a really entertaining variety of tunes, all beautifully rendered in a fun and enthusiastic manner.

Music Excerpts:



---
Boxing Clever: A Concertina Compilation
Milestones 9904, no date given; circa 1999
John Kirkpatrick, Tim Laycock, Dick Miles, Harry Scurfield: concertinas; with Pauline Abbott (vocals) and John Wren (harmonica)

Review by Ken Coles, June 2001

Have you ever wondered what sort of music one should play (or can play) on a duet concertina? Or what English music hall songs sound like? Well, if you can't get to one of the big gatherings in the U.K. or the Squeeze-In in the U.S., this CD is a good way to find out. I was intrigued by a description of this album in the Summer 2000 flyer from The Button Box and recently bought a copy from them.

The tunes include examples from the "Classic Age" of the concertina (my term): "Pussyfoot March" (from Alexander Prince), "Put on Your Tat-ta" (a music hall song), "Impudence Schottische" (a dance tune). Other cuts include standards ("Until the Real Thing Comes Along"), blues, Irish dance tunes, and some recent compositions (the moving "Shiner" in honor of the late Andrew Edwards). This varied presentation comes from Tim Laycock (on Wheatstone Crane Duet), Harry Scurfield (G/D and C/G Dipper anglos), John Kirkpatrick (C/G Crabb anglo with baritone and bass anglos), and Dick Miles (Wheatstone English treble and Dickinson Hayden duet). I'm sure all the instruments are great, but it is amusing to see the it is the name Dipper that is always preceded by "miraculous" in the liner notes. Here's a challenge: Listen to the album without reading the notes and try to guess which tracks are duet, English, or anglo. You'll be surprised.

You'll hear more variety than on most albums by one artist. I find many of the tunes and songs charming and a nice change from what I've been working on with my own playing. Not all the selections will fit every taste. I don't care for the blues tracks, perhaps because I was immersed in traditional presentations of blues long before I ever came to concertina. If you are curious about Morris tunes (as I am), you'll find more to study on other albums. Nevertheless, many other classic and current styles are well demonstrated here.

This CD is a great introduction to what lies beyond fast dance tunes on anglo concertina -- give it a listen.

---
Peaceful Harbour
Wild Goose, WGS 262CD, 1997
Chris Timson: Anglo Concertina & Vocals; Anne Gregson: English Concertina & Vocals

I don't have this CD yet but I've heard some selections from it played on the radio and enjoyed them very much. Chris maintains the Concertina FAQ, and you can read more about Chris and Anne and their concertinas and this recording by clicking here. You can order the CD either from Chris and Anne or from Wild Goose Studios, Wherwell, Hampshire SP11 7JS. In the US it is distributed by Elderly Instruments, 1100 N Washington, Lansing, MI 48910, phone 517-372-7890. The tape can be obtained from Camsco Music, P.O. Box 160, E. Montpelier, VT 05651, phone 1-800-548-FOLK.

---

Send Your Best Men Forward
2001
Bob Davenport: vocals; Roger Digby: anglo concertina (38 key F/C Jeffries [high pitch], Crabb 39 key Jeffries copy, C/G)

This is very different from anglo concertina in the Irish style, but I really like it. Once you get a feel for Bob's singing, it really grows on you and the songs are funny, touching, and a real joy to listen to. Roger's anglo concertina playing is excellent and follows Bob beautifully. I would definitely recommend this recording to anyone interested in the concertina and the English Country Music tradition. To order and for more information, visit the web site: http://www.topicdrift.com/davenport/.

Music Excerpts:



---

The Blackberry Blossom
Claddagh CC60CD, 2000
Mary MacNamara: concertina; with Geraldine Cotter (piano), Andrew MacNamara (accordion) and Catherine McEvoy (flute).

I very much enjoyed Mary MacNamara's first CD (see below) so I'm sure this one is a keeper too! Check our her web site at www.marymacnamara.com for more details and excerpts.

---

The Green House
Sleepy Creek Music SCM 102, March 2001
Grey Larsen: Irish flute, tin whistle, anglo concertina, harmonium, field organ, piano; Paddy League: bodhran, guitar
Available from www.larsenandleague.com
A dynamic and varied set of traditional and original tunes by two superb musicians. The concertina tracks are very nice, but the flute and whistle playing really shines and is guaranteed to get your feet tapping! Great variety of tunes, from slow airs to reels and more. I love the harmonium and field organ which can really add to the drama. League's bodhran playing is superb and adds a great deal to the dynamics of this CD – much more than the boring thud-thud-thud of so many bodhran players and yet it never overpowers the melodies. The recording quality is excellent. Highly recommended.
Music Excerpts:
---
• Absolutely Classic. The Music of William Kimber. Review by Roger Digby.

---
Live At WICA
No Band Is An Island
Linda Morris, Fiddle; Phil Marple, Guitar; Devin Ossman, Silver Flute, Irish Flute, Wood Piccolo, Garden Hose Flute; Randy Hudson, Treble English Concertina, Baritone Concertina, Hammered Dulcimer, Conga
Visit the No Band Is An Island web site for more information and samples.
---

'Lámh ar Lámh'/'Many Hands'
A reader passed on the following information about this recording:
Noel Hill (accompanied by Brian Mc Grath) has recorded two tracks on a combination album titled 'Lámh ar Lámh'/'Many Hands' issued in December 2000. They are as follows: reels - 'Barr an Chúil /Lucy Campbell's and the slow air 'Caoineadh Luimnigh/'Lament for Limerick'. The first of the reels is a new composition by the uilleann piper Neilidh Mulligan. The lament comes from the harping tradition and was composed in memory of the 'Wild Geese', those Irish soldiers who supported the Jacobite cause and went into exile after the Treaty of Limerick, the final episode in the Jacobite/Williamite war. Noel can be heard at his very best in these recordings with beautiful accompaniment from Brian. The tracks are on a double CD album featuring many well known and other musicians and singers playing Irish music and was produced to raise funds for a cancer research project in an hospital in Ireland. The album/booklet is not available commercially but may be viewed, tasted and ordered at the following address: http://www.mater.ie/matermusic.htm
---

The Bunch of Keys
Jason O'Rourke
Jason O'Rourke: C/G and Bb/F Jeffries Concertinas; Ray Gallen: Bodhrán; Neil Martin: Cello; Pauline McAnena: Bodhrán; Paul McSherry: Guitar, high strung guitar; Ruadhrai O'Kane: Fiddle
Our friend Jason O'Rourke sent me this new solo CD of his. He's a very good player, with a great repertoire and a solid, fun and energetic style. I like the selection and variety of tunes on this CD, as well as the excellent and varied accompaniment. And finally, someone heard our suggestions -- Jason indicates exactly which instrument (C/G or Bb/F) he plays on each track, taking the guesswork out of learning the tunes and playing along! The liner notes are also as I like them, with nice comments on each track and a listing of who plays what on each track. Jason even mentions Concertina.net at one point! Does this mean that I'm now famous (or infamous)? Anyway, go buy this CD already! www.outlet-music.com and visit Jason's web site at www.angelfire.com/or/jasonOruairc/.
Music Excerpts
---

Reformed Characters
Flowers & Frolics, with Bob Davenport & Peta Webb
Mike Bettison: melodeon, vocals; Roger Digby: anglo concertina, piano, vocals; Bob King: banjo, electric guitar; Dan Quinn: melodeons, vocals; Ted Stevens: percussion; Alex West: tuba.
Concertina player Roger Digby sent me a review copy of this CD. I was not at all familiar with this type of music, so it was fun to hear and I continue to enjoy it and have learned to appreciate it more and more every time I give it listen. Be sure to read Roger's notes for more information. To order, please contact HEBE MUSIC at quinn@unisonfree.net
Music Excerpts (all MP3)
---
Father Charlie
By Fr. Charlie Coen, Green Linnett CSIF1021, recorded 1979 (cassette only)
Information by Ken Coles:
This recording does not appear in the major retailer's catalogs, so I was unaware of it until I obtained a copy from Fr. Coen himself. It is LP-length (40 minutes) and features mostly solo tracks with him on anglo concertina, tin whistle, or flute. He also sings one song, Feach A Phadraig. Once you have been drawn in to anglo concertina and are ready to study the sound and technique in detail, you will learn a lot from this recording. It is not slick or flashy, but there is much substance in this work of an "original generation" musician who learned the music by ear at an early age. The selection is varied, with dance tunes on concertina alternating with tin whistle or flute. Two tracks also feature children from Fr. Coen's parish singing Irish songs he taught them, and Mick Moloney plays guitar backup on Parnell's March. This recording is available directly from Green Linnett (www.greenlinnett.com), which keeps many of their old titles in print on cassette, something other labels ought to do. I hope Fr. Coen will do more recording in the future, as to date we do not have any of his airs on concertina, and very few of the great many songs he knows from his youth in County Galway.
---

County Meath: an O'Carolan Sojourn
The Angel Band
Cathryn Norris, Violin; Mary Paul, Celtic Harp; Mark (Rocky) Rockwood, Mandolin; David Behm, Guitar; Emery Hutchins, Concertina [Dipper], Bodhran; Bob Frost, Banjo; Bob Paul, Hammered Dulcimer
Concertina player Emery Hutchins sent me a review copy of this CD (thanks Emery!). It's a very pleasant recording and very interesting to me since it contains many catchy tunes (some really get into your head!) which I had never heard before. Excellent ensemble playing and very well produced. Definitely worth purchasing, and you can order direct from Emery at a very reasonable price: ehutchins@eudoramail.com (Emery Hutchins, P.O. Box 269, York, Maine 03909-0269, USA)
Here are some notes from Emery, and here's a quote from the CD liner:
"The Angel Band's creativity and resource gave rich expression to the beauty of Celtic music on their Irish trip. Their splendid concertin in Nobber, the birthplace of Turlough O Carolan was a revelation to their spellbound audience. O Carolan composed at a dark hour in Irish history, but his stately vital music was a reconciling bridge between native Irish and English planter stock. Now the Angel Band makes of that music a bridge of melody between Europe and America. Through the gifted artistry of the Angel Band, this vital musical heritage is imbued with fresh vigor and resonates anew across centuries and continents to enrich our souls and bring joy to our hearts."
– Seamus MacGabhan, National University of Ireland, Maynooth, County Kildare, Ireland
Music Excerpts
---
Northern Shore
Solan
www.cds-studio.shetland.co.uk/solan.htm
solan@music.shetland.co.uk Vessik Records, VKCD106

Review by John Wild:

"This is a record review which I wrote for Concertina world, the magazine of the International Concertina Association. I met Frances at Concertinas at Witney last year, and was very impressed.

Solan are a new band from Shetland, featuring Frances Wilkins on English Concertina. Other members of the group are Richard Chaff on guitar and vocals, and Chris Henderson on fiddle and vocals. Their new CD is out now. The album is a mixture of tune sets and songs. It gets off to a good start with the introduction to the first song, Handsome Molly.The concertina takes the lead on the first instrumental set, and shows that Frances is already an accomplished player at only 19. Throughout the album, the arrangements ensure the various instruments complement each other, swapping the lead back and forth and blending seamlessly where appropriate. There is a mixture of traditional and newer material. My favourite track is the Ship Set, which is actually two Shetland tunes, The Full-rigged Ship, and The New-Rigged Ship. I had been trying to play these recently, but cannot beat the arrangement here. The technical quality is excellent, giving a clear, crisp sound: a good addition to any collection."
---

Bridges
Frank C. Edgley, Northumbrian Smallpipes, Scottish Smallpipes, whistle, and anglo concertina; Frank J. Edgley, fiddle; Brian Taheny, guitar, cittern, mandocello, mandolin and octave mandolin; Leon Taheny, bodhran
(www.netcore.ca/~cbraz/index.htm)
• Read the review of this CD by Randy Merris.

Lots of great musicianship and arrangements from fellow Concertina.netter Frank C. Edgley (who also teaches, repairs and sells concertinas) and his son. Frank's an excellent concertina player and all-around musician, and his son plays a mean fiddle! Well worth owning, and only $15 US or $20 Canadian. I really like this CD -- the tunes are varied, beautiful, and well played. I especially enjoyed hearing the Northumbrian and Scottish Smallpipes which was something new to me, as I'm sure it will be to other Irish music fans. Order direct and listen to samples on Frank's web site.

---


The Concertina Record
Lea Nicholson
Jamring (www.jamring.com)

Lea Nicholson (www.jamring.com) sent me a press release for this recording: "First CD Release for Lea Nicholson's Classic Concertina Album" and a review copy of the CD. This is a recording of an extremely, well, for lack of a better word, "eclectic" collection of English system concertina tracks by Lea. If you're a concertina fan, you've got to order this CD (and it's only UKP 9.99)! All kinds of amazing concertina playing with "concertina band" arrangements (multi-tracking) of everything from classical (Bach's 4th Brandenburg Concerto -- I'm not kidding) to a Sousa March (yeah!), and Kopya, a Yugoslav dance tune in 7/4 time recorded during a stay at Mike Oldfield's. Check the Jamring web site for more information on how to order, as well as high-quality MP3 samples of the tracks.

---
The Hidden Note
Jacqueline McCarthy
Maree Music, MMC CD53

What a great recording! A true solo concertina CD, with the concertina right up front in the mix. If you enjoy concertina and/or Irish music, get this CD! If we want to see more solo concertina recordings where the sound of the concertina is actually discernable amid the usual accompaniment, we need to show that there is a market for them... Okay, enough lecturing :-)

This really is an excellent recording. McCarthy's style is simply beautiful, showing a true understanding and appreciation of the music. I discover more every time I listen to it. The selection of tunes is varied and fun, and the accompaniment diverse and enjoyable. The liner notes are also excellent, with little photos of the family and interesting anecdotes.

But don't just take my word for it -- check out these additional reviews and details, including ordering information.

Music Excerpts:



---
South African Boermusic
| | |
| --- | --- |
| TBK, vyftien goue jare | Tradisionele Boermusiek, Oudag Boereorkes |
I got these CDs direct from Séan Minnie in South Africa. Find out more about South African Boermusic on this page and on Séan's own web site. It is interesting to note that these recordings make extensive use of the large and inexpensive "German" concertinas as well as traditional Wheatstone designs.

Music Excerpts:
TBK, vyftien goue jare
Tradisionele Boeremusiek, Oudag Boereorkes
---
Kristina Olsen
| | |
| --- | --- |
| The Truth of a Woman | Duet |
Ken Coles (a frequent contributor to Concertina.net) is a fan of Kristina Olsen's music and made me aware that she had her concertina stolen in 1998 (see the bottom of the home page for details). Ms. Olsen was kind enouh to send me these CDs, and I really like them. Kristina is a very talented singer, songwriter, guitarist (superb guitarist!), and she also plays a number of other instruments on her CDs. One only track on each of these CDs has concertina accompaniment, but be sure to check them out anyway. Samples and reviews are available at Amazon.com (follow the "Order Now" links).

---


John Williams
John Williams
I finally got around the buying this CD and I definitely enjoy it. I think I actually prefer his accordion-playing on this recording, but Williams is a superb concertina player too and the music and accompaniment is all first-class. A must-have for the concertina fan, and only $15 at Amazon.com, so what are you waiting for?!? Excerpts are available here

---
From Douglas Hope (nhoped@tell.ascom.ch):
Concertina Music from West Clare, Crotty, Elizabeth, RTE 225CD (read a review by Roger Digby here)
If Mrs Crotty of Kilrush means nothing to you, give Noel Hill a call... This CD has been the subject of two RTE web-radio broadcasts over the last couple of months. It features archive recordings from the 50's.
Mrs Crotty's was an "older", rythmic style of playing, stemming more from a house dance tradition than today's (session-influenced) melodic play. It's difficult to comment on a recording without having heard it, but, from Noel Hill's praise of Mrs Crotty's play, I have very high expectations. She had a profound influence on Noel's play.
Turas: Irish Traditional Music
Padraig Rhynne, (then) teenage concertina virtuoso, multiple all-Ireland champ, etc, etc..
Cian: Three Shouts from a Hill
with Padraig Rhynne (ex Turas)
Lonely Stranded Band: The Lonely Stranded Band
Warm, relaxed concertina/box/bouzouki play, with a solid trove of appealing concertina ornamentation from Miriam Collins. [...] Technically, the play is of intermediate standard: nothing to compare to, say, Noel Hill. It has, though, an unhurried simplicity, directness and warmth missing from many other recordings, uses well-judged, musical ornamentation, and has, thanks to the utterly selfless bouzouki accompaniment, an at times gorgeous wistfulness. Though much praise is due the other two musicians, I feel this CD is an absolute vindication of Noel Hill's claim that the concertina was traditionally regarded as a woman's instrument.
Vincent Fogarty (uinseann@mailcity.com) comments on this one: "Joe Corcoran: bouzouki/guitar/vocals, Charlie Pigget: box, and Miriam Collins on concertina. This is a great CD with beautiful Clare/Galway music. Miriam is a brilliant player. I have seen her play solo on TV and I have this recording. You might think that a box would out play the concertina but Charlie is a gentle player who is also playing a Vox accordian from the 1920-ies If I remember correctly what was written on the notes."
Gearoid O'hAllmhurain: Tracin'
(with Patrick Ourceau). All manner of indecent worship of this CD in various discussion lists.
Tola Custy & Cyril O'Donoghue, "Setting Free"
Cathy Custy, concertina, Tola and Frances Custy, fiddles, and Cyril O'Donoghue, bouzouki
Custy, Cathy: "An Ceoltoir Fanach", Concertina
Russell, Micho, Pakie & Gussie: The Russell Family Of Doolin, County Clare
Kilfenora Céilí Band
Various recordings with Tim Collins.
Lia Luachra (Magamu) with Shane Bracken.
Leitrim's Hidden Treasure (again with Mary McNamara)
Michael Tubridy's formidable Mrs. Crotty repertoire on the early Chieftains (I and II) albums (concertina pieces played on various instruments), then his "The Eagle's Whistle" recording, on which he again plays, amongst others, concertina.
The Lewis Family, John (flute), Breda (mandolin), Patsy (concertina), and Liam (violin), "Weeds in the Garden," from Tara, 1978
Niall Vallely's contribution to Paddy Keenan's "na keen affair", and his own new solo album
Most are available from Claddagh Music in Ireland.
---
Vincent Fogarty (uinseann@mailcity.com) continues:
"Cathy Custy has a very nice concertina CD also (An Ceoltar Fanach).
Josephine Marsh has a nice box CD which is titled Josephine Marsh (she does play concertina on one track). Her style of playing is amazing she's very unique.
There are two great box/fiddle/guitar CDs by two guys who are from Kerry/Waterford: Eoghan O Sullivan and Jerry Harrington (An sceal eile / The Smokey Chimney).
All of these albums are on the Button Box site. The two girls are from Co. Clare all four CDs are worth having."
---


A Garden of Butterflies
Jody's Heaven
Dale Russ: fiddle
Jack Gilder: concertina & flute
Junji Shirota: guitar & banjo
Aniar (www.aniar.com)

I don't have this CD yet, but there are excellent quality (both the sound quality AND the playing quality!) samples available on both the Aniar and Jody's Heaven web sites. Check out the info about concertina player Jack Gilder on the Learning page.

---
Traditional Music from Doolin Co. Clare
Terry Bingham
Ossian, OSSCD108

Review by Geo Meadows: "A CD is by Terry Bingham who is a concertina player based in Doolin, Co. Clare. He performs in the traditional Co. Clare style with unobtrusive guitar/bouzouki accompaniment on most pieces. A dozen tracks offering a fine selection of reels, jigs & hornpipes. I got this CD from the Button Box in the States."

---
One Man And His Box
John Kirkpatrick
MWCD4024

Review by Geo Meadows: "A mix of button accordion, melodeon, and anglo concertina. There are 20 tracks, about 70% of which have John Kirkpatrick in fine voice on vocals, with his own accompaniment. The rest are instrumental featuring one of his three reed instruments. The style is uncluttered with no other musicians to detract from this excellent one man performance and the material is strongly biased towards traditional English. The CD is intended to give the flavour of his current solo performance and this it surely does. This is 'JK-unplugged' and back to his roots and will delight his many fans." [Also from G.M.: I saw JK perform a solo, evening-long gig at a folk club last Saturday and he was stunning, such an incredible performer.]

---

Traditional Irish Music (traditional music session from Belfast)
Jason O'Rourke, Concertina; Alan McCarney, Guitar; Paul Bradley, Fiddle; Breàndan OHare, Flute; Ray Gullen, Bodhran
Outlet Recording Company, PTICD1095

Fellow anglo concertina internaut and all-around nice guy Jason O'Rourke brought this and the CD below to my attention, as he plays some mighty fine concertina on both! This is my favorite of the two. The CD is packed to the rim with a full 39 tunes ("39 Best Tunes" says the CD cover!) in 20 tracks, filling 72 minutes. While recorded in a studio, it really does reproduce the feel of a pub session. The tunes are played at very pleasant pace (not too slow, but not blindingly fast) and the musicians are all superb. Great ensemble playing, with few solo performances. If you're like me and don't frequent pubs or sessions (no time, too chicken) then this CD is great to learn from and play along with, as the tunes are all in standard keys (Jason plays a C/G Jeffries). A very fun and pleasant CD -- well worth the money. Order directly from Jason by visiting his web site (also other concertina info to check out there) or e-mail him at jason.o'rourke@dtn.ntl.com.

Music Excerpts:



---

O'aces (traditional Irish music arranged for dancing)
Jason O'Rourke, Concertina; Kevin Dorris, bouzouki; Martin Dowling, fiddle; Paul McSherry, guitar; Davy Maguire, flute
Outlet Recording Company, PTICD1092

Another CD full of nice traditional tunes with our friend Jason O'Rourke on concertina. This one has 41 tunes in 15 tracks (46 minutes), and arranged into 5 "sets" for dancing. Since I know nothing about set dancing, the CD above appealed to me a bit more, but what I found unique about this one was the selection of Polkas. While always associated with Poland, the style has also crept into Irish music (adopted by the musicians of Kerry and Cork according to the liner notes of the CD above) and it's interesting and entertaining to hear "Irish Polkas" -- something not mentioned on any of the other CDs I have. The tunes on this CD are for the most part played at a very brisk pace -- I had a tough time keeping up on the few tunes that I knew. Which brings me to my last comment that this CD also has an interesting selection of tunes with many that I've never heard before. Excellent musicianship and good production. Well worth ordering, especially if you're into or curious about the set dancing aspect. Order directly from Jason by visiting his web site (with more and longer excerpts from this CD there) or e-mail him at jason.o'rourke@dtn.ntl.com.

Music Excerpts:



---

Sporting Nell
Tommy McCarthy, Concertina, Uilleann Pipes & Tin Whistle
Maree Music Co. MMC CD52

I really like this CD -- a full 18 tracks chock-full of superb solo playing. That's right -- completely solo with no accompaniment of any kind. Normally a whole CD of any solo instrument (especially in a single genre like this) would be enough to drive anyone crazy, but McCarthy really pulls it off be mixing things up with his very talented concertina (C/G and A/E Jeffries), pipes and whistle playing. And along with the usual Jigs and Reels are some very beautiful slow airs on the whistle. You're a heartless monster if Tommy's versions of The Dear Irish Boy (on Bb whistle) and Anach Chuain (on D whistle) don't bring tears to your eyes! McCarthy's concertina playing is very beautiful, steady but still lively and with more ornamentation than you initially realize. This is clearly someone who is VERY comfortable with the music and with his instruments -- I find the whole CD very easy listen to. In short, I would highly recommend this to anyone with an interest in traditional Irish music. It's right up there among my favorites.

Music Excerpts:



---

The Wind Among the Reeds
Jacqueline McCarthy (vintage Wheatstone Concertina); Tommy Keane (Uilleann Pipes & Tin Whistle);, with Alec Finn (Bouzouki and Guitar)
Kells Music KM-9505

I'm sure you're wondering, so yes, Jacqueline is Tommy McCarthy's daughter. This is a fun, lively, and diverse (16 tracks) recording and the musicians are all superb. Hearing concertina/pipes/bouzouki-guitar combination makes for some very pleasant listening, especially since it's not something you're likely to hear very often (at least in recordings). The accompaniment is a nice touch and the concertina is nicely front-and-center in the mix and never overpowered. I like it a lot and would definitely get another recording by Tommy Keane and Jacqueline McCarthy (who, by the way, are married). It's also nice to hear a recording as "approachable" and just plain fun as this in a day and age where "popular" traditional music is so often watered down into some new-age glop, or thrown into a pop-rock mix. I especially like the tracks of Jacqueline playing solo -- she plays in a very smooth and clear style.

Music Excerpts:



---
Castor & Felix Castro Vicente, Fernando De Vicente
I've had many pleasant e-mail exchanges with Felix (from Galicia, Spain) he has kindly provided me with this link to a very nice-sounding set of galician muinheiras (piping tunes in 6/8 rhythm) on which he plays a C#/G# Lachenal anglo concertina. Always on the lookout for people using anglos for something other than Irish music (of course), I found this set very interesting and well worth the download time! It's a pretty well-done 5-minute recording in MP3 (MPEG, level 3) so it's large and I decided not to re-post it here in RA format. Free MP3 players are available for just about every platform and operating system. Once you're tried this one, be sure to check out the other samples on this bouzouki/cittern page -- there are some really great recordings by some superb musicians!
---
Paul Groff
Paul hasn't recorded a CD of his own yet, but he let me record his concert with performance partner, fiddler Sarah Blair, at the July 1998 Ethan Allen Homestead Museum fiddle festival in Burlington Vermont. Below is a clip from his set, featuring three of my favorite reels, The Sligo Maid, The Flogging Reel, and the Bucks of Oranmore. Keep in mind that this was recorded with my small recording walkman outdoors under a tent, in high heat and humidity while poor Paul and Sarah were getting eaten alive by mosquitoes! Still, I think the recording sounds pretty good, and I think Paul is a really good concertina player, so this will have to do until Paul and Sarah hit the recording studio. Please do NOT under any circumstances re-distribute this on your web site without permission.
---
Traditional Music from East Clare, Mary MacNamara
Claddagh CC60CD

Okay, first of all, let me say that in my book this CD wins the prize for best cover, featuring a close up of a beautiful vintage Wheatstone anglo. This CD features beautiful playing of some great traditional Irish tunes (15 tracks in all). I quite enjoy it. First, Mary MacNamara plays in a much slower and melodic style which can be a breath of fresh air. It's probably not fair to just say that she plays "slowly", because it doesn't really seem slow once you just sit down and start listening. Also, unlike some other CDs in this category, the production and overall mix is very good. When she is accompanied by piano or fiddle, MacNamara's concertina playing is still front and center and is never competing or drowned out. Also, unlike many other recordings, the fiddle actually complements the concertina nicely and doesn't just play exactly the same notes resulting in a drone of concertina/fiddle mush. The quality CD booklet featuring an interesting introduction and good descriptive text is also a nice and much appreciated touch. Nothing bugs me more than opening a CD case only to find a blank folded sheet of paper (are you listening Tara Music Company?!).

Music Excerpts:



---


Noel Hill and Tony Mac Mahon in Knocknagree
Shanachie, 34003

This is a must-have! A truly inspiring recording featuring extremely lively and energetic performances by Noel Hill on anglo concertina and Tony MacMahon on button accordion. These guys really cook, and the crowd whoops it up and dances, providing great accompaniment. The recording quality and mix is excellent. Great fun -- highly recommended! Click here to read an interview with Noel Hill and don't miss my Noel Hill Irish Concertina School 1998 Report

Music Excerpts:



---


Noel Hill and Tony Linnane
Tara Music Company, TARACD 2006

This is a kind of funky recording made in 1978. It's got some great playing, featuring Noel Hill on Anglo (Ab/Eb, C/G and Bb/F systems!), Matt Molloy on flute, Tony Linnane on fiddle, Alec Finn on Bouzouki and Mando-cello and Micheál Ó Domhnaill on Church Harmonium. The playing has a rather bouncy style. It's nice, but definitely not the style commonly heard in more recent recordings. Still, a very pleasant set of tunes with good production and definitely worth owning. Noel's concertina playing isn't always front and center of course, but he clearly had "the right stuff" even back in 1978! The photos on the back of the CD case are funny "1970s big-hair-brigade" atrocities, but they don't make up for the fact that there are NO liner notes at all -- you open up the cover only to find a mini-listing of other CDs put out by Tara -- gee thanks. Click here to read an interview with Noel Hill and don't miss my Noel Hill Irish Concertina School 1998 Report

Music Excerpts:



---


Set You Free, Nomos
Green Linnet, GLCD 3120

Okay, I REALLY wanted to like this recording, but I'm just not crazy about it. To begin with, it's much more in the "Celtic-rock" style, which in itself isn't necessarily bad if you like the style. It features Niall Vallely on concertina and keyboards, Vince Milne on Fiddle, Gerry McKee on Bouzouki, Frank Torpey on Bodhran, John Spillane with vocals, acoustic guitar and electric bass, and three special guests on electric guitar, keyboards and drums. Let me say that Niall Vallely on anglo concertina is clearly a very accomplished player, but I found it very difficult to hear his playing in the muddy and dull mix. I've listened to this CD on headphones, on my computer speakers, and through my big stereo speakers, and at least to my ears, it sounds really muted.

To be fair, they do have some tracks of more "traditional" style playing, with some nice renditions of reels and such. Still, give it a listen first if you can and don't take my word for it...

Music Excerpts:



---


Music of Dreams (Aislingí Ceoil), Noel Hill, Tony Mac Mahon and Iarla Ó Lionáird
Gael-Linn, CEFCD 164

This CD is somewhat along the lines of the other Noel Hill and Tony Mac Mahon recording above (In Knocknagree), only it was recorded in what appears to be a more formal "concert" setting and it was recorded quite recently (in 1993). Thankfully, gone is the big-hair of the 70s, and in the photo Noel has traded in his skinny 80s tie for a nice standard tie. Seriously though, this is a great recording with superb production and excellent dancing. Recorded live, the whoops and cheers of the crowd is also a great source of accompaniment and contribute much to the overall feel of the recording. Even if this whole CD only contained a single track -- number 6 -- it would be worth the purchase price for the concertina fan. This track features Noel Hill playing an amazing solo version of the The Hearty Bucks of Oranmore where he coaxes a very piper-like style and sound from his trusty Jeffries (I think) anglo. Another track features a solo by Noel where he plays a stupendous set of reels: The Rainy Day, The Merry Blacksmith and The Silver Spear -- another superb track! Most of the CD (11 of the 14 tracks) features Noel Hill and Tony Mac Mahon roaring through reels and jigs and Mac Mahon playing some beautiful and emotional slow airs, but when the music stops and the vocals and tinkly-piano do their thing on three tracks, it just seems really out of place. The CD liner features nice artsy black-and-white photos and descriptive text. Highly recommended and a must-have for any Irish concertina fan! Click here to read an interview with Noel Hill and don't miss my Noel Hill Irish Concertina School 1998 Report

Music Excerpts:



---
The Irish Concertina, Noel Hill
Shanachie 79073

Wow -- what a recording! Don't miss this. A masterpiece by a master of the instrument. A true display of virtuosity, but played with incredible dynamics and "musicality". Many tracks also feature excellent and understated accompaniment. Still my favorite concertina recording, and I think it is actually the most played CD in my household. If you only buy one concertina recording, make it this one! Played on vintage Jeffries and Wheatstone anglo concertinas. This is a studio production, recorded in 1987, and it sounds great. Click here to read an interview with Noel Hill and don't miss my Noel Hill Irish Concertina School 1998 Report

Music Excerpts:



---
Traditional Music from Clare and Beyond, Gearoid O hAllmhurain
Celtic Crossings OWR-0046-2

A very nice recording. Most tunes are played at a more "steady" and slower pace than some other recordings here. This results in perhaps a more accessible recording for someone not completely obsessed by the concertina. A good selection of various types of traditional tunes, with excellent accompaniment on fiddle, harp, piano, guitar and flute. Also played for the most part on a 30 button Jeffries anglo. A very popular recording.

Music Excerpts:



---
The Branch Line, Jack and Charlie Coen
Green Linnet GLCD 3067

To quote from the liner notes: "The Coens' style of playing is extremely distinctive. It tends to be more measured and less flamboyant than many styles currently in vogue. Both Jack and Charlie describe their style as 'steady'. The tempo tends to be deliberate, the phrasing tends to be even and ornamentation is used economically." The notes go on to state that this style lends itself to a "wide range of delicate nuances". Well, I'd say VERY delicate. Don't get me wrong, this is an interesting recording of some nice Irish flute and anglo concertina playing and so is definitely worth owning, but the style is so "even" (and there's no other accompaniment), that I find it gets difficult to follow and I have to give my brain a break so that the tunes don't just turn into a drone in my head. Like I said though, I think it is worth owning, if only to see yet another style of traditional Irish music playing, but I certainly wouldn't start off with this CD if you don't already own some of the others above.

Sound clip:



---
Chris Sherburn and Denny Bartley
Last Night's Fun
Foothold
I don't have these CDs yet, but judging from the excerpts of this anglo concertina and guitar/voice duo, they sound great. And of course, anyone featuring an anglo concertina without scads of fiddles and flutes drowning it out has my vote! Sherburn sounds like a great concertina player, and Bartley plays guitar and sings. On Foothold, Sherburn's sister Jane joins them on many tracks playing the Irish bodhrán drum. For more info, check out their web site.
Unfortunately, they don't have a North American distributor for their CDs yet, but I did notice Last Night's Fun listed at about $19 from House of Musical Traditions. Here's the ordering info I received from their manager:
"The lads have been to the USA several times but have brought UK CDs with them every time. If you want the CDs in a hurry, you can send a bank draft for 22 pounds to the address at our website, i.e. Sound Out Music, 6a, Montagu Place, Leeds LS8 2RG, UK. Make the draft out to A. Russell.

Any suggestions of places they might play will be welcomed by their booking agent, Robyn Boyd, at 610-954-0646.

Alistair Russell (ali@soundout.clara.net)"