Review of "This Label is Not Removable: A Celebration of 25 Years of Free Reed"
Review by Ken Coles
December 2002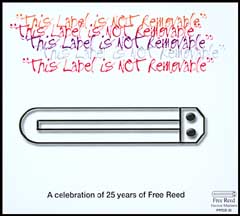 "My head is like a concertina." That line (reportedly from Kipling) opens this compilation, and appropriately, too. In fact, it might describe some of you here on Concertina.net! In this case it introduces an outstanding reissue collection from the catalogue of the Free Reed recording label. Free Reed was the outgrowth of the work of Neil Wayne in promoting and ressurecting the concertina as a musical instrument in the 1960s and 1970s. If you live in Britain or have been involved with the concertina for 25 years of more, you already know much of this history and the music that goes with it. Many of us who live elsewhere or came along later, however, know about this music but haven't heard much of it. Much of the legacy of small-label LPs is scarce since the world abandoned vinyl and a few large recording companies came to control the recording industry. Here is a new collection on CD to cure all of us of this deficiency. You may order it directly from the Free Reed web site or through Elderly Instruments. I expect the other retailers of all things concertina will also have it soon.
Every cut in the collection has appeal. Some that I've enjoyed and are new to me are the Jeffries Duet playing of Michael Hebbert, the Concertina Bands (the Liverpool and the Colonel Sanderson's Memorial), and the Contrabass concertina used in a novelty song by Bernard Wrigley. The work of Peter Bellamy and John Kirkpatrick is relatively well known, even to folks like me who haven't studied it. But here are some other masters you may not have heard yet, including Tommy Williams and Nellie Power. The 80 page book is also a goldmine of history of the Free Reed recordings.
This collection is essential listening for concertina-holics who want to understand the concertina revival of the 1960s and 1970s. Those seeking examples of the variety of music that grew out of the playing of free-reed instruments we all know and love will find a lot here also. And a lot of great music for any listener! I am looking forward to the Wheatstone Bicentennial collection the Free Reed is planning to issue soon.