English Country Music – A Personal View
By Roger Digby, 2001

---
This article attempts to define English Country Music and outline its recent history. It is based entirely on my own personal understanding and memory - both obviously fallible; I have made no attempt to conform to the academic conventions of notation and reference and it is possible that many will have other views and other information. Nevertheless I hope it will be a starting point for those who have expressed a wish to know more, and if it results in an increased access to the music, particularly the real first-hand music, then it will be worth it for that alone.

I am grateful to Dan Quinn for reading an earlier draft, making some suggestions and adding a few lines. Dan also provided the discography.
---



THE OLDER PICTURE

The name 'English Country Music' first appeared as the title of an LP recorded by Bill Leader in Shipdham, Norfolk in August 1962 and released by Reg Hall and Bob Davenport in September 1965. This LP featured Walter Bulwer (fiddle, mandolin-banjo), Daisy Bulwer (piano), Billy Cooper (hammer dulcimer), Reg Hall (melodeon, fiddle), Mervyn Plunkett (drums), Russell Wortley (pipe and tabor) and was released in a limited edition of 99. In those days LP runs of less than 100 were not subject to Purchase Tax and the 99 copies sold out within two weeks. (The LP was subsequently reissued by Topic in 1976, 12T 296, and more recently has appeared in CD format with additional tracks from the same sessions.) These players did not constitute a band in the conventional sense; they came together for a session and shared a common approach and a certain amount of common repertoire. This continues to be one of the most important recordings of English Country Music and repays endless listening. [audio excerpt: Jenny Lind/Brighton Camp. 'English Country Music'. Topic LP 12T 296]

The name recurred in 1973 in the title of the Topic album 'English Country Music from East Anglia' 12TS229. This recording featured solo performances by Oscar Woods (melodeon - one row), Percy Brown (melodeon - two row), Harold Covill (mouth organ), and Billy Bennington (hammer dulcimer). For those who, like me, had missed the earlier and long gone limited edition this was the first time that music of this sort had been available to us. In those days I did not have the knowledge to have found this music for myself. I thought it was very powerful stuff indeed. [audio excerpt: Old Joe, the boat is going over. Oscar Woods. 'English Country Music from East Anglia'. Topic LP12TS 229]

These two LPs also set the geographical placing which the name 'English Country Music' not only fails to state but actually obscures. It is the music of South East England; admittedly this is a broad definition of 'South East' probably extending to a line from roughly Exeter up and across to York (the Fosse Way effectively). There was, and still is, great music in other parts of England as well, most notably Bob Cann, all round entertainer and spectacular melodeon player from Dartmoor in Devon, or Willy Atkinson (mouth organ) from Alnwick in the North East and these musicians soon came to a wider audience at Festivals and through LP releases. Bob Cann's 'West Country Melodeon', 12TS275 (1975), [audio excerpt: Hot Punch/ Uncle's Jig. Bob Cann. 'West Country Melodeon'. Topic LP 12TS 275] although concentrating on only one aspect of this multifaceted megalith of the Dartmoor traditions, brought his distinctive repertoire to a wider audience and inevitably the tunes were welcomed by the new enthusiasts for the music, like myself. This may have led to some blurring of the distinction between English Country Music with its South Eastern origin and the music from similar rural origins in other parts of the country. A comparison of Bob Cann's Jigs from Flowers and Frolics 2000 CD 'Reformed Characters' with the original tunes from the Topic LP is an object lesson in the difference in styles and also of how the same tune can live different lives in different hands.

New LPs followed by English Country Musicians. Keith Summers collected in East Anglia, mostly in Suffolk, and some of his recordings also found a home at Topic Records in the compilations 'Sing, Say, or Pay' 12TS375 (1978) and 'Earl Soham Slog' 12TS374 (1978) ( the latter having a special place in my affection as Earl Soham was the home of my uncle; I could combine a visit to him with a session with Oscar Woods in the Hare and Hounds in Framlingham). [audio excerpt: 'Polkas'. Font Whatling. 'The Earl Soham Slog'. Topic LP 12TS 374] Older recordings were also released, most notably one of the Gloucestershire fiddler Stephen Baldwin on Leader, LED 2068 (released 1976, recorded 1954), while Topic also released compilations of earlier recordings (e.g. 'The Boscastle Breakdown' 12T240 in 1974). The EFDSS had released recordings of William Kimber on LP in 1963, recorded by Peter Kennedy in 1956 and Topic followed up with 'The Art of William Kimber', 12T249, (1974) all from HMV 78 rpm issues, and like the new EFDSS CD 'Absolutely Classic', EFDSS CD 03 (1999) heavily leaning to the Morris tunes.


What, then, was the essence of this style? The phrase that was often heard in the 70s was 'playing late', but this is not really a clear description of what it was meant to convey. Martin Brinsford, multi-instrumentalist and drummer with the Old Swan Band used to joke that if he 'played late' it was because his bass drum pedal was so old, battered and buckled that it took too long to reach the drum! What this phrase tried to describe was the technique of finishing off the important beats of the rhythm with a slight swelling and this may have caused the beat to linger a fraction late. Morris musicians will recognise this as something which can help to get a dancer higher and longer into the air when dancing 'slows'. The feature was also more obvious in the followers of the style, like the Old Swan Band and Flowers and Frolics, than it was in the playing of the older musicians and this is doubtless a result of the need to coordinate playing within a band while nearly all the older recordings featured solo performances. (An example of this heavier emphasis - and featuring two bands - can be heard by comparing The Dorset Trio's 'Sheepshearing' [audio excerpt: Sheepshearing. The Dorset Trio. Unissued.] with Flowers and Frolics' 1999 re-recording, known to them as 'Grandfather's Tune.' [audio excerpt: Grandfather's. Flowers and Frolics. Reformed Characters. HebeCD002]

Whatever the reality of the 'playing late' description, the style of these solo musicians was fiercely rhythmic and in strong contrast to the flowing, smooth Irish/American style that was dominating community dancing at venues all over England. The prevalent instruments of the traditional players were melodeons and fiddles and the tremendous rhythmic drive came from bellows control on the former and aggressive bowing on the latter. Other instruments could achieve the same drive in competent hands. The vigorous rhythm that Jim Small of Cheddar could get into his harmonica playing was phenomenal. Flowers and Frolics played in the Cheddar area a lot and if Jim was present we would ask the 'caller' to call the Dorset Four Hand Reel and leave it entirely to Jim to play his Shepton Mallet Hornpipe which is a perfect fit for the dance. We would all take to the floor and dance; Jim's solo harmonica had more 'dance' in it than many a band! [audio excerpt: The Shepton Mallet Hornpipe. Jim Small. Unissued.]

The hammer dulcimer plays a somewhat enigmatic role in this music. Billy Cooper and Billy Bennington have already been mentioned and Reg Reader is probably the best known of current traditional players, having retrieved the family instrument from the attic a few decades ago. He is a player of great skill and charm. The instrument does not, however, allow notes to be cut short no matter how rhythmically it is played and the effect is like a piano with the sustain pedal permanently pressed. I have never seen or heard of any player who could damp with the palm whilst rattling through a tune. This instrument alone, even in the hands of the best of players, has difficulty bringing the surge up behind the beat. It is nevertheless a wonderful element in the whole music.

The other most distinctive feature of the music is the absence of ornamentation. This should not be taken as an indication that the music lacks skill or artistry, merely that the tunes are played without the decoration which is such a feature of Irish traditional music. There can be variety within the tune but this is likely to be in rhythmic features, like playing two quavers for a crotchet. There is also, of course, variation in versions of the same tune.

The repertoire contains the usual range of rhythms associated with dancing - jigs, hornpipes, waltzes and so on, with selections of popular songs played in a strict tempo dance style suitable for singing along or dancing. Reels, in the sense that they are usually understood, do not exist, at least in the strict South-East area. Dances bearing the word 'Reel' in the title refer to the 'figure of eight' dance figure, not the music.

It should be clear from all of this that English Country Music is functional dance music and that this explains the firm rhythm and lack of ornamentation which are intended to help the dancers. Usually the dance in the traditional setting today is a step dance or couple dance but there is evidence, most famously in Thomas Hardy, that the larger set pieces were once common as well. (Thomas Hardy was himself a country fiddler.)

I have mentioned William Kimber and will do so again, but I think it is important to be clear that there is a difference between the music of the Morris and English Country Music. Both are vigorous and both have as their function the support and invigoration of the dancers, but the Morris consists of precise dances, by practised dancers, to specific tunes. There is a definite and close relationship between the dancers and the musician (even if this is hopelessly absent in many sides today where the musicians appears to provide nothing more than background noise). English Country Music does not have this exceptionally tight symbiosis between music and dance, though it is certainly dance music.


THE SECOND PHASE

I am consciously avoiding the use of the word 'revival'. English Traditional Music in all areas was flourishing and to some extent still is, as anyone will know who has ever attended any of the Old Hat sessions in Suffolk. Yes, it has developed and evolved but it was never flagging so it never needed reviving.

Inevitably at this point the story becomes, for me, more personal. The human memory is notoriously fallible, especially at the distance of nearly 30 years and it can be harder to separate the important from the trivial when personal involvement is concerned.

The characters ( then unreformed) who were to become Flowers and Frolics played for pleasure after Morris practice on Wednesday evenings, and were then invited to take the residency at the Islington Folk Club, then at the Florence public house. We were all very impressed by the 'East Anglia' LP and the style of playing and were starting to explore similar sources of the music. That summer we all went to the Sidmouth festival and found the music sessions full of Irish copyists playing at breakneck speed. Next morning we were having a tune together on the campsite and were approached by someone attracted by the music. He was, he explained, a member of a band who played in that style and he asked if we had found anywhere to play in the town. His experience of the pub sessions had been the same as ours. Thus we met the Old Swan Band.

Good beer was also hard to find in Sidmouth in those days and I had selflessly sacrificed a large part of the previous day in search of some! I had found a little pub called The Ship with barrels on the bar, so I returned to ask if the landlord would allow music. He agreed to try and the rest, as they say, is history. Within 24 hours the pub was jammed solid within moments of opening and so it was for years to follow. In 2000 I returned to Sidmouth for the first time in about 15 years. As I walked past The Ship, now in a pedestrianised street, I heard a man carrying an accordion case remark to his partner in hallowed tones, 'That's where Flowers and Frolics and the Old Swan Band used to play'. I walked by unrecognised! (sic transit gloria mundi!!!)

The years that followed were full of activity between the two bands, meeting, swapping tunes, recordings and so on. Other bands formed, notably Umps and Dumps with John Kirkpatrick on Anglo and a wealth of musicians with full CVs in other bands, and The New Victory Band, an extension of the Folk group Muckram Wakes. The 'English Country Music Weekend' was established as an annual gathering of enthusiasts, (recently restarted and again going strong).

While bands such as Flowers and Frolics, The Old Swan Band, The New Victory Band and Umps and Dumps became popular nationally, there were many excellent bands emerging in their wake that flourished only on a local level. The Pump and Pluck Band, for example, was based in Sussex and hardly played outside the county, yet the line-up boasted two eminent historians of the music - Vic Gammon and Alun Howkin - plus the musical and vocal talents of Eddie Upton and Will Duke. The band played only local music, most of which was found in manuscripts in the Sussex Archaeological Society in Lewes. Most of these bands came and went as most bands do. Some remained. The Bursledon Village Band, based near Southampton is still going strong - a fine band, based around the Flowers and Frolics style. It has to be said that some later bands which started playing in the English Country Music style soon grew bored with their lot and extended their terms of reference. The dance halls and tents of England now reverberate (like it or not!) to programmed synthesisers, jazz fusion groups and , I'm sorry to say, too many musicians who have never listened to any source material. Honourable mention should be made, therefore, of Old Hat, the Bismarcks and The Posh Band who still play in the old style and who remain popular on the English festival circuit. Oh yes, and The Old Swan Band is still going strong.


It was inevitable that a time would come when the English Country Bands would cross paths with the established dance world which was organised and dominated by the EFDSS (English Folk Dance and Song Society) an organisation that was fiercely criticised and boycotted by many who believed, not without good reason, that it had lost touch with the culture it claimed to enshrine. The two movements became mutually exclusive and at times downright hostile. In retrospect the conflict is quite informative.

Organised social dancing in England had followed a clear path: the EFDSS had produced a number of booklets, most notably the Country Dance Manuals, that gave the figures for the dances in easily accessible format and attributed a tune to each. In what I can only assume was ignorance about the existence of English music these tunes came mainly from Irish, Scottish and American sources and were then played in that style without reference to the appropriate approach for the dance. This is a vast generalisation and there were doubtless exceptions, but I believe the statement to be broadly true. The Topic LP 'English Country Music from East Anglia' was so scathingly dismissed by the EFDSS reviewer that John Kirkpatrick thundered back on the letters page. Two extracts will indicate the extent of his anger. '(The reviewer's) curt dismissal of it epitomises the total ignorance of the EFDSS in its patronising attitude towards traditional music and the people who play it.' 'It is a lamentable and inexcusable fact that the EFDSS policy has been consistently to conceal the few traditional English tunes it does see fit to publish in a mass of Irish, Scottish or American irrelevance...' This background has to be understood to appreciate the very real struggle that the new phase of English Country Music found itself involved in.

The route taken by the EFDSS had two consequences. The faster, smoother music resulted in faster, smoother dancing, often resulting in a fast walk, performed in the style of Groucho Marx, while the absence of stepping from dancing removed the attraction from the simpler figures so the more complicated dances gained favour, many bring invented for the purpose.

When the English Country bands eventually found themselves playing in these contexts the usual response was 'Can't you play faster?' 'Don't you know any more interesting dances?' Even the vigorous music could not persuade most of the dancers to get in the air. In fairness, I think Flowers and Frolics stubbornly and provocatively played too slowly for a few months, but we were all frustrated that these supposed enthusiasts for English Dancing would not reach out beyond the bland interpretation that they had come to see as the real thing. In our case our second line-up, which included two musicians who knew nothing at all about the origins of what we were playing, created a cross over as our music became a lot smoother and a little faster. When we were asked to record an LP of strict tempo dance sets for the EFDSS there was an acknowledgement of movement on both sides. The LP title, 'Sold Out', was more two-sided than I think we intended. I still think it has a couple of great tracks on it (and, as usual, some duffers)! It is also, for me, a much weaker contribution than our first LP, 'Bees on Horseback'.


I invited Dan Quinn to peruse an earlier draft of this article and he responded with the interesting observation that the English Country Bands developed out of the Folk Clubs and not from the dance world. He is quite right and songs were a part of all our repertoires. There is nothing controversial about that. We had always sung as well as played in our pub sessions and there is ample evidence that this was, and still is, the traditional practise. There are examples of individuals who did both: Scan Tester had a few good songs and the Norfolk singer, Harry Cox, had joined in on fiddle with the musicians whose English Country Music LP was the starting point for this article, although he did not play on the occasion of the recording.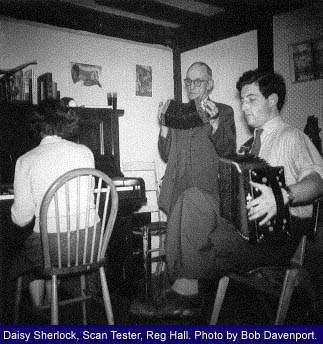 The repertoire of these singers was a combination of old traditional songs and later Victorian pieces from the parlour or Music Hall. In later years these have reached further forward in the 20th century. We may not have been aware that we were following this practice when we sang and played the night away in the back rooms of pubs in 1970's Islington, but it was certainly a reason why, despite being essentially dance bands, we found ourselves at home in Song Clubs. There is plenty already written on the style of traditional song and we made no attempt to perform within that style, although many of our number, when singing unaccompanied could do so with sensitivity and aplomb. A 'band number' was something else and we all had our eclectic repertoire stretching from the fairly straight to the truly preposterous. Flowers had a version of La Donna e Mobile from Verdi's Rigoletto and other sets from Buddy Holly and the Beatles. In the dance repertoire we used Richard Thompson's 'Smithy's Glass Eye' as a Schottische and many a last Waltz ended with 'You Picked a Fine Time to Leave Me, Lucille' with Dan Quinn on vocals. Again there should be nothing controversial here; popular tunes were part of the repertoire of many traditional musicians. The CD version of 'English Country Music' has Billy Cooper playing 'Wheels', Scan Tester and Walter Bulwer both had 'The Carnival is Over' from the Seekers - to name but two examples. [audio excerpt: The Carnival is Over. Scan Tester, Reg Hall, Walter Bulwer. 'I never played to many Posh Dances' Topic LPs 2-12T455/6]
A parallel process soon became apparent in the use of tunes from outside the specific South Eastern style. Excellent traditional musicians from other areas, most notably Willy Atkinson and Bob Cann, had many tunes which were easily adapted to the style; some Irish tunes crept in and the 78s of Jimmy Shand were an influence on everyone as they always had been. Many country musicians had 'The Irish Washerwoman' and Scan Tester was one of many who adapted Shand's 'Bluebell Polka'.
It is interesting, however, that except in the inevitable singing of popular standards there is little evidence for accompanied song in the traditional setting. This appears much more to be the practise and expectation of the Folk Revival. In Scotland, Davey Stewart and John MacDonald accompanied themselves as did Jane Turriff; Jack Norris of Sussex is one example in the South East of England and Bob Roberts, the bargeman from Pin Mill is a second, but he was no stranger to the Folk Clubs and may have picked it up there, or it may be that it was a commoner practice on board ship. I have always assumed that a Shantyman played an instrument if he had one as well as singing the shanties, though I am stuck for evidence to cite in favour of this. I don't think Erik Ilott counts! I think the Shantyman was probably the only one who did sing. I doubt if the current practice of singing shanties in packs ever happened in the real setting. The sailors needed their breath.

The reawakened enthusiasm for English Country Music eventually slipped away as bands called it a day. Traditional music was never more than a small part of people's lives and those lives eventually reclaimed many of this second generation of enthusiasts. In many cases they now found that they could settle into the less frantic, social music sessions, in house parties and public bars, from which the music had originated. In a way they returned to the context that had given them their origin. I know that one of my great pleasures is to meet a few old friends for a few tunes over a few beers, but I don't do it very often. Such was, I suspect, the pattern for many a country musician.
Other musicians who came to prominence in English Country Music are still very active and still include English Country Music in their repertoire. Dan Quinn and Will Duke are arguably the ones who remain most firmly within these musical parameters, but others like John Kirkpatrick, Pete Coe, Roger Watson, Eddie Upton still make their living from music and feature the English style in their performances. Special mention should be made of John Adams, formerly of Muckram Wakes and The New Victory Band who, in addition to running a major music project , has returned to the playing arena as an exceptional English Country Fiddler!

THE ANGLO IN ENGLISH COUNTRY MUSIC
Users of this site will approach this article because of the concertina connexion; if they do not already know the evidence for this they are in for a disappointment. William Kimber and Scan Tester are all that remains. Even 'tip of the iceberg' doesn't get near a description of how much is lost from view. Thousands of Anglos were made by Jeffries, Wheatstone, Lachenal and others and there were also much cheaper products; at the turn of the last century a 'small' concertina cost half a crown, an eighth of a pound! We can only speculate on how many of these went into the hands of English musicians who were never recorded and we are faced with the futility of a literal 'argumentum ex silentio'. We can never know how typical were the approaches of Scan Tester and William Kimber.
Reg Hall's 'I Never Played To Many Posh Dances' (12T455/6, now available from Veteran as a cassette) is a very careful and caring summation of Scan's music and its social context. My 1991 review is posted elsewhere on this site. Scan played other instruments as well and music was a supplementary income for him. His style was very strong rhythmically and his left hand favoured octaves and occasional bass notes. [audio excerpt: Soldier's Joy. Scan Tester. Unissued] He transferred this approach to the popular songs that were unfortunately not recorded very widely but which were a very major part of Scan's repertoire. [audio excerpt: Margie. Scan Tester. Unissued]
William Kimber [audio excerpt: Schottische. William Kimber. 'William Kimber' EFDSS LP 1001] has been held in veneration for reasons which have a lot to do with the quirks of history and need not concern us here. Again, my review of the EFDSS CD is posted on this site in the music section and the well-worn story of Boxing Day 1899 is available on the CD notes and many places elsewhere.
Kimber's father taught him to play with the famous injunction, 'These are the notes you play and you don't play any others', or words to that effect. This suggests a very conservative approach, but it also suggests that in listening to Kimber today we are actually hearing the music that his father created back in the 19th century. Dan Worrall kindly made some of his notes available to me during a long correspondence that we had on this subject and he has noticed that there are variations in alternative recordings of the same tune which he is inclined to attribute to the inevitable boredom of repetition in the playing of the Morris. (Hmmm... not sure about that one.) He also notes that Kimber virtually never goes onto the third row and from this he suggests that Kimber's father learned on a two row instrument; a very convincing idea. Ken Loveless told me once that Kimber had said, on seeing a 39 key instrument, 'Just think what I could do with that!' This does not fit in with the usual image of a staid and rigid player, unwilling to change, but this could be reading too much into a chance remark, especially if Dan Worrall is right about his rejection of one whole row of the three that were available to him. Kimber was adamant in his opposition to change in the dancing of the Morris and I have no difficulty in believing that he applied the same dogma to his music. I fear that basing anything of great significance on verbal exchanges with Ken Loveless is to build on very shifting sands.
There is a real problem with assessing how typical Kimber was. He appears to me to be a one-off. His style when playing English dance tunes is so similar to his playing for Headington Quarry morris and that was, in itself, very specific to that particular dance tradition that the result is a style completely different from what may perhaps be called mainstream English Country Music. Nevertheless I occasionally hear echoes of Kimber's playing in the playing of the late Andrew Blakeney-Edwards and I never heard Andrew say that he had ever heard Kimber, let alone tried to copy him. (I often urged Andrew to go to the original sources rather than the second-hand sources like me, but he didn't. I once made a tape of country musicians for him and he sheepishly admitted when we next met that he had not listened to it!) Somehow Andrew had found similar solutions and a similar approach as a result of a desire to play crisp, rhythmic, precise music with a full left hand. Perhaps some of the unknown and missing players had done the same, These echoes, however, are only occasional and most of Andrew's playing is a long way from Kimber.
Thus the only two traditional musicians to whom we can now listen offer very different approaches: Kimber with strong chords on the left hand, seemingly ranging across the two main rows, (Dan Worrall's research into Kimber's fingering will be interesting here if he is ever happy enough with it to present it to a wider audience,) and Tester more strident with the tune, and much more sparing on the left hand. There is not therefore enough evidence to posit an earlier style for the Anglo in English music. Nevertheless the musical style was sufficiently established by other instruments and we Anglo players have to find our own ways of creating the same thing.
We seem to have arrived, individually, at a common approach. The rhythmic emphasis comes from a full use of the bellows. This is not another way of saying 'play loud'! The bellows create the late finish to the rhythm and the natural changes in direction prevent the merging together of notes. Nevertheless it is not enough to use this alone; the real attack of the Anglo comes from getting the pressure ready in the bellows a split second before it is needed, so that the note, when pressed, comes out fast and full.
The common practice is also to keep the tune on the right hand as much as possible and use the left hand for accompaniment, usually chords. I do not know how or why this developed. Playing the tune in a higher register than the accompaniment is the usual musical way, and I suspect I was transferring onto the Anglo the busking tricks I was already using on the piano and guitar. I believe I was also thinking of the melodeon as Oscar Woods was a huge influence as I have already said. How others came to the same approach I cannot say, but I am not prepared to say it is the 'natural way' to play the Anglo because the strongest Anglo tradition, the Irish, does not do it, spreading the tune easily over both hands with sparse left hand additions. Perhaps the sheer speed of most of the tunes rules out anything more, but Scan Tester didn't do it either and he had also been a melodeon player so he could well have thought the approach the 'natural' one.

It is also absolutely essential to remember that the music is for dancing even if it is not being danced to at the time. If you think you are playing for a concert you have lost the plot. Much of what you may develop when playing other musics has to be left at the door. The Anglo offers great scope for chords that are unavailable to melodeons, but they have no place in this tradition. Keep it simple and then fine tune the simplicity until it becomes a perfection. Look at the rest of the Art world for the wonderful examples of beauty in refined simplicity. Start with the Parthenon. 'Ars est celare artem', the skill is in hiding the skill. That is the essence of traditional music. If it is flashy it is not traditional.

English Country Music continues in the pubs and kitchens where it had its origins and occasionally in the broader, more commercial, venues. Many of us who now play it are not traditional musicians, although we respect the tradition that we emulate and will not debase it. The tradition, in the pure sense, is not as strong as it was either in music or song. I suspect that in the past there were many occasions when the same would have been said if there had been a medium in which to say it. Yet the music continues. If the future carriers of the tradition decide, in retrospect, that we played a part I shall be delighted. The process of transmission is in constant flux. It is posterity who will judge our contribution.

In conclusion I return to my starting point: The 'English Country Music' LP, now in CD format. In the liner notes to the CD Reg Hall writes, 'Since the 1970s many more traditional musicians in East Anglia have been recorded, and many have been seen and heard by a wider audience. We understand and appreciate much more their techniques and methods, their repertories and the context in which they performed their music. A new generation of musicians, inspired by the real thing, have made something new for themselves out of the old and they have created new contexts for themselves in pubs, at barn dances and on cassettes and CDs. The music now has a small but significant following in the world scheme of things, and the phrase English Country Music has come to mean a lot more then simply the title of this record.'

Go forth - and listen.
---
ENGLISH COUNTRY MUSIC - A DISCOGRAPHY
By Dan Quinn, 2001
THE OLDER PICTURE
---
Various Artists English Country Music 1962 LP. Reissued as LP - Topic 12T296 1976 - and as CD with extra tracks - TSCD607 2000. This is the seminal English Country Music set and features Walter and Daisy Bulwer, Billy Cooper, Reg Hall, Mervyn Plunkett and Russell Wortley.
William Kimber William Kimber EFDSS LP1001 1963 LP
Various Artists English Country Music from East Anglia Topic 12TS229 1973 LP This vital album features Oscar Woods, Percy Brown, Harold Colvill and Billy Bennington.
Various Artists Boscastle Breakdown Topic 12TS240 1974 LP
William Kimber The Art of William Kimber Topic 12T249 1974 LP
Scan Tester The Man in the Moon FSA 085 1975 Cassette
Bob Cann West Country Melodeon Topic 12TS275 LP 1975
Stephen Baldwin English Village Fiddler Leader LED2068 1976 LP
Jimmy Cooper Dulcimer Player Forest Tracks FTS3009 1976 LP
Various Artists The Earl Soham Slog Topic 12TS374 1978 LP
Various Artists Sing, Say or Pay Topic 12TS375 1978 LP
The Beresford Band Yorkshire Dales Dance Night Leader LEA2069 1979 LP
Jim Small Three Jolly Sheepskins FSD-30-327 Folktracks 1980 CASSETTE
Jim Small The Life of a Man FSA-45-138 Folktracks 1980 CASSETTE
Joe Hutton, Willy Taylor and Will Atkinson Harthope Burn MWM MWMC1031 1983 LP and CASSETTE
Billy Harrison and Jim Eldon Billy Harrison and Jim Eldon Musical Traditions MTCass201 1986 CASSETTE
Bob Cann and Mark Bazeley Five Generations Veteran VT110 1988 CASSETTE
Bampton Morris Musicians Greeny Up Veteran VT111 1988 CASSETTE
Dartmoor Pixies A Dartmoor Country Dance Party Veteran VT113 1989 CASSETTE
Will Atkinson Mouth Organ Common Ground CGR002 1989 LP
Scan Tester I Never Played To Many Posh Dances Topic 12T455/6 (double album). 1990 LP (Reissued Veteran VTVS03/04 1990 DOUBLE CASSETTE)
Willy Taylor Welcome to the Dene Common Ground CGR008 1991 CASSETTE
East Anglian Melodeon Players The Pigeon on the Gate Veteran VTVS05/06 1997 DOUBLE CASSETTE
English Dulcimer Players I Thought I Was The Only One Veteran VTVS07/08 1998 DOUBLE CASSETTE
Various The Voice of the People Volume 9: Rig-a-Jig-Jig Topic TSCD659 1998 CD
Various The Voice of the People Volume 16: You Lazy Lot of Bone Shakers TSCD666 1998 CD
Bob Cann Proper Job Veteran VT138CD 1999 CD
William Kimber Absolutely Classic EFDSS EFDSSCD03 1999 CD
The Old Hat Concert Party The Old Hat Concert Party Old Hat OH1CD 1999 CD (Reissue of 1986 tape).
Mark Bazeley and Jason Rice Moor Music Veteran VT139CD 2000 CD
The Rice Family Merrymaking Veteran VT144CD 2001 CD
---
THE SECOND PHASE
Oak Welcome to Our Fair Topic 12TS212 1971
Ashley Hutchings and John Kirkpatrick and various artists Morris On Island HELP5 1972 (reissued on CD)
John Kirkpatrick and Ashley Hutchings and various artists The Compleat Dancing Master. Island. HELP17 1973 LP
The Rakes The Rakes Leader Led2071 1975
Ashley Hutchings and various artists Rattlebone and Ploughjack Island HELP24 1976 (included here only because it starts with a cylinder recording of the Herefordshire/Shropshire fiddler John Locke playing a polka and recorded at the turn of the last century). LP
Ashley Hutchings and various artists Son of Morris On EMI(Harvest) SHSM2012 1976 (reissued on CD)
The Old Swan Band No Reels Free Reed FR011 1976
The Albion Dance Band The Prospect Before Us EMI(Harvest) SHSP4059 1976 LP (Reissued CDEMS1476 CD 1993)
The Pump and Pluck Band What a Beau My Granny Was SAGSound 8006 1976 or 1977. CASSETTE
Flowers and Frolics Bees on Horseback Free Reed FRR016 1977 LP
New Victory Band One More Dance and Then Topic 1978 LP (Reissued with extra tracks Backshift BASHCD47 2000)
The Old Swan Band Old Swan Brand Free Reed FR028 1979 LP
Umps and Dumps The Moon's in a Fit Topic 12TS416 1980 LP
The Old Swan Band Gamesters, Pickpockets and Harlots Dingles DIN322 1981 LP
The Hemlock Cock and Bull Band All Buttoned Up Topic 12TS421 1981 LP
Flowers and Frolics Sold Out EFDSS EFDSS BR6 1984 LP
The Oyster Band Twenty Golden Tie-Slackeners Pukka YOP06 1984 LP
Tiger Moth Tiger Moth Rogue FMSL2006 1984 LP
The Mellstock Band Under The Greenwood Tree Saydisc SDL360 1986 LP
Gas Mark 5 Gas Mark 5 Festival Festival 2 1988 LP
Various Bands Tap Roots FROOTS C002 1988 LP and CASSETTE
The Old Hat Dance Band The Old Hat Dance Band Old Hat OH2CD 1992 CD
The Old Swan Band Still Swanning Free Reed FRCD31 1995 (An augmented compilation from the two Free Reed LPs)
Katie's Quartet Katie's Quartet Old Hat OH3CD 1996 CD
Will Duke and Dan Quinn Wild Boys Hebe Music HebeCD001 1996 CD
Simon Ritchie Melodeon Mania X-Tradition TMM1911CD 1998 CD
Katie Howson and Jeannie Harris Unbuttoned Old Hat OH4CD 1998 CD
The Bismarcks Upstream EFDSS EFDSSCD04 1999 CD
The Posh Band English X-Tradition TMM1927CD 1999 CD
Flowers and Frolics Reformed Characters Hebe Music HebeCD002 2000 CD
Will Duke and Dan Quinn Scanned Hebe Music HebeCD003 20001 CD
---
This does not pretend to be a complete list though it hopes to point to the major recordings. Further suggestions will be welcomed.
---