H. Crabb and Son, concertina makers
By Roger Digby (Roger@hoppits.demon.co.uk), February, 1978
Photos by Bob Naylor
[update: June 10, 2007: Bob Naylor has given permission for his photos to appear here.]


The article that follows was written in February 1978 and published in Folk News, a long-defunct newspaper. I was reminded of it by the thoughts on early Jeffries published on this site and I searched my attic (successfully) for the old newspaper. The original article was accompanied by photos which never came back from the publisher, but I also found others from the same session and I attach them here. They were taken by Bob Naylor, a superb photographer, regularly to be found recording events on the 'folk scene'. I am trying to get in touch with him to request permission to use them again but I have had no luck yet in finding a contact number. If I do, I will inform site users of his consent or else withdraw the pictures if he is not happy. I am going ahead because my memories of him are such as to make me believe that he would have no objections!
This article is one of two projects that I undertook with the Crabbs; the other was a short documentary for Anglia television (the only occasion I met Henry) at about the same time in the mid 70s. (I wonder if the footage still exists!) At the time I lived very close to their workshop in Liverpool Rd. and called in regularly getting to know Neville well and Geoff to a lesser degree. The willingness of Neville to chat for hours about concertinas (Kenneth Loveless, who will be known to you Kimber enthusiasts and who also lived in Islington, told me that Harry was always equally hospitable) makes me wonder if this contributed to the waiting list!
The article was written in the year of the Queen's jubilee which explains the references to it and it follows without alteration so it can stand as a 'period piece'. The facts are that Geoff left the business soon after this time, Neville died a few years later, and the next generation was not interested in the family business. The other important fact remains that at this time, as for years before, Crabb was the only maker of quality concertinas in the world. Fortunately, Islington Council accepted the significance of the shop and the facade was preserved and restored and looked very good in green paint and with the name still proudly above it the last time I was in Liverpool Rd.
The quality of the Crabb concertinas will continue to be a source of argument and debate. There is no doubt that they could turn out superb instruments and there is also no doubt that they often didn't do so! Some of their 60s-70s instruments are not well finished -- but can still sound great. Ask John Kirkpatrick, who wouldn't swap his dowdy-looking Crabb for any gleaming Jeffries! And who would deny it sounds fine in his hands?
My first good Anglo was made by Neville, and thereby hangs a long tale, perhaps for another occasion, and with 38 keys, raised ends, 7 fold bellows and reeds of Swedish steel it is a beautiful instrument. Even Steve Dickinson, who now trades as 'Wheatstone' and hates Crabb machines, admits its a beauty. I think the point here is that for Neville and Geoff it was a job and a living; they could be superb craftsmen but often the financial realities militated against it. Our current new wave of makers are passionate in their chosen field, which is perhaps a very different attitude from an inherited family business. We should rejoice, not only that we no longer live in a time when there was only one concertina maker, but also that Steve at Wheatstone and Colin Dipper in the West Country are such dedicated and capable craftsmen.
Here's the article.
---

Jubilee Year has been a good year for H. Crabb and Son, the concertina makers of Liverpool Rd, N.1, and to celebrate, Geoff Crabb has made himself a special jubilee concertina. The instrument -- a 40 key Anglo -- has been made in Geoff's spare time and has taken him seven months to complete. The seven-fold bellows are a maroon colour, the usual Crabb trademark has been replaced by the Silver Jubilee Crest, and the metal ends are of stainless steel ("Never again." Geoff says, "They took five times as long as normal ends, and I tore a tendon in my wrist while cutting them!')

This is the third concertina that Geoff has made for himself since joining his brother, Neville, in the family business, and now, in 1977 there are two Crabb brothers making concertinas together, just as there were in the 1830's when John Crabb, a cabinet maker, and his brother, Charles, were approached by Wheatstone when he was first setting up a concertina business. Charles stayed with Wheatstone for life, along with his two daughters, who probably made bellows, (this was generally considered to be 'women's work' ) but John left in 1848 and his new firm Nickolds, Crabb and Co. claimed to be the inventor of the Anglo concertina. In 1860 John Crabb started a business on his own, which moved to Liverpool Rd. in 1891.

Various mysteries surround the early days of Crabb's business. Its history has never been recorded, but merely passed down orally from one generation to the next. The major mystery surrounds the earliest existing stock sheets which cover the years 1889-95. These show that at this time three 30 key Anglos were being made each week with a retail price of £3.5.0 There is a photograph of one in the workshop today and it is clearly stamped 'J. Crabb concertina maker', yet the present Crabb family have only ever seen a handful of these concertinas. Their 'disappearance' is a mystery.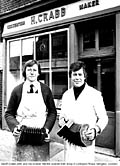 It is known that around this time the tinker, Charles Jeffries, was selling concertinas on his travels around the country and that Crabb originally made these for him before he began production himself, but the relationship between the two businesses is not clear. Certainly when Jeffries started production in a large way, professional jealousy set in and one member of the Crabb firm would keep Jeffries talking on the doorstep while the others hid all the specialist machinery, but nothing is known about how John Crabb supplied Jeffries with concertinas in the earlier years nor when he stopped doing so. Neville Crabb believes that the hundreds of missing J. Crabb Anglos were sold to Jeffries without the Crabb stamp on them, and with the necessary slight adjustment to the fretwork. Jeffries then stamped them with his own name, usually between the keys. When the tinker started to make his own instruments he used a larger name plate in the conventional place. In other words, a concertina bearing the simple stamp, 'C. Jeffries' would have been made by John Crabb. There is unlikely to be any way of establishing this theory beyond doubt, but it does solve the mystery of John Crabb's Anglos in a way that agrees with the known facts about Charles Jeffries' early life as a travelling tinker.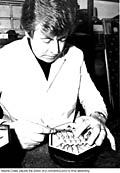 At this time, Lachenal was producing a 48 key English concertina for £17 and Wheatstone an equivalent for about £25, so there appears to be a good financial reason why the Anglos of Crabb and Jeffries found their way to the traditional musicians, and the English concertinas went into the Victorian drawing rooms of the middle class.
Eventually Jeffries cut Crabb out of the Anglo market and by this time Wheatstone's were established as the makers of the English concertina, (even today many old players refer to an English concertina as a 'Wheatstone' regardless of its maker). Wheatstone had also acquired the patent for the McCann system duet concertina, so Crabb bought the patent for the Crane duet system and a large number of these were made in the first half of this century when the firm was in the hands of John's son Harry, and later his son Henry, the father of Neville and Geoff. The family played the duet concertina in those days, and it was a duet that Neville received from his father on his eighth birthday.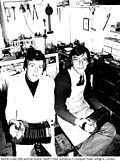 The folk revival has, of course, had a vast effect on the concertina business. In its early days the shop was beset by would-be players wanting instruments or repairs, particularly to battered old Anglos. "They didn't have a clue what they wanted," says Neville, "They were usually happy with anything we had . Nowadays our customers are mostly experienced players; we have very few beginners now really. I had one fellow in Yorkshire wanting special straps for his Anglo because he'd taught himself to play it upside down. He was using his little finger on the air button. Another chap, he's quite famous now, brought me an English concertina to be retuned, so he could play it in his band. It was in a shocking state -- old pitch and out of tune. Well, I tuned it for him and be brought it back very cross because it was worse than ever. I checked it over and it was perfect. Of course, he'd taught himself to play and started by finding middle C. Well, that instrument was so out of tune he got B instead, so he thought he was playing in C when really he was playing in -- what would it be? -- five sharps"'
The folk revival has affected the company's finances too. Neville Crabb again: "In 1960 we had no work and no money. In that year we filled in time making twelve miniatures; they took ten years to sell!"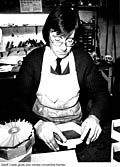 The company survived on repair work, mostly accordians, and their instruments, subsidised in this way and in very small demand, were sold at unrealistically low prices, around £50. In the 1970's orders were flooding in. Reluctant to increase prices, Crabb decided to increase production, and in 1973 there were four full-time workers as well as part-time staff. There was no longer time for the lucrative repair work, wages were rising fast and staff leaving, and there was a three year waiting list for a new instrument. Clearly something needed to be done. Refusing all new work, Neville virtually closed the shop and made three concertinas as a costing exercise. They took him five weeks. The firm's accountant recommended a price of at least £300 each. Reluctantly prices were increased by 100% and later increased again until a more realistic price was approached.
Now the business is again stable, the backlog of orders is largely clear, and Neville and Geoff are hoping to settle down to making 20-25 new instruments each year. 1978 is already full but in future 30 key AngIos and 48 key English concertinas should be available within a year. So if you order yours now you should definitely have it by 1981 when H. Crabb & Son (Crabb Concertinas) celebrate their own jubilee -- 150 years of concertina making.

Reproduction of the notes on the Crabb family history which were written by Neville Crabb to assist me in writing the article. [Note: these are 300 DPI images meant for printing -- they will appear very large if viewed in your browser.]