Fine handmade, ready to frame prints on high quality paper are available. To order or for more information, please e-mail Peter Laban: peterlaban@eircom.net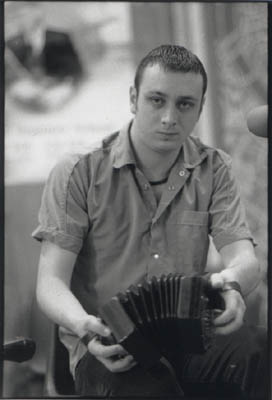 Hugh Healy, from Corofin in Co Clare.
Here soundchecking on stage before the big Willie Clancy concertina concert.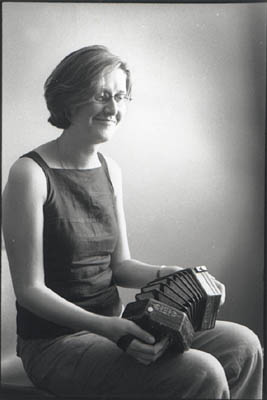 Brid Meaney
Originally from Ennis, Co Clare but now based in Dublin, Brid Meaney is one of the top players adding some lovely personal touches to the music.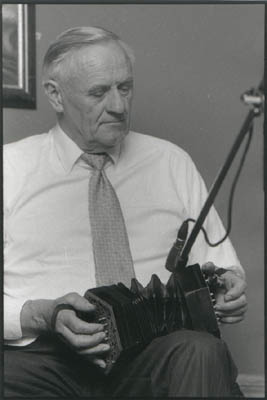 Tom Carey
On the cover of one of the 1970's Topic Irish concertina LPs a photograph shows Solus Lillis playing music in a kitchen with a young man. The young man was Tom Carey from near Cree, Co Clare. Here no longer young but still at it, he is caught playing at the Tommy McCarthy Memorial concert in the Armada Hotel, Spanish Point, Co. Clare, june 2001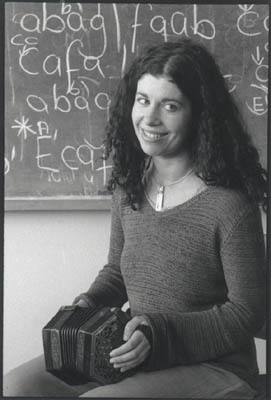 Yvonne Griffin
Great music mirrors the personality of the player. Just like her music will have many colours and moods, changing with all the little variations a traditional player may use, one moment Yvonne Griffin was introspective, inwardly focussed on the music while playing some tunes in front of her pupils, the next moment she looked at the photographer and beamed a smile that lit up the room and made your heart melt.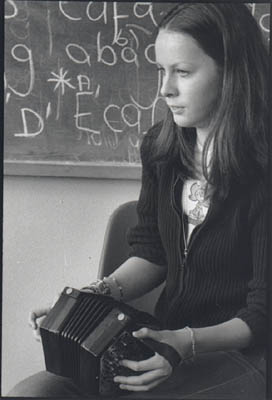 Edel Fox
Only in her mid teens Edel Fox from Glendine in Miltown Malbay is one of the up and coming in Irish concertina music. Doing well for herself in the various Fleadh competitions she also teaches a whole bunch of kids from the Miltown area.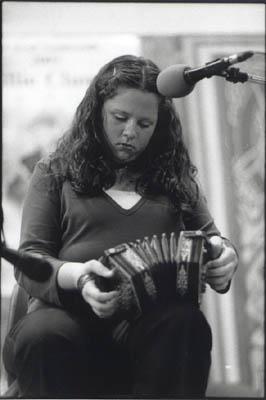 Michelle Mulcahy
From a musical family, Michelle Mulcahy is technically skilled on the concertina. Here she is playing at the Willie concert, as Noel Hill put it 'in very difficult keys'.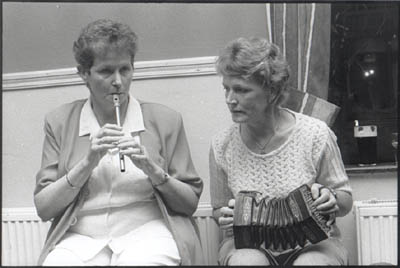 Ita and Angela Crehan
Not as much from a musical family as from a musical dynasty, Ita and Angela Crehan are at the heart of the tradition. Daughters of the late Junior Crehan of Bonavilla, Ballymakea, Mullagh Co Clare, in this snapshot they are preparing for an appearance at the Tommy McCarthy concert.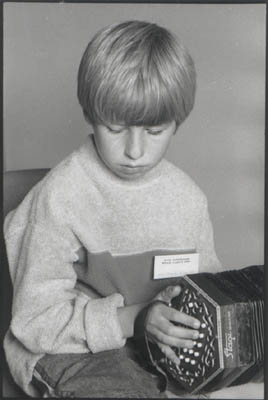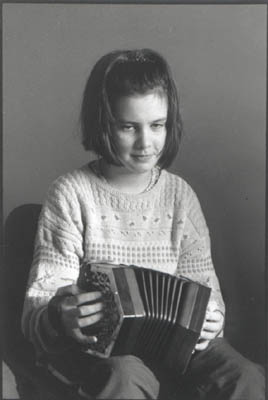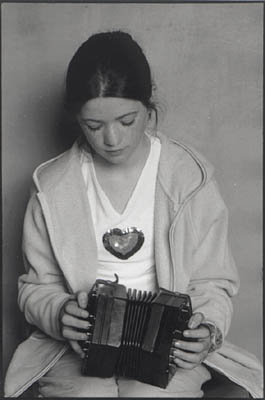 A few students from Brid Meaney's class during the 2001 Willie week. I was waiting for Brid to turn up for her class, she was late due to a traffic accident. She asked me to stay with her class while she was talking to the guards. I killed some time taking a few snaps of the practising students. These are three of them.