Father Charlie Coen at Swannanoa 2000
By Ken Coles, Logansport, Indiana U.S.A.
July 2000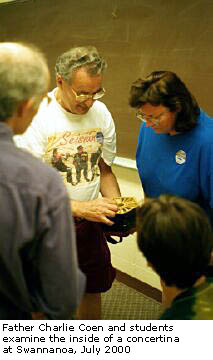 Father Coen is clearly an experienced teacher. In his first parish in New York City, he started a children's choir at the school and taught them songs in Irish! He has not made an encyclopedic study of various fingering systems or key layouts, so he teaches from what he himself plays (3-row C/G system). My impression is that his style is strongly influenced by the songs he heard as a child. This contrasts with the various Clare styles you hear in many other teachers (Fr. Coen is from eastern County Galway). As you'd expect, the ornaments are never the same twice, and the use of drones and chords (very interesting to me) differs from that I've heard in other players.
After several curious visitors the first day left (one had a bandoneon!), there were seven of us in the class. Five were variously intermediate to advanced (1 Stagi, 3 Lachenals, one Ball Beavon) and there were two beginners (1 Bastari, 1 Lachenal). Each day we'd play through the tunes we'd already done as a group, then Fr. Coen gave music for a new tune, played it slow and then fast for us to record or listen to, and sent the experienced players out for 20 minutes to work on it. He spent this time with the beginners, who told me they were very satisfied that he tailored what he was doing to what they needed help with -- mostly basic scales and some slow tunes. We all came back in and got a second tune. We practiced it together, and then there was commonly ten minutes left to ask for demonstrations of ornaments, request tunes, or just let Fr. Coen play one of his favorites. All this in a 75-minute class each day. At the end of the week I had ten new tunes, only two of which I had heard before. While we didn't get to play individually in class, we did everything else I've done in longer, more intensive classes. I think this format suits Fr. Coen's teaching style, and it works if you make a point of practicing outside class. I'm not sure he could cover things the same way in a single 2-hour or half-day workshop.
Father Charlie Coen is not only an experienced and efficient teacher, but is charming and fun to talk to. He also knows more Church-related jokes and stories than anyone else I've met! He expresses surprise at so much interest in concertina, which he says had nearly disappeared from Irish music a generation ago. I gather that he is not always free for summer week-long workshops, but if you're interested in studying with him, check the schedules for Augusta, Swannanoa, and East Durham, N.Y. (Catskills Irish Week), all places where he has taught in the past.