and I'm glad I tried it.

Because Paul's Anglo Buyer's Guide was so useful to me and others, it is high time to attempt something similar for English concertina. Many thanks to everyone who contributed to what I've learned and to what follows: Juliette Daum, Jim Lucas, Tom Hall, Jeff Warner, Ed Delaney, Ken Sweeney, Don Nichols, Jay Lamsa. Your additions are welcome.

What to buy? The choice is less clear than for anglos, as many lower end vintage models worth playing cost barely more than a Stagi. For progressively more money you can get a good new accordion-reeded model or a better vintage instrument. I have the impression that internal design of traditionally-reeded instruments varies less than for anglos, perhaps because the English concertina has changed little from Wheatstone's original design. For example, a radial reedpan layout is typical, as is 48 buttons or keys. Don't forget that several dealers rent less-expensive concertinas. This is a good way to start if concertina is new to you.

In what follows I have not repeated contact information for makers and dealers when it is available elsewhere in the Buyer's Guide. The Concertina FAQ also lists contact information.
RANGE

Left to Right: Lachenal contrabass, Wheatstone Aeola bass, Wheatstone Aeola baritone-treble, Wheatstone Aeola tenor-treble.
Other sites like the Concertina FAQ cover this better than we can, but a few introductory comments are in order.
Most folks start with or play 48-button (48-key) treble models. These are the most widely available. The original vision was for classical music and to duplicate the range of a violin, from G below Middle C to the C three and half octaves higher. If you play traditional/folk/dance music, however, treble range may seem too wide or too high, as such music doesn't use the top octave of notes very much. The lower range of a tenor or a 56-button tenor-treble may appeal. Vintage tenor concertinas seem pretty rare -- a marketing opportunity for anyone building reproductions today. The baritone is popular with singers and in groups.
VINTAGE MAKES
Lachenal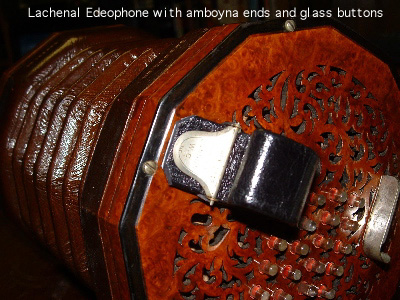 As in the anglo world, Lachenal and Co. were the most prolific makers of English concertinas in history. Wes Williams reports that the numbers run to perhaps 60,000. All combinations turn up, including brass reeds or steel reeds, wood (mahogany, rosewood, ebony/ebonized wood) or metal ends, and six-sided or the top-end twelve-sided Edeophones. Prices start fairly low, but beware the condition of the very cheapest. (Note that I didn't say quality; I'm making a distinction.) These are commonly brass-reed models in need of major overhaul, with bad bellows, etc. I know more than one person who bought one of these planning to fix it up (or have it fixed up) but never did so. I recommend going to a reputable dealer or a private sale where you can check the instrument out (and have it checked by an expert). Learning to fix a concertina is a separate project from learning to play one. For most of us it is smarter to delay the fix-up purchases until you know what you want.
Incidentally, the sound of brass reeds is popular with some players. Brass reeds can sound nice and there are times when steel reeds are too strident or loud for the music one is playing. These instruments go for less money than steel-reeded concertinas and are worth considering (in good condition) if you are starting out on a budget.
My own first English is a rosewood-ended treble with steel reeds, metal buttons, and five-fold bellows. While still a pretty basic Lachenal, this is a step above many of the bone-button or mahogany-ended models. It cost only a bit more than a new Stagi treble and (to me) it's preferable to start with. An expert player tells me it has very good action. The concertinist who sold it to me could really play it well after nine years of owning it. He now has a Wheatstone Aeola, which brings me to the next maker...
Wheatstone (pre-1974)
Wheatstone are still considered by many the top of the English concertina tree (though Lachenal Edeophones also have their boosters), especially as modern makers who use traditional construction make so few English-system instruments today. The production given by Wes Williams is over 30,000, though this may include some early anglos and duets. My impression is that Wheatstone Englishes were all made to a high standard in the "classic" era up to WWII. I once tried a nice ebony-ended treble with brass reeds that played nicely and was for sale for less than a beat-up Lachenal anglo would cost you. Of course the eight-sided Aeola trebles and tenor-trebles are sought after. These continued to be made after 1945, but they seem to vary more in quality. I once tried three of these post-war Aeolas side by side. Even as a beginner I could feel a great difference in the response and playability between them, from unresponsive to very responsive. Try before you buy, if you can.
Having considered the two most common brands, here are some of the less common vintage English concertinas.
Jones
English model Jones concertinas show up once in a while on Ebay and elsewhere.
Crabb
A Crabb English 48 button treble concertina model 4E, "Bought new in 1987" appeared on ebay. It was eight sided with metal ends. One of these days we can ask Geoff Crabb to tell us more about the Crabb models of English system concertinas.
Jeffries
Wes Williams has commented on concertina.net that he knows of two examples of English system concertinas made by Jeffries. The anglos by Jeffries are legendary; would an English be also? All of us would love to hear a report or sound sample from anyone who could provide them.
Case
Scates
Chidley
Prowse, etc.
The 1850s and 1860s for concertinas sound like the 1920s for radios or the 1980s and 1990s for computers. Everyone started a company and made their own model and after a decade or so many were absorbed into a few large makers. These are some of the names that turn up from that era. The dating article by Wes Williams tells a little about each maker.
COMTEMPORARY MAKERS OF TRADITIONAL DESIGNS
These concertinas use reeds made in the 19th-century style. They will cost you serious money and the waiting time is typically several years but the results are generally well worth the wait.
Holmwood
Hamish Bayne (who has no Web presence that I'm aware of) of Orkney, Scotland, makes tenor-treble concertinas that get very high marks from their owners. An article in Concertina and Squeezebox about ten years ago told a little about him. Don Nichols let me try his Holmwood. Even though I could only play one or two tunes at the time, I could tell it was a very fine instrument. You can see Don playing his Holmwood on his Web Page. The fretwork in the ends is astonishingly detailed.
Holmwood Concertinas
Hamish and Freda Bayne
Unit 3 Quarryfield Road
Hatston Industrial Estate
Kirkwall KW15 1GD
Orkney
Telephone: 01856 879055
Suttner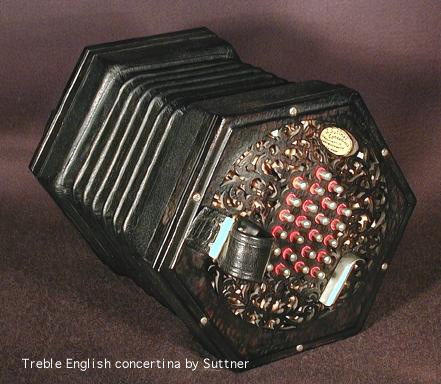 Suttner lists Model E-1 in his catalog. These can be had in treble or tenor tuning with wood or metal ends and the reeds in the usual radial layout. I have not spoken with any owners, but the image looks very nice.

Dipper
As C & R Dipper build all sorts of concertinas, there may be some English models out there. Can anyone supply some comments or experiences?
Wheatstone (Modern era, by S. Dickinson)
Dickinson lists several English models in his on-line catalog: Metal-ended hexagonal trebles and ebony-ended Aeola (octagonal) trebles, tenor-trebles, and tenors. Any comments or experiences?
ACCORDION-REED MODELS
Jackie
An exciting new development is the appearance of a model from Wim Wakker's Concertina Connection called the Jackie. This addresses a classic market niche in a reassuring way: a beginner's model made in China to a dealer's specification and with their service and trade-up policy.
Jim Lucas had this to say about the Jackie: (Feb 9 2004)
I only recently received my three Jackies (I was the one responsible for the delay). I definitely do recommend them as beginner instruments.

Though bigger (18-1/2 cm across the flats) and heavier (1.3 kg) than my 48-button Aeola (at 16-1/2 cm and 1.15 kg) I find the Jackie surprisingly manageable and even comfortable. All three instruments are in good tune and balance and response and action are good. These are the ones with the riveted action.

I did have to make minor adjustments (not tuning) to a couple of reeds in two of the instruments, but when I contacted Wim he indicated that they've had some problems with instruments shipped 3-6 to a box. I guess the greater combined weight may result in stronger shocks during shipping. If you order a single instrument, you should have no problem... but even if you do, an email to Concertina Connection should get you prompt assistance.

I have no real complaints, though it would be nice if its range went at least one note higher. The Jackie's top note is G, while a lot of Irish tunes include the A above that. It's always possible to substitute another note, but it would be simpler if one didn't have to. On the other hand, probably few beginners will be trying to play such tunes.

Each instrument comes with its own gig bag. It's very handy, though not heavily padded. But it also has some extra room, where you can wrap padding -- or music -- around the instrument. I put the tutor book there.

Yes, each instrument comes with a tutor for beginners, written by Wim Wakker, which introduces musical notation and various musical concepts, as well as instructions on how to begin to play the instrument. The only drawback, to my mind, is that any talented and motivated student will quickly exhaust this book and want something more.

I also don't agree with everything Wim says in his tutor about holding the concertina, but I don't believe that following what he says will cause any harm. My own technique favors greater freedom, and I feel his recommendations are overly restrictive, but anyone who agrees with me can certainly work to develop greater flexibility at a later time.
Stagi
These long-available beginner's models include treble, tenor, and baritone concertinas. I got to try one at the 2002 Gebhard Woods festival in Illinois. A tenor model, I found it had very light action, compared to the springs I'm used to in my Lachenal. The Stagi had subdued tone and slower response. Like the Stagi anglos, it is an alternative for the beginner, though the availability of vintage instruments in this price range makes the choice more individual.
Morse "Albion" model
Rich Morse had mentioned to me during the 2001 Squeeze-In that they are building some accordion-reeded English concertinas. A well-known English player has solicited such designs. Sure enough, the "Albion" model appeared on their Web page in November 2001. They dropped the 10 highest notes to get enough room inside for accordion reeds, I presume. I have to admit I never use anything higher than their top D anyway, so such a range would suit me as a beginner.
In mid-2002 they added a baritone model, pitched an octave lower than the treble. It also has 37 buttons, uses accordion reeds, and is the same size as the treble. In 2004 they added a model with black ends.
Morse Albion impressions
Posted by: Larry Newman on the c.net forum, Jan 25, 2002
I received my Albion English concertina yesterday, and not a bit too soon, having sold my trusty Bastari 30 button last week and suffering mightily from CoWS (Concertina withdrawal syndrome).

Herewith lie some initial impressions:

Well finished, cherry ends, all the rest some rather expensive black calfskin on thumbstraps, end caps and tops of bellows, integrated with pebbled synthetic leatherlike on the insides of the valleys, with the gussets in calfskin.

All metal in brass; thumbscrews holding thumbstraps (!)...could be engraved with owner's name or other such.

Black delrin buttons in wool felt sleeves. 37 of them, going from low G to high D. Rather smaller in diameter than the Bastari buttons.

Small recessed tags saying that this is instrument numbered 097, made in Amherst, Massachusetts USA by R. Morse & Co.

And, some playing impressions:

Wow.

It's much LOUDER and brighter....rather, it wants to be played out, rather than timid attacks. This instrument could make itself heard on stage, if desired, and not be relegated to the background.

Incredibly responsive, lightening fast...shows up all my playing faults...now I understand the difference between legato, portato, and staccato....the Bastari would hint at these in a legato sort of way...rather forgiving for a beginner, actually.

The buttons, which seemed miles apart at first, are not. They have a slight edge on the top radius that is satisfying for a flying finger to find. The smaller diameter makes it possible for a twisted backup finger to lie in wait for a difficult transition using alternate fingering.

I, of course, immediately tried all the difficult, accidental filled pieces, like Cascata de Lagrimas, by Moacyr Braga. I found that my fingers need to get used to having a real D#, A#, G# instead of their flat alternates...so a learning process has begun, where I'm trying to use the correct accidental if possible, while keeping the alternate in reserve for ease of fingering.

When taking a break from that stuff, I tried The Bunch of Fives by Colin Hume, which Irish players may be familiar with. I always had trouble getting up to speed....well, the Albion tore thru with nary a missed note...as fast as I wanted to go!

The simpler waltzes are a breeze, but the subtlities of expression do stand out, and demand to be conciously played. Responsiveness has its demands as well as its rewards.

I'm quite happy with my upgrade - an instrument for the long term to grow into.
Geuns-Wakker
The Concertina Connection sells accordion-reeded 48-button models in both treble and baritone ranges, with a variety of finishes. They also produce a 48-button double action bass that is two octaves below a treble.
Their student model English concertina has 29 buttons. The description notes that "The compass of the instrument, G below middle C up to the second B above, is fully chromatic. Because of the omission of 'doubles', the Ab and D# are missing since the same pitches are available on the opposite sides: G# and Eb, the instrument is very light weight and affordable."
Norman
The Web Site for A. C. Norman says, "We now also offer a Tenor English system concertina with wooden ends, brass fittings, black bellows and a leather-covered finger-rest. 45 keys from "C" below middle "C", 3 octaves and a tone, fully chromatic. Width 7", weight 2lbs 12oz. Also available with black ends and various veneers." We understand this uses accordion reeds like the Norman anglos.