Photos and report from The Incredible Concertina
A Concert in Honor of Sir Charles Wheatstone
A Bicentiennial Celebration
April, 2002
Photos courtesy of Bob Gaskins (www.concertina.com)
Click here for the Center for the Study of Free-Reed Instruments
---
Report by Allen Watsky:
What a blast! Wall-to-wall concertina.The only possible regret being that the event was too short. All of the players were wonderful. What follows is a brief summery of the event.
Gearóid Ó hAllmhuráin was the first to play. He was backed by Brendan Dolan on piano, and was joined after a few selections by a French Violinist. Gearóid's playing was relaxed and masterful, very varied dynamically, when playing in duo with the violin a perfect balance between the instruments was effortlessly achieved. Excellent traditional music.
Jody and Tom Kruskal were next. These two brothers played as one though with different personal styles. They demonstrated Morris, sword and ritual dance and also gave us a sample of English Country Dance. The playing was vigorously animated -- a real inspiration. These guys don't often get a chance to play together , but they made up for lost time this night.
Allan Atlas on English, Jim Cowdery on Pennywhistle and David Cannata on Piano played two selections by John Tallis. The concertina was a Wheatstone Aeola. Quite a change after the Anglo selections from Brothers Kruskal.
Allan's playing is expert and focused the lines always have a momentum that propels the music. He pushed his instrument to the limit. Later in the program Allan played a Victorian era Wheatstone. It was interesting to hear the distinct difference between the Earlier instrument and the Aeola.
Sean Minnie and his group from South Africa played Traditional Boeremusiek. The concertinist Stephaan van Zyl played on one system after another. Mr.van Zyl played Anglo, Crane Duet and the Boer Concertina which is a 20 button 2-voice Anglo which is about as big as a English System Baritone. This was a real treat for me. I found it so inspiring that I have determined to learn to play the Boer Concertina. Great music, big fun from South Africa. Sean has a web site devoted to Boer Music, its at www.boeremusiek.org.za, the site explains the music and also lists lots of CDs and tapes that will become part of my listening in the near future.
Wim Wakker and his accompanist, Pianist Paul R.van der Reijden, were on hand to play and play they did. Wim plays an Amboyna-ended Lachenal. Its sound is darker than the Aeola but it projects very well. Wim can really shape a line and is in total control of dynamics and is rhythmically precise. His ability to remove and then smoothly replace his 4th finger in the finger rest was very interesting to me as I play English System. Mr. Wakker as some of you know is an advocate of the use of a neck cord. He plays while standing. He maintained the stability of his instrument at all times, even while utilizing his little finger for 4 note chords. Very accomplished playing from this duo and modern classical repertory. Very impressive. Real proof of the versatility and capability of the Concertina.
David Cornell played and sang. He is a trained Baritone/Bass and plays MacCann Duet. He performed a number of Satires and Shanties. Some traditional and some of his own composition. What fun. Wonderful singing and playing. A skilled performer. In his hands the MacCann was able to produce the most sophisticated harmonies and lines with a robust tone that supported his voice admirably.
This is a very incomplete report. Soon the Button Box will have a video of the event that will complete the picture for everyone. I would like to thank Allan Atlas for his mammoth effort in organizing the concert and the Button Box for co-sponsoring it. The players were wonderful . A total success for the Concertina and its players. I was unable to attend the workshop that was given on Saturday by Wim Wakker, hopefully someone who attended will give a report on that so I can find out what I missed while sawing away on my violin.
---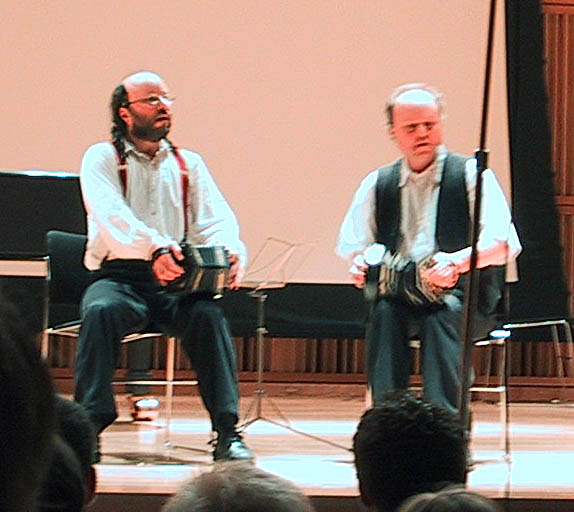 Jody & Tom Kruskal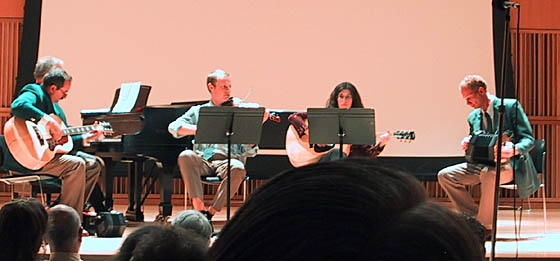 Séan Minnie & Stephann van Zyl, concertinas)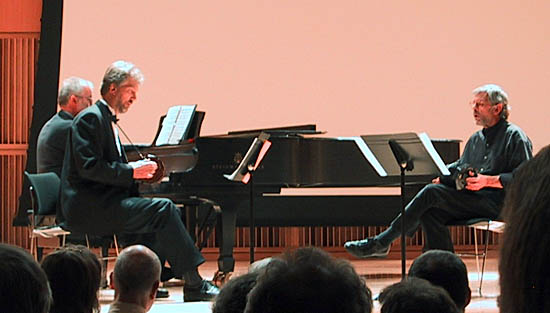 Wim Wakker (left) & Allan Atlas (concertinas)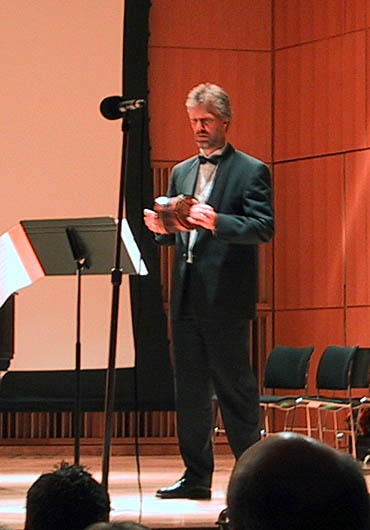 Wim Wakker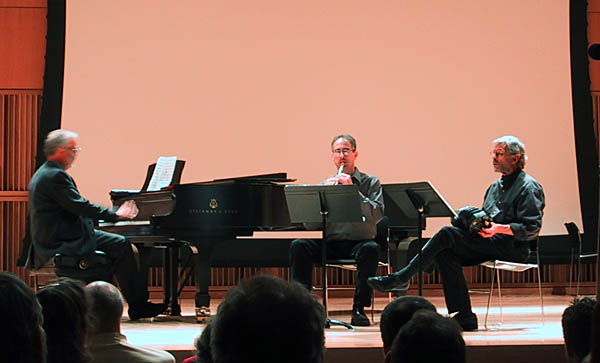 Allan Atlas (concertina)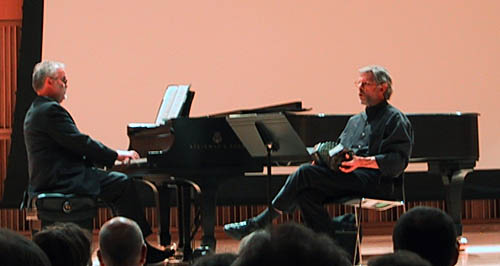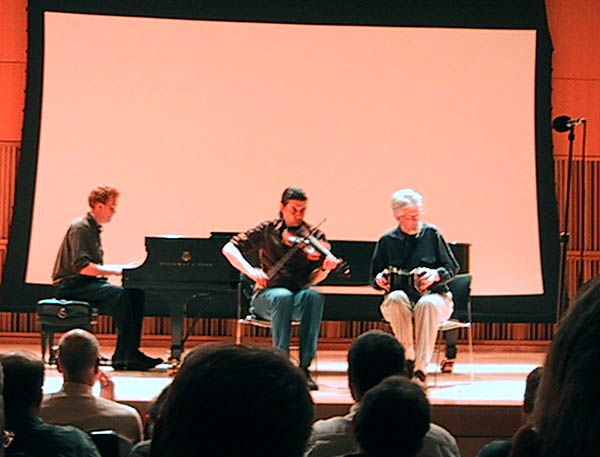 Gearóid Ó hAllmhuráin (concertina)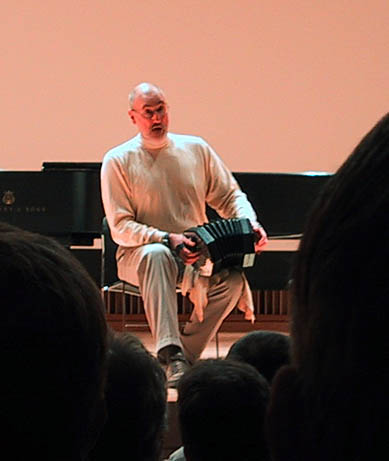 David Cornell