Noel Hill Irish Concertina School (NHICS) 1998
By Paul Schwartz
Oct. 3, 1998
NOTE: The course is no longer given at the location described in this report. Sorry, you won't have a chance to stay in the lovely cabin pictured below. The course is now held at a new and very pleasant location in New York state.
---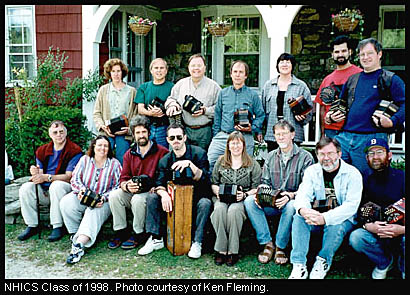 Looking back
I wrote the rest of this article about a week ago, but I wanted to really wait and let the course and the whole experience soak in a little more before I finalized it. Was it worth the time and money? An unconditional YES! It wasn't always fun and games, especially since I tend to take these things more seriously than I need to and so at times frustration kept me from enjoying myself, but every day now that I pick up my concertina and go over old tunes and new ones that Noel gave us, the more amazed I am at how much life Noel managed to breathe into my playing and my appreciation, understanding and enjoyment of the music and instrument. It's nothing in particular that he said or did, but more of a sum of all the little details and all the playing and attention he gave us. So read on!
You say "Rustic", I say "Revolting"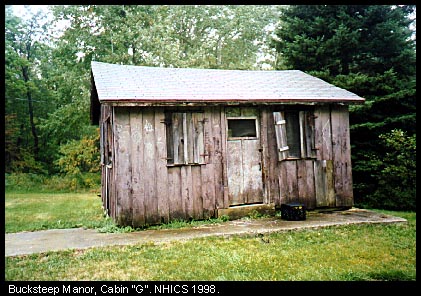 The mystery is solved. Yes, now I know what happened to Ted Kaczynski's shack when he was taken into custody. It was shipped to Bucksteep Manor in Western Massachusetts and I got to sleep in it. Actually, it must have been a poor replica of his cabin, as it was much worse than the real thing! Okay, in all fairness, they do call them "rustic cabins", and I found out later that I had one of the "old" cabins (the more recent constructions looked nicer) and I knew there was no heat, hot water, or electricity, but my cabin was disgusting. I sensed I was in for a surprise when I was told that my cabin was cabin "G", but that the "G" had fallen off it some time ago, so just look for the second cabin after the pool. The two cots seemed supported by slinky springs, and the bare mattress on the floor was, well, also disgusting. So I slept on the floor in my sleeping bag. A slight burned-wood odor proved to be coming from a large hole burned in the center of the floor of the cabin by generations of pyromaniacal teens at summer camp who also deposited what must have been gallons of candle wax all over the floor.
A trusty "cable spool/table" covered the burned hole. The very same creative teens had posted copious amounts of graffiti on the inside and outside of the cabin including anatomical drawings and such witticisms as "Sex is good" (they're right!), "Sex is great" (right again), and "This place sucks" (definitely right again!). The screens were torn and the largest "window" had no shutter, so cold damp air fell down on me each night. The cabins were cheap, but camping would have been even cheaper, and a good tent would have at least been bug-proof and wind-resistant. It wasn't completely clear in the official NHICS documentation, so let me say that the cabins should be considered like lean-tos. Bring everything you would normally bring for camping, except the tent. Don't forget a flashlight, good and warm sleeping bag, pillow, any other bedding you might want (a sheet or two), sandals for the walk to and from the shower room which by the way, has a single shower and toilet (well, one for men, one for women), and rarely any toilet paper -- thank god for the bathroom on the main floor of the manor! I didn't have one, but a camping lantern would also be nice for those late night practice sessions.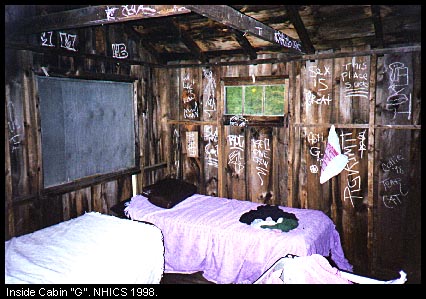 I'm both cheap and relatively poor, so I just couldn't swing a room in the manor, but they looked quite nice. The rooms in the annex looked even nicer (like a regular hotel room I think) and I believe they all had private baths.
Would I choose a cabin again? Maybe, but only if I could get one of the newer cabins which seemed bearable. John K. had a nice camper which really seemed like the right way to do this thing on a budget and with a little privacy (the rooms are not sound-proof and concertinas are loud!). Other than the cabin, the manor was great, with a nice atmosphere, great staff, good and plentiful food and drink, and plenty of dark and thick solid-wood manor-style furniture like you see in brochures for ski lodges. The location is beautiful and secluded with lots of grassy areas and forests. All in all, a very nice place to spend a week.

Arrival
I was one of the first to arrive on Sunday, pulling into Bucksteep Manor at around 2:00 PM. Seeing that there was no place nearby to get snacks, I drove off to the nearest town and after The Tattooed Man filled my car with cheap American gas, I found "Harry's Supermarket" where I bought $12 worth of fine junk food. America is definitely the land of superb and cheap junk food. 2:00 PM was kind of early. I'd suggest showing up around 5:00 or so. Dinner was served at 6:30.
Returning to the manor I met Matt W. who drove all the way from Indiana. Matt has a nice metal-ended Lachenal that I thought sounded great and played great, but strangely enough, it was retuned at some point from its original C/G tuning to G/D. He could tell that this was the case because the notes stamped on the sides of the reed frames did not correspond to the current tuning. Maybe this is a good place to point out that the prevailing wisdom is that it's a REALLY bad idea to drastically retune a concertina like this! The reeds were designed for the original tuning, and pushing them up or down much can damage and weaken the reeds, although I must say, Matt's instrument sounded quite nice to my ears. Anyway, Matt was an interesting case as he had only been playing for 9 months (but really surprised me with his ability -- he's put in a LOT of practice time!) and has only played his G/D concertina, so he had to use "non-standard" fingering (from a C/G perspective) in order to play in the "usual" keys.
Since Noel's fingering preferences are based on C/G tuned instruments, Matt actually decided to put aside his G/D fingering and he borrowed a C/G Lachenal from someone for the week to learn Noel's system. Noel certainly didn't force this on him, but I think it made sense, as the whole point of learning from Noel was to a large degree based on Noel's own system of playing a C/G instrument. Noel amazed us all with his ability to play any system in just about any key (he switched fingering systems "on-the-fly" without missing a beat!) but as you can tell by his recordings, he usually uses different tunings to use his C/G fingering and lower or raise the tone of a tune, so that the tune that you learned in G major for example, won't actually be in G major when you hear it on a recording where Noel used a Bb/F instrument. So the moral of the story is: you should probably start off with a C/G instrument unless you REALLY know that a G/D is for you (and usually this is because you want the lower tone for song accompaniment).
The rest of the group (a record 18 this year!) arrived throughout Sunday afternoon. After dinner, an informal get-together (session) in the manor "fireplace room" brought out the concertinas as well as the rest of the instruments that people played, including Irish flute, banjo, whistle, and button accordion. Throughout the rest of the week, Ken F. and Mark B. amazed us all with their amazing repertoire and talent on tenor banjo and concertina/accordion respectively. I don't even want to guess how many tunes they knew between them -- another humbling experience! Noel arrived late Sunday night, and so we all said hello and promptly disappeared to bed.

Monday Morning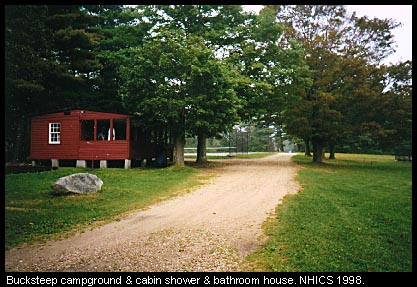 Monday morning I was up and nervous around 7:00. After breakfast (8:00 to 9:00) we got together in the "classroom" and introduced ourselves and our instruments. Noel tried just about all of them and pronounced them all at least adequate. The whole week he was very careful not to pass judgement on instruments. He was there to teach concertina, and would have done his best no matter what you showed up with, so don't worry too much about this. There was everything from Ken C.'s $300 20-button Stagi to very expensive Jeffries and Wheatstones and Noel could make them all sound great. Still, a 30-key C/G is definitely the ideal system to start with if at all possible. This is simply a function of the music and Noel's methodology.
We eventually sorted ourselves out into two groups: beginners and intermediate/advanced. I placed myself in the beginners group. We then each played a tune so Noel could see where we were in our abilities. He also asked many of us first-timers to play G and D scales. Like most everyone, I was terrified, but played my "Hag with the money" okay. I saw that I was not used to playing the G scale using his preferred fingering, so I made a complete mess of that. Still, I was pleased that he said I should go into the intermediate group, so I did so for the rest of the week.
Did I really belong in the intermediate group though? I suppose, but it made the first three days excruciatingly frustrating and stressful. You'll see why.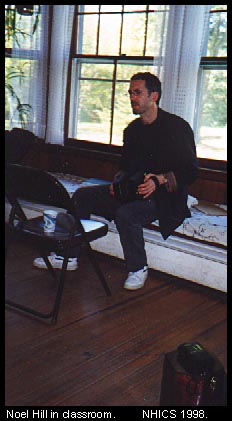 The Drill
For the rest of the week, each day then proceeded along pretty much the following schedule. Around 9:00 AM, the intermediate/advanced group gathers in the classroom. Noel hands out photocopies of a tune. Yes, you really need to be able to read music. If you can't (and some in the beginning class could not), he'll do his best to teach you, but you'll make the most of your time if you come to the course with at least a basic understanding. He's not strict about this, and if you really just want to learn "by ear" (and some did), you don't have to take the sheet music. Still, there's no mystery to music notation, and it's just a system which gives musicians a reference and language with which to speak about, share and learn music. Don't let lack of music-reading keep you from coming, but maybe an introductory lesson or two with a local music teacher would make things easier. At the very least, you should know where the notes of the G and D scales are on your instrument so that when Noel says "this note is played using an E on the draw of the left side" you know which button to press. Again, it's just something to make teaching (and understanding) easier.
Noel then plays the tune through very slowly. He'll often then play it bar by bar, adding comments about how to play each ornament. Of course, just about everyone wants to know Noel's "secrets" of ornamentation! There really are no secrets of course, but these "slow tunes" and explanations are important keys to improving your playing and beginning to make sense of Noel's techniques.
Be sure to bring a tape recorder to record anything and everything. You don't need anything fancy, but something that takes standard audio cassettes will be more practical later. There were a couple of Sony mini-disc digital recorders this year, and they made great recordings and had all kinds of nifty features (track markers for instant access being the most notable). I predict you'll be seeing a lot more mini-discs in North American this year! I ended up using just over four 90-minute tapes. Before playing a tune through, Noel will often say "tape" so you know when to start recording. The sheet music is great for reference, but the tape is still the best way to really learn a tune properly, as it is all but impossible to write down the note values which are needed to give the tunes their proper feel. So don't think that Noel is all technique and no "feel". Notation is just a tool -- the tape is for the "real stuff"!
A notepad and pen and pencil are also necessary. The ideal setup here is clearly a small three-ring binder with a notepad and clamp on one side and clear plastic document or photograph sleeves in the binder. This is ideal because you can take notes on the pad of paper while keeping the current tune in the clamp for reference and taking notes (to clarify ornamentation and notation which Noel writes out by hand). The plastic sleeves help organize and protect your tune collection. I didn't have one of these binders with me and it was a mess trying to keep track of my notepad and all the bits of paper which made up the handouts and tunes. At least I thought to bring along a small Iomega Zip drive case for my tape recorder, tapes and batteries.
Noel then plays the tune through up to tempo. He'll usually play for quite a while to really give you a chance to get a feel for the tune. It's truly amazing to hear him play a single tune like this, as it may only have 16 bars and half as many notes, but you'd never notice or tire of it, even after 3 or 4 minutes of hearing the same tune over and over again. Some of it is variety of ornamentation and tempo and other such techniques, but most of it is just complete control of the instrument and a very deep understanding of and respect for the music. I know it sounds kind of corny, but it's true.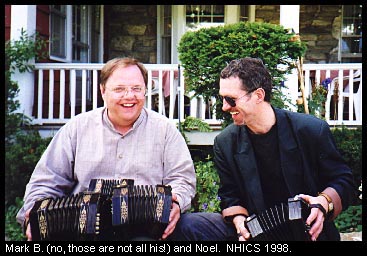 A few times he'd be answering questions or demonstrating something only to start a tune and yell out "tape!". We'd all jump for our "record" buttons and listen in awe again as he ripped through some amazing version of a tune most of us had never heard (at least I'd never heard most of them, and I have all his recordings). So while we only technically got two tunes per day (written versions), he wasn't at all stingy with his knowledge or repertoire and offered a number other slow and up to tempo tunes for us to record, especially on Friday afternoon.
After playing the tune, Noel would then answer questions, demonstrate techniques, play tunes (often while trying some of the very fine instruments brought by the students) and have many pleasant conversations on any number of mostly relevant topics. After about two hours, we'd leave and the beginner's class would come in. We'd then go off and find a secluded corner to practice that morning's tune. Actually, with ten concertina players practicing at once, there really was no such thing as a secluded spot all week long! The honking of concertina reeds could be heard echoing throughout the fields, woods, and all corners and rooms of the manor.
After lunch we would again gather and take turns playing that morning's tune. This was of course terrifying, as a couple of hours isn't much time to really learn a tune properly, and the added stress of performance anxiety made even the better players (and I was not among them!) play much worse than what I heard while they were practicing.
The rest of the afternoon was then similar, with a new tune, recording of demonstrations, questions, conversation, and then the next group. Another hour of practice, dinner, more practice (two hours for me), another session in the fireplace room with Ken on banjo and Mark on button accordion leading the way. Grey L. also joined in with some superb Irish flute-playing (check out www.greylarsen.com!). By the way, don't count on a session like this every year. Apparently, this was the first year these took place.

Noel Hill as teacher and performer
Noel is quiet and thoughtful and a very good teacher. He also has a great sense of humor and was quick to laugh and joke, easing some of the stress for us first-timers. He's not necessarily super-organized (his filing system reminds me of my Mac desktop!) but he always managed to get everyone the material they needed at the right time. He is very approachable, both while teaching and outside of class time. I've heard it said that Noel's a more "technical" teacher compared to others, but I don't think this is really a good characterization. He obviously knows that people don't come to his courses to just learn new tunes, but they want to learn how he plays those tunes the way he does, so his teaching style has clearly evolved to meet the needs and desires of his students. Throughout the week people would stop him and ask for clarifications regarding ornaments, phrasing and fingering, and Noel was always quick to demonstrate and elaborate, moving this way and that so we could see exactly what he was doing. With ten or more people in the class at once, there wasn't a lot of one-on-one time, but again, he was always open to questions and offered sensitive and constructive criticism to each and every person. Just to dispel some of the rumours, he was NEVER dictatorial or harsh in any way and he always seemed to make a genuine effort to keep the proceedings and atmosphere fun and pleasant. Still, the material was quite challenging. If you're up to it, you can get a lot out of this course! If you just want to just relax and make it more of a vacation, nobody's going to stop you either.
While he was very busy recording in the early mornings and evenings, when he was in class he was very focused and dedicated. I never felt rushed, and we never broke for meals or group changes until he was done and our questions were answered. He also took his meals with us of course, offering more opportunities for questions and conversation.
Monday afternoon I realized that the beginning group was given ornament, scale, and fingering charts, so I asked Noel for these and studied and practiced them Monday night. I realized that I had not always used Noel's preferred fingering (although I sometimes did just out of a combination of luck and deduction/logic) and that switching was going to take more than a week, so I learned Monday's tunes using my old system which was mostly home-row like the Levy book starts off with.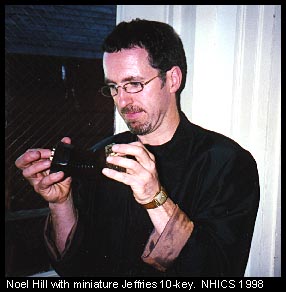 Tuesday, Noel noticed my home-row fingering style and after some discussion, I realized (along with a few others) that his fingering charts weren't just suggestions -- they really were key to playing the music properly. I had evolved a system of playing longs runs in a single bellows direction. I just assumed this was the trick to playing smoothly and pulling off fast ornaments. Wrong! Noel played using fingerings that I had assumed would be impossible to do quickly (wrong again). Why? Well, Noel plays beautifully because he uses and has full control over the entire instrument. The bellows and end frames aren't just mechanisms to get air to the reeds and hold the instrument together, they're integral parts of the instrument, and Noel's techniques make full use of them in order to get the most out of the instrument and the music. The result is spectacular, with tone and expression like you've probably never heard from a concertina player. Even if you're as big a fan of Noel's recordings as I am, you'll still be very surprised how much better he sounds live. He probably also sounds better live because he genuinely appears to enjoy performing. As people trickled into Bucksteep for the Squeeze-in Friday afternoon and came up to the lounge to hear Noel play, I swear he played just a little bit better with every new person who showed up.
So from Tuesday on, I started re-learning scales and tunes according to Noel's recommendations. This resulted in my being almost completely incapable of playing any of the tunes properly, as I had to think about almost every single note to break my old habits. This was very frustrating and I felt completely overwhelmed and incompetent as I struggled (unsuccessfully) though tunes in class.
Finally, on Wednesday afternoon, I bowed out of playing the hornpipe he had assigned that morning, as I had only had a chance to practice the first few bars of this rather difficult piece. By Wednesday night I was thoroughly depressed and was wondering just why I was there at all. Foggy humid and cool weather didn't help, as it made sleeping in my shack rather uncomfortable. Thankfully, just about everyone else who had been to the course before told me that they all felt that way the first time they came, and to just put it out of my mind and not worry about it. So my recommendation to you new players is to beg borrow or, well, acquire enough money to take the beginner NHICS course as soon as possible after purchasing your instrument. Then plan on going again the following year to experience the intermediate/advanced group. Trust me, you'll be a much happier and better player. The books are certainly a cheap and easy route to go, but if you're a fan of Irish concertina and Noel's techniques, you'll save yourself a lot of frustration and advance all the more quickly.
Wednesday, Noel played four of the tunes he had given us (some really neat slides) together as a set. Wow, what a performer! After listening to that four-tune set, I turned to John and said that it was worth coming to the course just to hear that, and I meant it. Despite the frustration of cramming so much into such a short period of time, Noel always made it worthwhile and certainly did his best to help us make the most of our time, and this included playing some great tunes for us and allowing us to simply sit back and enjoy his superb performance skills.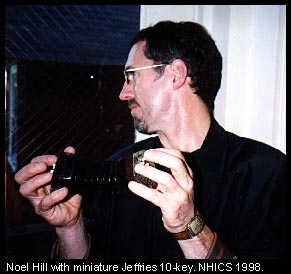 Thursday morning saw the fog and humidity lift, and we had fantastic weather for the last two days of the course. I put in so much practice Wednesday night (even skipped dinner) that I had finally made some progress on the new fingering patterns. Thursday Noel have us a reel that was to be played all on the middle row, using fingering that I had been using for the past two years. Yippee! I blasted through that tune and could play it almost instantly. This restored my confidence (somewhat) and reminded me that I could indeed still play the instrument.
Thursday and Friday were great, with my fingers finally obeying my brain and the old and new tunes falling into place and sounding better all the time. Friday after lunch we met outside for our group and individual photos and Noel graciously posed with any and all. Friday afternoon we all gathered in the upstairs lounge as the folks from The Button Box prepared for the Squeeze-In downstairs. This last session was a more informal gathering with musings on the future of the school (good now that attendance was increasing!) and tune requests which we all taped for posterity and learning. Noel also pulled out his miniature concertina and wowed us all with some fine playing on this high-pitched tiny 10-key Jeffries wonder. People also pulled out all their Noel Hill recordings at this time (and many bought them for the first time from the Button Box store downstairs) and Noel signed them all. Of course I had brought all of mine along in the hopes that he would sign them and was happy that the opportunity arose! Class broke at around 5:00 PM.
I was going to stay over Friday night and leave Saturday, but there were so many accordions and english concertinas (all playing together along with a hammered dulcimer -- yikes!) and so few anglos at the Squeeze-in that I decided to leave that night. It was truly an amazing week, and I definitely feel that I got more than my money's worth. I now have many months worth of material to work through, including the scales, fingering patterns, tunes and ornaments that Noel supplied, and working them into tunes I already know as well as new tunes.
Would I change my evaluation of the Levy and Bramich books after spending a week with Noel Hill? Not really. I would say that Levy's method is not particularly well-suited to Noel's style of playing Irish music, but I still think that Levy's logical approach to the instrument served me well and helped me learn and enjoy the instrument, and I still enjoy playing Levy's collection of non-Irish music. My assessment of the Bramich book still stands in that it's a nice collection of concertina-friendly tunes (especially if you get it with the audio tape) and he does touch on many alternate fingerings, but his lack of specific instructions and suggestions for these fingerings and ornaments makes it somewhat frustrating as a straight "tutor".

The Instruments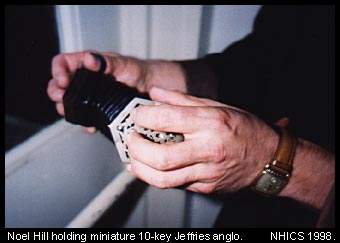 As the keeper of this web site, I'm sure you'd be surprised if I didn't write about the instruments I encountered, so here it is. Most everyone knew about my web site, and they were all very good about handing over their instruments to me for a little while so I could try them out. Thanks everyone!
Of course I thought that Noel would be playing Jeffries anglos, but he had two beautiful ebony-ended Wheatstones. The sound was definitely "mellower" than a Jeffries, but that's not really a good description, as it was still loud and clear and bright. I was astounded by the sound of these instruments, as well as the sound and action of John K.'s Wheatstone. They're lightweight, with quick, precise and light action and a tone to die for. They can play softly or with great volume without sounding harsh or overly bright. With all the talk of Jeffries these days, you'd be making a big mistake if you passed up the opportunity to try and possibly buy a Wheatstone should one come available.
There were a few Jeffries, and of course they were all great. Some sounded a little brighter or harsher than others, but they all featured great construction, superb action and a that distinct and nice honky sound. Some had new bellows by Dipper, and they were just great with excellent leatherwork and feel. I must say that the 30-key models were lighter and had a slightly nicer (to my ears) sound than the 38-key models so prevalent today. I asked Noel about this, and he confirmed that yes, they were lighter and since there is less metal, more wood, and more space for the reeds, the sound can be better. This would explain why so many top Irish anglo players seem to play 30-key anglos. The lighter weight really does make the concertina easier to handle and play quickly and smoothly. Now this doesn't mean that I'd turn down a 38-key Jeffries (!), but I think I would actually prefer a 30-key if given the choice, especially since I play Irish music. 26 or 28-key models can also sound even better and be even lighter, and Noel said these were absolutely fine for Irish music, requiring very few adjustments to playing style or fingering.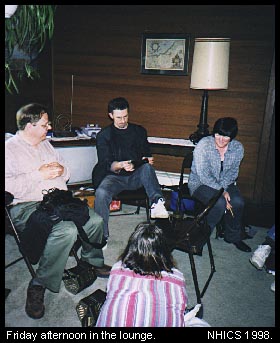 There were quite a few Lachenals (all wooden-ended except for Matt's which I mentioned above), and they were all pretty similar. The week definitely gave me a better appreciation for my Lachenal. It is in far better condition than many others, and I do think I liked the sound better too, with a tone at least reminiscent of those great Wheatstones. The action of my instrument was a little stiffer than many other Lachenals, but I have noticed it improving with time, so it's probably just a matter of age (mine's a rather late model made in 1922 and probably didn't get a lot of use before I bought it in May 1996). No matter what people may say about Lachenals (mostly with regards to action), they're "real" concertinas in every sense of the word, and most importantly, they sound like a concertina should. Their values have also been increasing dramatically of late, and so not only are they still great instruments, they're not bad in terms of investment, as you'll probably not lose a penny on one should you decide to trade it in or sell it. If anything, I'd recommend Lachenals even more now.
Ken F. had the only Herrington. Everyone was eager to try out the Herrington and we all had our chance. Now let me say right away that this is a loud and heavy-duty instrument. If you're the shy type who wants to play quietly in a session and not disturb others, you're in for a big surprise! The instrument certainly is well constructed and nice looking -- far better in this regard than any Stagi. The sound though is a matter of personal taste. Herrington uses accordion-style reeds, so the sound is definitely reminiscent of a Stagi or an accordion (though it does use single-reeds, so it's not too accordion-ish). I also found that it took a decent amount of air to get the reeds to sound, so while it can be played quickly, you do need to have a firm touch. The sound is bright and quite loud (although it can still be played gently). If you want to blast away in your local mega-session and finally drown out all those damn fiddles (and maybe even the bodhran!), this is the instrument for you! The action was amazingly light -- the lightest of all the instruments I tried -- no complaints here, except that it's so light it definitely took some getting used to, especially after playing my stiff-action Lachenal. Harold Herrington is apparently working on reducing the total weight of the instrument, which is good because while it was not overly heavy, most people did remark on the weight when they first picked it up. Would I recommend a Herrington? Yes, but I think the sound really is a matter of personal choice. With Lachenals getting so expensive (if you can find them at all), instruments like Herringtons are looking better all the time. I'd say that if you like the Stagi sound (and I've heard from many people who do), you'll probably like the sound of a Herrington. They're quite nice now, but Harold is constantly working to improve his instruments and they're only going to get better. I hope I'm not sounding too critical of his instruments, but I do want to be honest about my first impressions.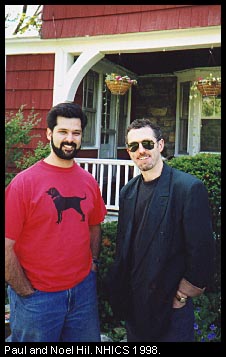 I finally got to try some of these (in)famous Stagis. I think I'm going to go out on a limb here and just say that I was very, very disappointed. They sounded thin, tinny and wimpy, and everything from the bellows to the buttons were falling apart on one instrument only a few years old (and the owner was NOT abusive and did not play it "hard"). In terms of investment, these are going to be nearly worthless if you practice hard. The 20-button model was difficult to handle and with double-reeds, was really more of an accordion than a concertina. I'm VERY glad that the nice people on the squeezebox newsgroup talked me out of spending nearly $700 on a Stagi, even though it meant going over my budget and spending nearly double on a Lachenal. If it means not playing at all, then by all means get a Stagi, but don't expect too much. To be fair, I didn't try one of their newer models, but I'm not holding my breath. While you probably can't find a good $1200 Lachenal anymore, Herrington will make you a square 30-key anglo for around $1250, and this would be a MUCH better choice than a Stagi. And naturally you can use the nearly $300 difference to attend the NHICS which will improve your playing more than any instrument could!
There was one Connor owner at the course. This Connor was unlike others I've seen (in photos) which generally tend to look like Jeffries. Most notably the end plates were super-shiny chrome-plated metal (maybe stainless?). Definitely the concertina to go along with your chrome-plated hot-rod! This instrument clearly straddled the gap between super high-end and instruments such as Lachenals. It was certainly well made, but the action wasn't as consistent or light as the Wheatstones or Jeffries (and at nearly half the price, this should be no surprise I guess), and the sound was nice, but a bit tinny to my ears. It also felt a tad heavy for a 30-key model. I didn't give it a good workout though, so don't take this as any sort of condemnation of Connor concertinas, especially based on my experience with this one particular model. Still, a fine instrument and worth checking out if you have the opportunity to purchase one!
There was also one Suttner owner who had a mighty fine looking Jeffries-model 30-key. The construction and action were superb. In terms of sound, I found it nice and loud with a distinct Jeffries-like tone, but many of the notes on the draw (pulling the bellows) seemed a bit tinny and harsh, with a slight ring to them. I asked Noel about this, and he guessed it would actually get better with age (it was quite new). I'm sure it could also be adjusted and maybe the ringing was due to a problem with some part or something (especially since it only seemed evident on the draw). Would I plunk down my hard-earned cash for a Suttner? Absolutely. I still think they're superb values in this overheated anglo market, and Suttner is also constantly improving his instruments, and I hear they're getting better all the time, although I certainly wouldn't have minded owning the model I tried. Now if only Jürgen could shorten his waiting list!
Well, that's all I can remember. Of course, luck would have it that there was not a SINGLE Dipper concertina at the course or the Squeeze-in. Frustration!! It sure would have been nice to try one out after hearing so much about them!

The Secret Stuff
Now, you're probably wondering about just what Noel's recommended fingering patterns, scales and ornaments are. Well, I'm not going to tell you! If you want a web site, you'll have to pay me, and if want to learn concertina, you'll have to pay Noel. This is his livlihood, so don't bother asking me. Just do like I did and sign up for the course -- at only $300 tuition for a full five days with a true master of the music and instrument, it really is a bargain, not to mention a nice way to spend some vacation time. In the meanwhile, work on learning the layout of your instrument, pay attention to your posture, keep those bellows off your pant legs, and just enjoy the music. Until next year!
---
Related links: