IRAQ & REEL
Confessions of a Concertina player in Baghdad
By Leonard Rheaume

Len Rheaume, who I first met at a session in Phoenix in April of 2001, sent this interesting story from a part of the world few concertina players have seen, even though it is in the news where I live every day. Len is not only a retired law officer but also a pilot, and he has many interesting stories from his flying days. While the situation in which Len found himself is one that arouses many strong emotions, I ask you to set aside those emotions long enough to read through his account. We are posting Len's story here on Concertina.net because it reminds us that life is never as simple as it seems and that music has a great power no matter where you are. We hope you will read it in that spirit. —Ken Coles, on behalf of Concertina.net
So, its 5:30am February 24, 2004, I kiss my wife Diane, one last time, pat the dog and head out the door to the airport shuttle. I'm off to Fredericksburg, Virginia for two weeks of Orientation before my comrades and I depart for Iraq and an adventure that I will never forget. As a retired Arizona State Trooper with over 30 years experience in Police work, it seems that I had just the qualifications that the U.S. State Department was looking for. Our mission was to train the newly reorganized Iraqi National Police Force in methods commonly in use in the United States. I knew there would be no TV, American Radio, and little entertainment other than CDs or books that I might bring from home. So I decided to take a chance and bring along my Concertina to while away the hours. As anyone who has heard me play will attest, I'm no John Williams, or Noel Hill. I have been playing for about five years and my total musical knowledge is self-taught, except for the gems that my Irish music friends have given me. I thought I might even have the time to practice and come back a little better player than when I left. I am also a bodhran player, but to inflict the Iraqi people with that might create an international incident, and they have enough trouble now. So, after the two weeks in Virginia, and another week in Fort Bliss, Texas for more inoculations and processing by the Army, we were off to Kuwait, the main staging area for operations in Iraq.
Saint Patrick's Day found us in a huge Tent City called Camp Wolverine. Living in tents that housed 120 people at a time, leaves little privacy, so as not to disturb the others, (and for protection from same), I took my little squeezebox out to a concrete bunker to play. I began warming up with the usual Hornpipes, and Jigs, moved on to Polkas and the few reels that I can play, and before I knew it a sizeable knot of men and women in Desert Camouflage Uniforms had gathered. Of course, not knowing if they were there to listen or disable the offending instrument and its operator, I stopped playing, but was pleased when they asked me to continue. As I talked and played, I realized that many of these soldiers were Irish-Americans and this music was a part of their heritage. Some were going back home for good, some only for a two week R&R (rest and recovery) while an equal number like myself were just arriving in the war zone. At the end of the evening, I felt pretty good that we had a little bit of the St. Patrick's Day celebration in the desert. One thing that would have made it a little more Irish would have been the Guinness, but of course, Kuwait is a DRY Country.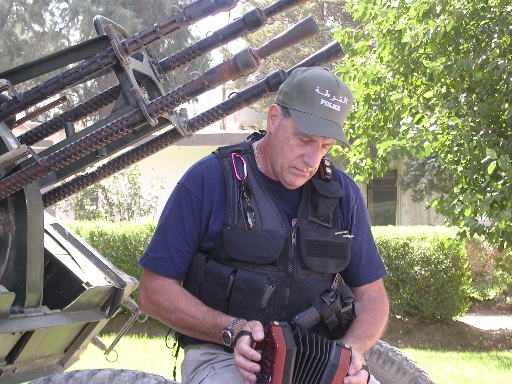 I moved up to Baghdad the next week and settled into life in the big city. I stayed at an old hotel built by the Russians across the Tigris River from the 'Green Zone' where the Coalition Forces Headquarters were. The hotel was very run down, like everything else in a Country that has been neglected for 25 years. The hotel is protected from attack by a number of Iraqi and Kurdish guards hired to man machine gun bunkers at various locations around and on top of the building. So as I practiced either behind the hotel or occasionally on the roof, I couldn't help but notice the guard's curiosity. Little by little, they would come closer, but not wanting to disturb me, they would stay a respectful distance away (that's what I tell myself, anyway). Eventually we talked about the instrument and the type of music that I was playing and I got the feeling that the rhythm of the music was infectious. They actually were clapping to the music. They don't even do that in the States when I play. It was, I think an enjoyable time, musically speaking, for all of us. I do make light of this now, although there were several incidents that have occurred during my time in this country that frightened me, made me angry and made me cry for friends that were lost. I will not forget those things either.
For three weeks, I was given a special assignment. Based at the Palace Headquarters of the Coalition, I was to be part of a five-man team that would evaluate and pick 24 Iraqi Police Officers that would become the core of a National Rapid Response Team. What we in the U.S. would call a SWAT team. While assigned to the Palace, we were to stay in a large 60-person tent (not again). So, the Concertina went to Saddam's Palace. Naturally, I was now playing the 'Palace'. The area was such an international melting pot with all the coalition members, Aussies, Brits, Poles, and many more. One evening while playing outside, I was approached by a gentleman from Nepal. He happened to be one of the famed Ghurkas, who are well known as some of the most fearsome fighting men in history. Well this was the first time he had heard anything like this, although he was a musician himself. He told me that he played guitar and Sitar (think Beatles-1968). We had a great conversation about how the young people in his Country no longer play the traditional music, but have taken the old instruments and now use them to make their own style of music. Sounded like something I had heard from my parents.
The final assignment I was given was to move North to the third largest city in Iraq, Mosul. 60 miles from either Turkey or Syria, this city is very historic. The locals refer to it as 'The City of the 40 Prophets'. They tell me that there are 40 biblical prophets buried in and around the city. These include two of the twelve apostles. Noah is nearby as well. Fascinating place and I only hope that someday we can all visit these holy places. But, for now, it's just not safe, even in armored vehicles. Here, we are teamed up with an Army Reserve Unit from Sheboygan, Wisconsin. They are the 330th Military Police Detachment. Many of these men and women are Police Officers in civilian life from Iowa, Illinois, Wisconsin and Indiana. They are a fine bunch and support our mission every day. Two of them paid the ultimate sacrifice last month when a truck bomb exploded at the Police Academy. Several more received injuries, but most are back to work. Tremendous People they are. I thank them all for their sacrifices.
The 4th of July was cause for celebration here. We had a little party in our housing area with flags flying, plenty of food and of course, yours truly with a few tunes, whether they wanted them or not! My playing of the National Anthem brought a tear to many an eye. Hmmm, I knew I should have practiced more. We had a great time, seems that our celebration of our independence day, coming just a few days after the Iraqis', made it that much more special. We all felt it was a big step toward our going home. The Concertina is beginning to show a little wear and tear. The dust here is so very fine, like brown talcum powder. It seems to invade everything, so I will probably need to send it off for an overhaul when I get home. By the way for those that are wondering, I play a Morse Ceili Anglo C/G ser. #29.
By the time, most of you read this I should be back in the U.S. Maybe not home, as I have some 'sonny do's' in Michigan at my mother's house. But by early to mid October, I expect to see a few of you around the seisun scene in the Phoenix area.
So, here's the bottom line. Am I glad that I came over here? A qualified, Yes. Did we do what we set out to do? No, but the job goes on and there are new people out there carrying out what we started. I do feel that they are better off now than before I went. Would I do it again? Are you crazy? My wife would kill me...
---
A postscript: Len writes that he is back in Arizona (mid-October 2004) after visits to family in Michigan and Ohio. He notes that this article was also published in the "Desert Shamrock," the local Irish newspaper in Arizona. He adds, "I bought a button box accordion in D/D#. What was I thinking?"