Workshop by Bob Tedrow at Chicago, June 2000
By Ken Coles, June 2000
Photos by Ken Coles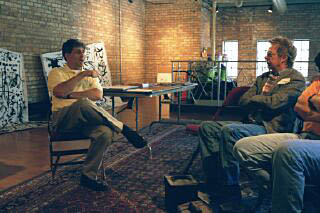 Like all meetings of concertina enthusiasts, the workshop by Bob Tedrow at Chicago's Old Town School of Folk Music was a chance to exchange opinions and experience. These photos are from the maintainance and repair portion of the workshop. Bob told us how he happened into the concertina, and what he has learned, and taught himself, about it.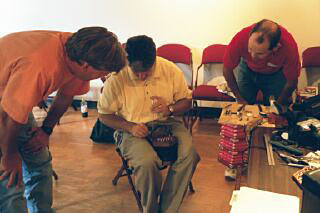 Among the techiniques Bob shared was the safe removal and reattachment of the ends without crossthreading or jamming the end bolts. He covered common problems with reeds.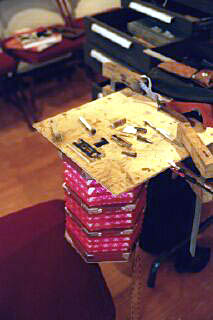 A great feature was Bob's set up for reed tuning. Here you use your knee to pump the old bellows, and you can set any type of reed in the various jigs and watch them vibrate. Bob let us file reeds to raise and lower the pitch, and we checked them with his strobotuner. He also has a place on this board where you can set the entire reed pan with the retuned reed in it and get it sounding much closer to the pitch it will give in the assembled instrument. With tools like these, learning to tune reeds seems quite possible for mere mortals.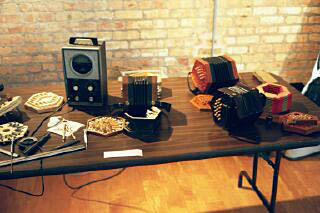 A display, next to the strobotuner, of reed pans, action boards, and bellows parts of varying design. And of course, some instruments to pass around -- the fun part of any such workshop.
Bob hauled half his shop up to Chicago to share with a very small group, and we were grateful and learned a lot. He says the business travel of a close relative takes him around the country now and then, so with some luck he (and his talented eight-year-old assistant) will be coming to a city near you. Don't miss it!