The Hayden duet system concertina - Resource List
Some recent news and links from various sources

Compiled by Ken Coles
September 2001, revised October 2004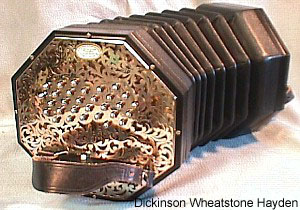 For years, we have all been hearing about the marvelous Hayden system duet, but this seemingly ingenious system is so rare that many of us have never seen one. This finally seems to be changing with both instruments and resources that have recently appeared. While the experts are already up on all this, I thought some readers who haven't kept up would be interested. Here then, are some resources for those curious about the Hayden duet system concertina.
Brian Hayden and his system
A great place to start is the interview with Brian Hayden by Wes Williams, posted right here on Concertina net. The interview includes a diagram of a 67-key Hayden duet layout.
The interview notes that custom, high-end Hayden duet concertinas are made by Dipper, Wheatstone, and Connor. Details on other makes are given below.
More recently, Jack Woehr has done another interview with Mr. Hayden, covering a wide range of topics: Woehr-Hayden interview
Jack also has a complete site and mailing list devoted to Hayden duet that will tell you a lot more than this introduction. He includes a large number of fingering charts. Jax Hayden duet Web site
Robert Gaskins reports
The concertina keyboard system known today as the "Hayden" system, which was independently discovered by Brian Hayden and patented by him in 1986, had also been discovered and patented 90 years earlier by a Swiss inventor named Kaspar Wicki, only twelve years after Maccann's patent. Wicki's 1896 Swiss patent (CH13329) is clear and unambiguous, with a keyboard diagram labeled in standard musical notation. (Goran Rahm gave me the tip on this.) A full discussion, including a scan of the patent, is on the MacCann duet Web site.
The Concertina Library site has lots of materials on all systems of duet concertinas, including all of Hayden's own publications about the system.
The old Bastari Hayden
The Button Box catalog Number 2, issued in 1993, gave the following description of these long since discontinued models:
• Model 1: 46 button model with a range from the C below middle C to D3. Mahogany frames, 6-sided metal ends, metal buttons, 6-fold bellows, leather hand straps. With case ... $1128
• Model 2: Double reeded, 67 button model. Square mahogany ends, plastic buttons, large double bellows, padded leather hand straps. With case ... $1720
A photo tour of one of these concertinas is posted at Homewood Music: http://hmi.homewood.net/hayden/
Grant Levy wrote in to tell us this is his concertina:
I just read your commentary on Hayden concertinas currently available. I own the 4-sided Bastari Hayden [made by Bob Tedrow]. I purchased the instrument via a contact given to me by Doug Creighton at the Button Box, and had it shipped to Bob Tedrow for tuning and a complete "physical".

According to Wes Williams and Brian Hayden only eleven Bastari Hayden Model 2's were ever made.
The new Stagi Hayden duet concertina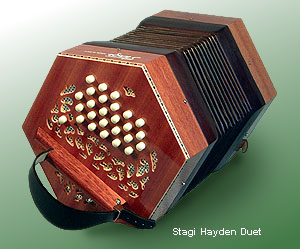 I first heard about this when I walked into the Button Box in July of 2001 and Doug Creighton invited me to try it out. Like everyone else, I found the fingering system amazingly intuitive and fun to use. Chords and scales came very quickly. I would love to use it for song melodies with chordal accompaniment. We opened it up for a peek inside, and the unusual construction allows the large number of accordion reeds to fit by placing them on more than one level. It's a big instrument, evidently the only way to fit so many accordion reeds inside. This is the design challenge faced by makers of Haydens. Using concertina-style reeds allows a smaller instrument but is expensive. Accordion reeds are cheaper but require a larger instrument or not mounting all the reeds flat on one soundboard.
Anyway, I was intrigued enough that I will likely get one when finances allow.
The Button Box offers this instrument (as I write this, I don't know of other retailers who carry it yet).
A more thorough review written on the rec.music.makers.squeezebox newsgroup by David Barnert in August 2001, who already plays the Hayden system, is reproduced here with his kind permission:
A few weeks ago a message appeared here announcing a line of Hayden Duet Concertinas produced by Stagi with accordion reeds. A friend of mine recently bought one and brought it to my house on Saturday, where I had the opportunity to play it and take it apart. This is my report.

Background:

The Hayden Duet system was developed by Brian Hayden in the latter half of the 20th century in England. A handful of instruments using his design have been made by Steve Dickinson and Colin Dipper. These are expensive instruments and are associated with long waiting periods. About 20 years ago Bastari mass-produced a bunch of inexpensive Haydens with accordion reeds but production stopped when Bastari was acquired by Stagi. In recent years (and perhaps as a result of discussions in this forum) there has been increased interest in Hayden Concertinas but there have been none available.

I acquired my first Hayden in 1987 (a Bastari). I quickly became proficient at it, using it mostly to play for Morris Dancing, Contra Dancing and English Country Dancing. In 1994 I was offered a chance to buy a used Wheatstone (Steve Dickinson) Hayden, and this is now my primary instrument. I have another (larger) one on order (since 1990) from Dickinson/Wheatstone but I never expect to see it.

I have had the privilege (at the Squeeze-In in Massachusetts, USA and the Chippenham Folk Festival in England) to play various models of Haydens including Brian Hayden's handmade prototype. I am not a professional musician.

A more recent announcement in this forum concerns a line of Haydens on the verge of being introduced by Brian Hayden himself in conjunction with a Russian reed maker. I have not seen these instruments yet. They are *not* the subject of this report.

The report:

Let us first dispense with a misconception that I had concerning the new Stagi Haydens. It seemed a reasonable assumption to me that Stagi had merely reactivated production of the old Bastari line, with (perhaps) minor cosmetic alterations. As will be made clear below, this is simply not true. The instrument appears to be a completely new design.

External Appearance:

It is larger than the Bastari (which, in turn, is larger than the Wheatstone, although all three have the same 46-button layout). It is about 0.5" (1.2 cm) larger in diameter and more than an inch longer. The distance between the buttons is also greater. The horizontal rows of buttons are slanted at a different pitch than both the Bastari or the Wheatstone (which have identical button templates).

The ends are wood and the buttons are white plastic (both are metal on the Bastari). Like the Bastari, the hand straps are leather, screwed at one end and buckled at the other. The air vent button is on the right end, convenient to the thumb.

Unlike the Bastari (or any other concertina I have seen), the ends are held to the bellows not by screws at the corners of the hexagon parallel to the axis of the instrument but by metal pegs (like on an accordion) radial to the instrument's axis in the center of each side of the end (see photo at above web site). They have rounded tops and are easily removed with the fingernails. When the concertina rests in its natural position on a tabletop, therefore, it is resting on the heads of two of these pegs (one at each end of the bellows), which can't be good for either the tabletop or the pegs.

Inside:

The instrument had a note that was silent on the draw, and that gave us an excuse to take it apart. We pulled out the six pegs and removed the end assembly. Like the Bastari, the accordion reeds were lined up on harmonica-like structures that projected in towards the bellows. But unlike the Bastari, the reed plates were held in place with bees wax and the "leathers" were strips of mylar-like plastic. The instrument is constructed of plywood, which accounts for its light weight. The bellows is similar to the Bastari bellows: thin leather over cardboard.

The reeds are not identified, so finding the one that corresponded to the faulty note required access to the chamber with the buttons, levers, and pads. Two small Phillips-head wood screws in opposite corners got us there. The construction of the action was a bit of a surprise. Each button sits firmly atop a rigid vertical shaft that pokes through a hole below, guaranteeing that the position and movement of the button remain vertically aligned. Each shaft has a hole through it and the ends of the aluminum levers pass through the holes. The levers then pass over a straight row of metal fulcrums with individual metal pins (the Bastari has one long pin through all the levers). The levers then meet the coil springs, which are stretched as the buttons are pushed (the Bastari has springs on the button side of the fulcrum that are compressed as the buttons are pushed). The other ends of the levers are attached to the pads with what appears to be a plastic cement.

After identifying the reed plate that corresponded to the silent note, I realized that (unlike English-construction concertinas) there was no way to inspect the offending reed without removing the plate from the bees wax. Instead, I blindly inserted a wooden toothpick through the reed plate, pressing the reed on the far side away from the plate. I sent a sharp puff of air through in hopes of dislodging whatever dust might have been stuck between the reed and the plate. Then we put it all back together and the note worked fine.

Playing:

The sound is similar to the Bastari. Reasonably in tune (I didn't test it with a meter) and nicely responsive to changes in bellows pressure for shaping notes. The sound is tinnier than you'd expect with real concertina reeds on a flat reed pan and has less dynamic range, but it is not without a certain charm.

The action is a little stiff. The wider spacing and different angle of the buttons took a bit of getting used to, but was not really a problem. My hands fit through the straps just where I expected them to. It was fun to play and I really felt like I could make some music.

I can say nothing, of course, about how it will stand up to years of playing.

In summary, this is an instrument that is fun to play and has an agreeable sound. Its disadvantages are its large size, the inaccessibility of the draw-side reeds, and the unfortunate position of the metal pegs (see above). At the moment, it is the only Hayden available and likely to be less expensive than any Hayden on the horizon. Perhaps soon there will be decent midrange Haydens available from Mr. Hayden or The Button Box (which has been gearing up to make them for some time). But for now, this is the "bird in the hand." I hope others will agree that it satisfies the need for available and affordable (if not top quality) Hayden Duet Concertinas.
Grant Levy also compared the Bastari and Stagi Hayden models:
Resently, I purchased one of the Stagi Haydens as it is much lighter than the Bastari M2, which weighs in at about 10 pounds. I think prefer the closer button spacing of the Bastari to that of the Stagi. The Stagi isn't as generous with the accidentals. Most of the "flats" are missing. Of course, I can use the sharps for flats, but it makes some chords and keys a little bit difficult.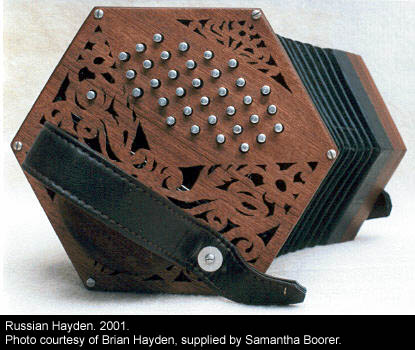 The new Russian-made Hayden duet concertina
As of this writing, this instrument is planned but not in production. Chris Timson has a report on the prototype with pictures on his Concertina FAQ site: Russian Hayden report He also notes (14 Aug 2001):

"As I said on the web page, the sound is definitely accordionish, but good. To my ear it is most like Rich Morse's Ceili anglos, and those who have heard them will know that is a good sound."
Samantha Boorer, who initiated the project (and a frequent participant in the Concertina.net forum), is the contact for more information. I hope that before long this will be another interesting choice for Hayden players.

Morse Hayden
For some time now, Rich Morse at the Button Box has been designing a Hayden duet. Part of this project has been to set up an entire operation for making traditional reeds, so it has been a substantial project.
In August 2003 he reported:
We are expecting our Hayden to have 56 keys though it's possible that there may be a couple more depending on how we can squeeze them in. Our goal is to produce a very high quality, fast and supple box that will play in Bb (identically fingered in addition to the "standard" keys of C,D,E,F,G,A) and be fully chromatic to top out at the E (above "high" D) while keeping the size as small and box as light as practical.

We expect that our Hayden will retail for between $2500 and $3000.

I've been burned on time estimates for so long now I'll just have to say that they'll be ready when they're ready. Based on our prototype-to-production timing of our last two models, I would say that we should be able to produce our Haydens around 6 to 8 months after we get our reed machinist on line.....

Once we know that all our ducks are in line, and only then, will we be begin taking orders. OTOH, we do have a wish list for our Haydens which is currently several dozen people long. This differs from an order or pre-order list in that we do not take a deposit and those people are not under any obligation to buy anything. The Hayden wish list is just a notification device so that they will be the first to be notified when we will be accepting orders.
In February 2004 Rich revised this:
So maybe this is a good time to ask you folks: What would you prefer, the 59-key Bb box or the 70-key F box? The development time is about the same. The differences (besides range) are size, weight, and cost. Cost? We're still not sure, but the 55 [ed: 59?]-key window seems to be $2700 - $3000. The 70-key would be probably $500 - $800 more. Keep in mind that these are still just estimates!
Read the entire thread and several images on the forum.
Marcus Hayden
Rumors we hear suggest this will be 65 keys with an overlap (left/right sides) of 1 1/3 octaves. We haven't heard what type of reeds they will have.
Tedrow Hayden
Bob Tedrow has added the Hayden layout to the extensive list of concertina models he builds to custom order.
See the pictures of Bob Tedrow's Hayden model or contact him for details.
Instructional materials
Doug Creighton showed me a short article by Brian Hayden from an old magazine (I believe it was from EDFSS or CDSS), published some years ago. It was a concise summary of basic fingering on the Hayden system.
The MacCann Duet site has some other materials for several systems of duet concertinas, including an All-Systems Workshop Tutor by Brian Hayden. Perhaps as these instruments become more common we can persuade Brian Hayden or someone of his choosing to give us an even longer introduction in written form.
Thanks...
To everyone who has facilitated this renaissance and shared information: Chris Timson, Samantha Boorer, Doug Crieghton, Dana Johnson, Bob Tedrow, Pete Gibbons, David Barnert, Jack Woehr, Grant Levy, Rich Morse, Robert Gaskins, and of course the inventor himself, Mr. Brian Hayden! Images were provided by The Button Box and Samantha Boorer.