Repairing wood handles whose holes are too worn to hold a wood screw on an Anglo concertina
A photo essay
by Ken Coles, Logansport, Indiana U.S.A.
June 2000

As I have noted elsewhere, wrist problems required me to adjust the handles on my concertina with foam pads. To make room for the pads and my hands, I needed longer straps.
The new, longer strap is on the right. It is a "Wheatstone" from Steve Dickinson via the Button Box. I couldn't resist the idea of having a Wheatstone part on my Lachenal!
When I went to put the new straps on, I saw the nauseating sight of wood dust falling out of the holes in the bottom of the handles. The holes were shot and wouldn't hold the screws anymore. Everyone said, just put in a bigger screw, but that had clearly been done several times already. I wanted to dump the big ugly old screws and go back to something more delicate.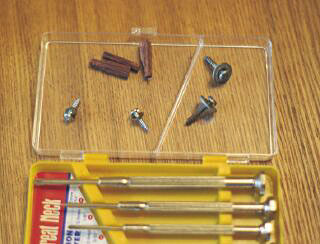 The answer was to plug the old holes and drill new ones. The old wood screws are on the right, and the smallest ones I could find (#2 by 3/8 inch) are on the left. I got some rosewood at a craft specialty store and carved pieces to plug all the holes I had in the handles.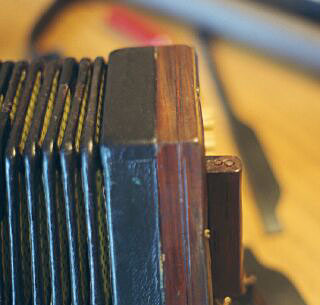 Here are two plugs on one side; you can see them on the handle if you look closely. I glued them in with liquid hide glue. Then I drilled small pilot holes, inserted new screws, and mounted the new straps with them. I had a little more trouble with one of the wood screws -- I didn't put it in very far (to save all the work I did on the rosewood) and it later popped out. Bob Tedrow told me it is a general design problem because wood screws don't hold well in end grain. I hope all new concertinas are made with a better system than this. (Concertina makers, are you listening?) End bolts don't go into wood; they have a metal part they thread into. The screws/bolts for handles ought to work the same way.