Due to thread creep (how unusual around here

), a very interesting and useful (it has made me look hard at, and re-evaluate evidence I already had) discussion about how early French accordions/Flutinas were held arose,
here
in the "Concertinas On Ebay Questions" thread, and Jim Lucas commented :
Meanwhile, all this wonderful history of the flutina is not appearing in the History subForum.

Oh, well! (Hard to find a smiley that shrugs, when they don't have shoulders. )
So I thought I would post my latest evidence here. (Alright Jim ?

)
An interesting, and rare, Daguerreotype (early photograph on glass) of a young woman playing the French accordion vertically has now appeared
on eBay
. As is always the case with these, the picture is a mirror-image, and sadly it is very poorly reproduced in the listing, so I have attempted to improve it as much as possible and have reversed it, so that it now appears the "right" way round.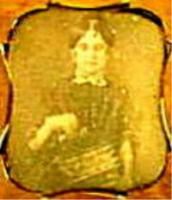 . . . Demian's first model, which played "on the draw". . . the wind key of those could only have been used if the instrument was played horizontally . . .
On the other hand (so to speak) I think I have come to understand just what they are getting at (not easy) in some of the earliest tutors for the Demian accordion, which is a "reverse-vertical" grip with the the left-handed keyboard
underneath
, facing downwards, and the right hand
on top
manipulating the bellows. Curiouser and curiouser ...