Whilst "boldly going" to the outer reaches of the eBay galaxy tonight, I stumbled upon (and clicked the
Buy it Now
on) a rather astonishing Russian concertina (or is it Klingon ?).

Apparently it is from Odessa, and has an interesting, seemingly "duet", fingering system. The naturals are white, except the C's which are red, and the accidentals are black, like an English (or Crane duet) concertina, which must surely have inspired this usage.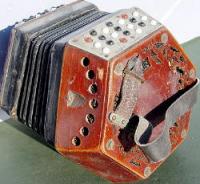 But the buttons are mounted on the sides of the instrument, not the ends, like those of a "hybrid" Bandonion, so some might argue that it is really an accordion ?