Greetings from cold, snowy Canada.
In September, with upcoming knee replacement surgery, I knew I had to do something to keep my mind busy while I was off work recovering. I've felt drawn to learning concertina (I thought it would be an easy instrument to learn - HA!). I successfully procured a nice Stagi concertina online that had been owned by a collector who had numerous concertinas but never really learned how to play; basically, the instrument I got was not only new-to-me, but in immaculate condition (according to the shop I took it to deal with a few sticky buttons). From what the seller told me,  I believe the instrument to be from the 1980's; it's labelled "Made in Italy" and so I assume it may be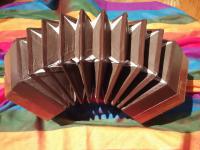 a reasonable quality of instrument, not a Chinese knock-off. She's a pretty little thing, a 38 button English, that sounds beautiful to me.
Prior to buying it, I had been to a local music shop and tried out the only model of concertina they sold, a 20 button Hohner. It sounded so harsh and shrill it almost put me off the instrument altogether, but the desire niggled at me until I bought the used one online.
I've read a lot of negative things about Stagi concertinas, and while I certainly know I don't have a trained ear for what sounds good or what sounds like a "real" concertina, I am delighted with this instrument. I think I've made good progress using the Butler book and am now beginning to source out some other music to expand the variety and keep things interesting. 
Anyway, just wanted to introduce myself instead silently lurking.
Looking forward to getting to know folks here and to learning from you all.
Cheers!
Edited by CanadianNewbie, 21 December 2017 - 10:34 PM.