For many years now I have played with a baffle pressed against the fretwork for lowering the intensity of the left, "bass" side my duet concertina.  This has worked well, but it did change the harmonics and nature of the sound to a noticeable (although acceptable) degree.
I have now inserted a different type of baffle that does not affect the harmonics (at least to my ear) but definitely lowers the volume.
It is a great and effective improvement.  Pictures follow.  What I did was to put a pressure reducing barrier between the bellows and the left side of the concertina plates.  The baffle "breaths" and allows the left side to sound, but with less pressure and therefore with less volume.  And since it is deeper in the concertina, away from the fretwork, the quality of the sound seems to be the same as if there were no baffle, but now just softer.
The pressure reducing barrier (good stock cardboard) is reinforced for wooden ribbing to prevent flexing when under pressure.  Also, there are a few dowels to keep it away from the reeds.
I am going to play it like this for several weeks, if I find that I might like the left side to be a little louder, I may apply one VERY small pin hole to allow more air to pass, and therefore increase the pressure/volume.  I could add small pin holes as necessary.
Such a simple insert, yet is as if I have a new and better instrument.  Definitely sounds more balanced and better !!
Click on pictures below to enlarge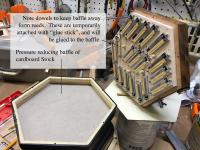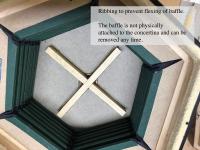 Edited by Noel Ways, 25 September 2017 - 09:54 PM.