I noticed that the pressure to actually press down a key differs a lot from instrument to instrument and - unfortunately - often even within one instrument.
So I made myself a usesful little device to measure that pressure. By bending the springs the pressure can be adjusted...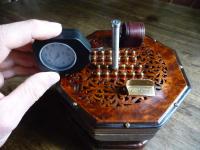 On some of my favourite players the pressure is as low as 40 g, on some others well above 100 g.
If the pressure is to low, the tightness suffers, if it is too high, it is no fun to play.
Any ideas or experiences?? Is there a diffrence between ES and anglo?? If so, why?