Dear C.netters,
I have just received this Anglo with a mixture of features (see photos) that make it very hard to work out the maker.
It definitely looks English, I have eliminated the obvious makers from my enquiries, I don't think that it is a Tidder...........
All input is very welcome!
Cheers,
Neil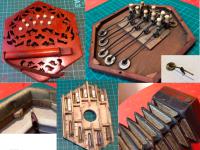 Edited by nkgibbs, 21 March 2017 - 02:04 PM.