I have a nice looking English system Mayfair concertina for sale or px for a G D melodeon , I brought this with an Anglo when I was starting my concertina journey ........ The Anglo won .
As far as I can tell it's nicely in tune and all working . I believe it's from 1955.
Asking £375 .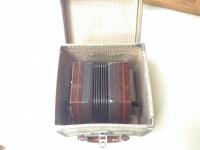 Edited by Sunbeamer, 24 September 2016 - 04:15 PM.