I have recently acquired this instrument, which is missing it's fret baffles and hence also missing the RH end label.  After opening up to check the S/n, I noticed that the inner reed pan paper dials had been so cut as to remove the maker's name and address.  I thought this was a bit strange, as other 're labelled' Lachenals which I have seen, still retain the full reed pan labels.
Has anybody seen this on any other instruments, or offer any explanation as to why this might have been done?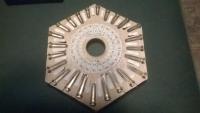 Also of note is the fact that there are valves fitted to all the highest notes, I had understood that this was incorrect, but have also noted it on quite a few similar instruments in the Concertina Museum collection?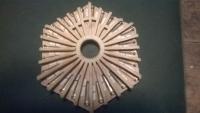 What is the best source of info for Lachenal Serial number production dating, I have tried to date this but have been unable to find anything helpful on line (my internet search skills seem to be lacking!)
I include photos of the action and fret end to aid indentification/dating: