On to reed thickness, and, firstly, the general overview: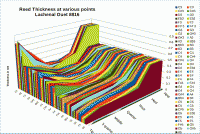 Treble reeds on the bottom right, bass reeds upper left.  Heels at the back, tips at the front.  Note, I've duplicated the heel measurement to illustrate the stock thickness under the clamp.
We can see that most of the reeds are made from thinner stock, around 0.48mm, with the lower bass reeds cut from 0.82mm stock.
All reeds are thinned, compared to the starting stock.  It is perhaps surprising that a thinner stock isn't used as the starting point for treble reeds to save the need for profiling.  Perhaps one of our makers could explain why?
Treble reeds are thinned most of the way, and are thinner at their tips than anywhere else, sharpening their pitch.
Midrange reeds use tip mass to slow them down, lowering the pitch.
Bass reeds make use of their thicker stock primarily by using it for increased tip mass.
There's probably more we could deduce from this graph, but it might be more easily seen on one of our alternative thickness graphs.
Terry
Edited by Terry McGee, 05 June 2014 - 12:13 AM.