First, let me clarify that I don't know of anyone building Hayden Duets, so this isn't "I have a guy, who's in?" Rather, I'm inquiring because I and a couple of folks have some interest in such a creature, but to my knowledge no such instrument exists as a commercial product.
I know there was once Paul Everett's "Gadget" Hayden controller, and old posts from 2003 indicate one Jordan Petkov used to sell some kind of MIDI kit that could be used to make it, but much of the info about these has disappeared into electronic decay...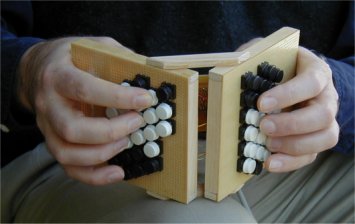 Wim Wakker used to make MIDI Anglo concertinas, looking nearly fully traditional out the outside, but no longer.
Paul Hardy
at points has converted salvaged Lachenal bodies to MIDI, but I don't know of him doing so with anything Hayden (though perhaps could a junked Mccann be sort of Haydenized, despite the unstaggered rows?). Dean Onyon makes what's supposed to be a very quality MIDI 65b English, with a pressure-sensor in the middle vice bellows. Rather less trad, but probably a simpler solution; I wrote him asking about Haydens but at last check he's sticking with English.
I'm interested in seeing if there are other Haydenites (or potential such) who have an interest in a MIDI instrument, and/or ideas about what makers might be convinced to create such. And lacking a current maker, perhaps if interest seems high enough, some maker might give it a shot. The only >55b Haydens are Wakker's lovely but pricey ones at nearly US$9k, and we lack any vintage stock of 61b and 81b acoustic instruments, so a 65b MIDI would be an affordable way to get a nice full keyboard. On this forum a few players have mentioned finding MIDI concertinas really useful for playing in louder modern bands, vice trying to mic up an acoustic. I would broadly estimate that Hayden devotees are more open to modern/experimental stylings, so maybe even more likely to use an instrument that can be played against modern electric ones, and which can allow easy modification of tunings, temperaments, sound types, etc. I'd think it one of the more attractive concertina formats for "gadgety" types.
If anyone thinks they may be tentatively interested in such an item now or in the next few years, or has any insights about how such a product could be gained, your ideas would be appreciated!