http://moonsagotunes...ot-bass-ec.html
Picture and description 1
http://moonsagotunes...ss-on-step.html
Picture and description 2
As for the weight... well, I'm not sure, but maybe it's given online somewhere...  don't have time to check right now.  I can tell you that it's not really that heavy, it's lighter than my (smallish) piano accordion.  Just a bit awkward, of course -- I mean, it's a big rectangular box, one that you don't want to bash around!  
(I started this new topic so as not to hog up any more of the TOTM thread.)
Hmm, I'll see if I can attach the same pics... though, my comments are in my blog entries, or at Flickr (the links).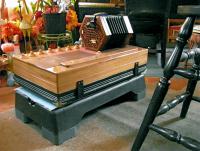 The aerobic step that it's on top of is my own addition -- the idea is to use the metal loops on the bottom of the instrument, but I prefer the step.