There are a few ways to go about it, but William Meredith wrote up some clever charts that rather "geometrically" show how the chords are formed on an English. Your box doesn't have all these mentioned notes, but if you were to print out a copy of this and just cross off the non-applicable notes (or erase them digitally on a jpeg), the rest of the chart should apply.
Here's the page posting and explaining the charts: http://www.concertin...ish_chords.html
Here's an example of a chart: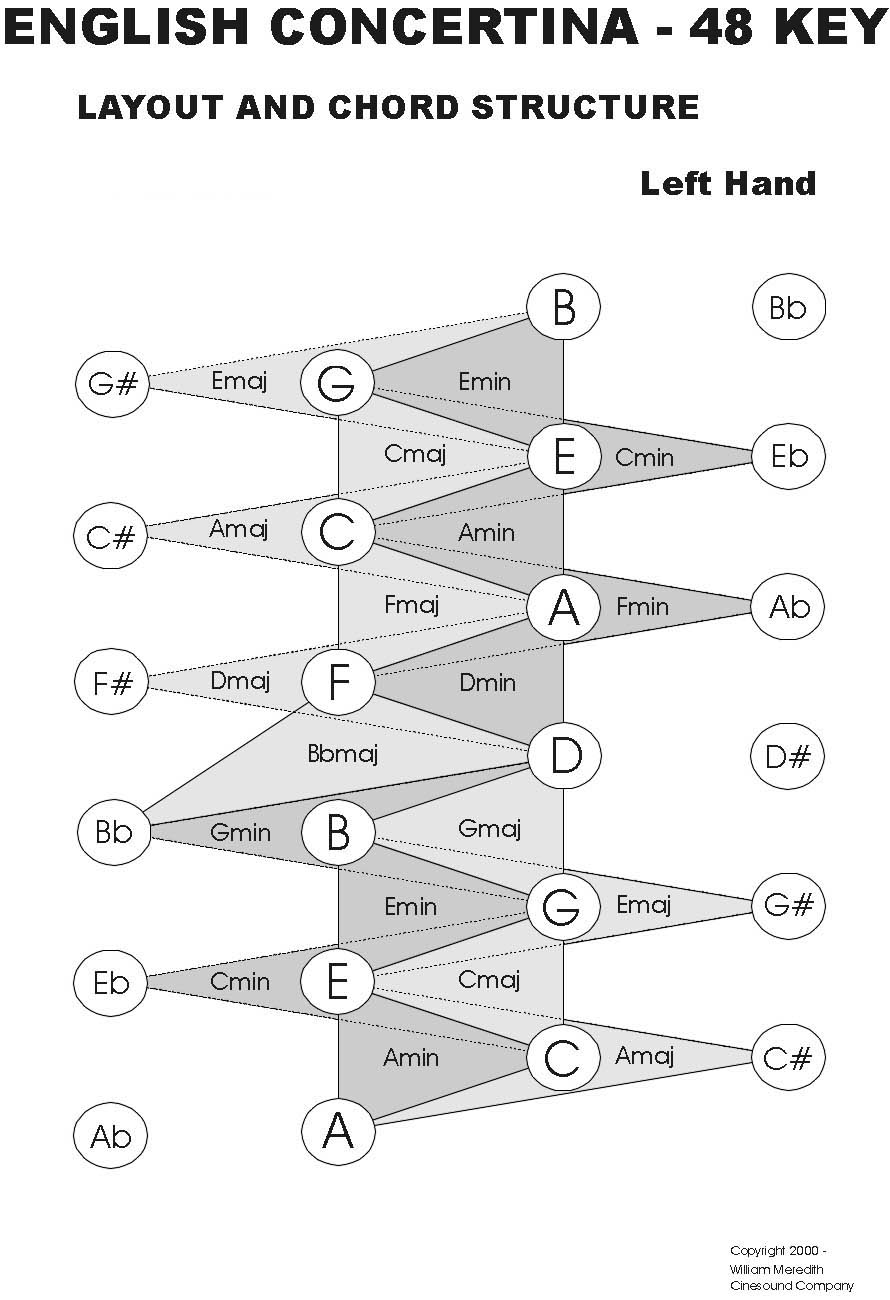 Though a musician myself, I had to puzzle this out for a moment to understand it. The circles are, of course, the buttons, labeled by note. The terms within the triangles are the names of the chords formed by playing said triangle. That is, in the top middle, if you push E-G-B you have an "E minor" chord; if you press C-E-G you have a "C major" chord. Your mini doesn't have all the sharps and flats, but as an example of one you can do, A-C#-E gives an "A major" chord. The only notes on this chart that your mini doesn't have are G#/Ab and D#/Eb (G# is just another name for Ab, etc).
I don't know if you already have a background in chords and whatnot, but suffice to say for most any popular folksong you can just google it's name and the word "chords" and be given the lyrics showing which chords are played at what point. So as a minor example:

[D]This land is [G]your land, this land is [D]my land,
From Calif[A7]ornia to the New York [D]Island,
From the Redwood F[G]orests to the Gulf Stream wa[D]ters;
[A7]This land was made for you and [D]me.



This would mean that you'd form a "D major" chord, start playing it while singing "this land is...", and then switch to a G major on the word "your". For the A7, you can just play an A and it works fine. If you see a chord written "Em", that means "E minor". This may be things you already know, but just re-stating just in case, or for other future novices reading the thread.
Edited by MatthewVanitas, 18 February 2014 - 02:01 PM.