I am selling a mini Stagi, pretty much new, bellows not even broken in. I have played it less than a dozen times. I am an Anglo player and it is lunacy to waste my time trying to figure out this system! Mine is Mahogany and comes with a GREAT hard case that fits it perfectly, and has a key. These tiny concertinas have a pretty big sound. concertina is in excellent like new condition, as I said, bellows not even broken in. it comes with hard the case. I am asking $350 and buyer pays shipping. I have attached a photos of the concertina I am selling and can send more if anyone wants to see more photos.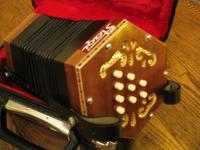 Leonor
below is description from House of Musical Traditions:
18-button English mini concertina
1.5 pounds, hexagonal, white plastic buttons, quality leather bellows have 10 folds in 2 sections of 5 each. Leather thumbstraps, and the same pinky straps on the other side. (instead of the metal pinky rest found on larger models) Two styles: mahogany with dark brown bellows or black finish with black bellows.
Featherweight and real cute, it's a great street performer's instrument. People are always amazed at the music you can make on this little squeezebox, because they think it's a toy instead of a real instrument.
It's almost like a "button pennywhistle" with 2 sharps and 1 flat, not quite fully chromatic like its big brothers; it is missing only G# and Eb. Plays in C, G, D, F, and the relative minors and Irish modal scales over a range of almost 2 octaves, from C to B. Very nice tone, quite loud despite its size.
Case not included.
This is a very popular item; we don't always have both colors in stock. Please indicate whether you are able to wait for your preferred selection, or whether we should just send whatever we have in stock now.
$569.00 Choose color:"