I've been asked to make a score of the lovely Waltz #2 by Dimitri Shostakovich, https://www.youtube....h?v=mmCnQDUSO4I
arrangement for 48 button English Concertina. This is what I've come up with so far.

Because I don't actually play the English system, I was hoping someone here might give me a hand. Although it looks moderately difficult, and that's OK, I was hoping that some c.net EC expert might alert me to sections that may be nigh on impossible to play.

Let me know and I'll simplify accordingly. Thanks for your help.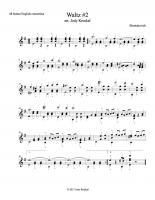 Edited by Jody Kruskal, 06 December 2017 - 10:19 PM.