Discussing the possibilities of Hayden-MIDI-concertinas, someone suggested accordion-basses/ chords for the left side.
That wouldn't be a problem at all with MIDI.
A while ago I suggested this layout for a Hayden: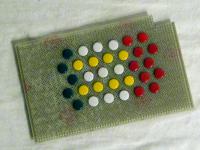 It would be ideally suited for accordion-bass-chords....
Now the question:
Has anybody seen real concertinas ( preferably English made ;-) with basses and chords.