I decided to sell one of my finest instruments: a 1924 Amboyna ended 48-key Aeola.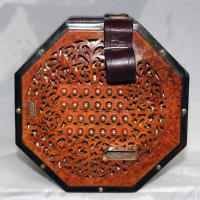 It is in very good original condition and plays loud and fast.
I'm selling it, because I want to buy another rare Aeola - and because I have another one just like it, but quieter with alloy frames.
I used to prefer the loud ones, these days I enjoy the quieter ones. It is very interesting, how different those two almost identical instruments sound!
I put it on ebay Germany:
http://www.ebay.de/i...qUAAOSwYbhZyTK6