Hi C-net,
I'm crossposting this notice I just put up on eBay for my Tedrow 40-button G/D Anglo hybrid, with Wheatstone layout. Please let me know if anyone has any questions about it---I can respond here or over at eBay. Thank you!
Steven
http://www.ebay.com/...-/231357838884?
Here's a little video of me playing it. (Also posted on the eBay listing.)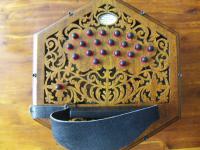 Edited by steven r. arntson, 11 October 2014 - 04:26 PM.