I have very wide hands and very short fingers and as such found it very uncomfortable to hold, let alone play, my Jackie EC.  The very tip of my pinky just barely caught the back corner of the rest.  Here's what it originally looked like: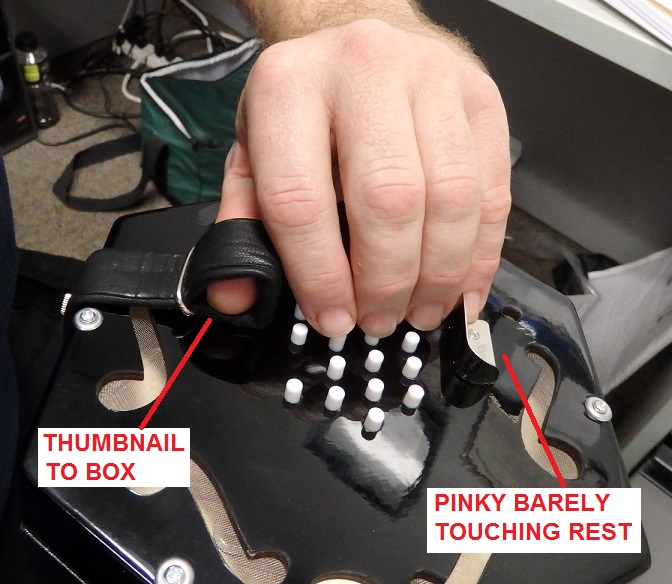 I found myself having to use my ring fingers on the pinky rests to help move the bellows in and out, put a lot of excessive wear and tear on my thumbs, and in general had a miserable time.  So I started thinking about modifying the box somehow, but was unsure how to proceed and didn't want to open the box up just to look inside.
However, after a couple days, my Jackie developed a rattle, which turned out to be one of the tiny nuts holding on one of the thumb straps, so I had to open the box up anyway to put it back. Once I had it open, I could see how the pinky rests were attacked so decided to move them while I was at it.
The pinky rests are normally held on by 2 screws.  What I did was move them back so that now they're held on only by 1 screw, the former rear screw is now in the front hole of the rest.  I also cocked the rests at an angle so they're parallel with a row of sound holes in the corner instead of leaving them parallel to the button rows.  I put the unused screw back in its hole so it wouldn't get lost and also so as not to have an extra hole in the box.  And I made sure all the strap and rest screws at both ends were well tightened so as not to have to open the box again.
Here's what it looks like now: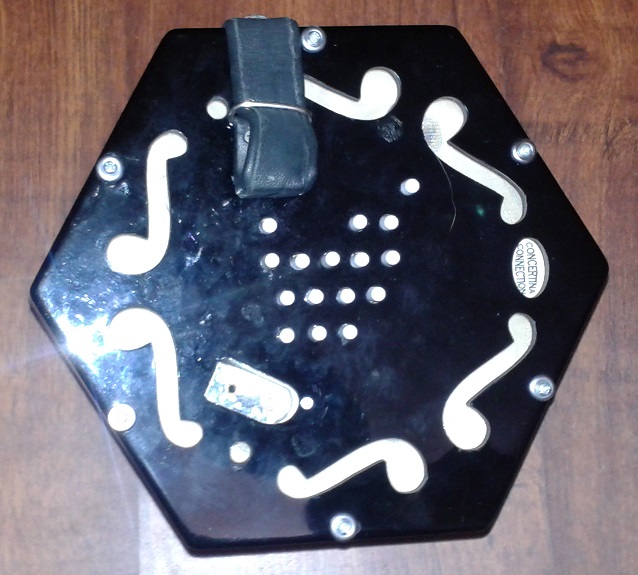 I'm VERY glad I made this change.  It's seriously the difference between night and day.  Now it's very easy and comfortable to play the box.  So if you've got hands like mine, you might find this modification helpful.
NOTE, however, that making the change requires taking the end cap off the reed/action pan.  While that's easy enough, getting the cap back on over the buttons is much easier said than done.  The buttons all have to be vertical to fit simultaneously through their holes in the end caps, and some of them have very small amounts of wiggle room before coming loose from their rocker arms.  Thus, you'll probably spend a lot of time trying to get all the buttons back on their arms and pointed the right way.  Fiddling with one will often make another come loose, and if they're not perfectly vertical, attempting to put the cap back on will also knock them loose.
Edited by Bullethead, 20 October 2015 - 03:21 PM.