Concertina Bands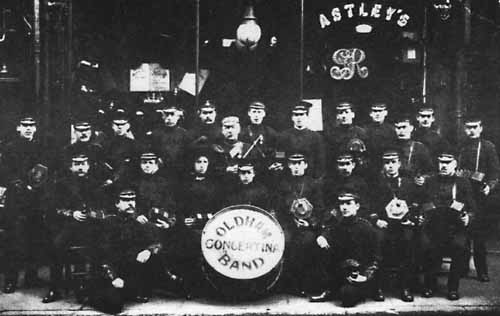 Photo used with permission, courtesy of Chris Algar, Barleycord Concertinas
I first saw a photo of a concertina band on Chris Algar's Barleycorn Concertinas web site. In high school I really enjoyed playing in a marching band (flute and piccolo, not concertina!) and so the idea of a concertina band appealed to me immensely. Just imagine the racket! I had assumed that none existed anymore, so imagine my surprise when I received email from someone in the UK who was involved with a modern-day concertina band! I posted the information in a newsletter, and then I got another email from someone in another band! If you have information such as photos or tapes/sound clips of concertina bands, do forward them to me and I'll post the info here.
---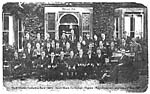 South Shields Concertina Band. 1920's photo, from Tony Kell (kells@dial.pipex.com).

---
From Barry Kirby (Barry@bdcb.freeserve.co.uk):
"I would inform you of my band - the Bootle & District Concertina Band, from Liverpool, England. We have about thirty members and are a street (marching) band.

We have been in existence for 40 years and own 27 anglos: 21 Wheatstone, 4 Crabb,1 Jones, and 1 Jeffries concertinas.

Steve Dickinson (WHEATSTONE) does all our repairs and makes our concertinas - although we have now been waiting over 4 years for our last order of three which he is making for us! They are good instruments though.

We play at carnivals and fayres, charity events and have even played at a wedding and two funerals! (We prefer playing in pubs though ...!)

Because we take the instruments 'on the street' - rather than play in private 'enthusiast' events - we provoke a lot of interest. We like to think we are taking the concertina to the public and keeping it alive.

We certainly love playing and, although it gets harder to find interested kids to teach, we hope to keep going for many more years.

[...] About 15 of us play anglos (including kids). Some play drums and we have three girls on bell lyres which we think complement our music well."
---
From Dave Elliott (d.elliott@virgin.net)
"Concertina bands are gaining in momentum in the UK, I play in two bands, the Hope Valley Group, and the Yorkshire Concertina Club band. This week end there will be a YCC band workshop and all day meeting with about 30 players, Instruments will range from piccolo through treble, treble extendeds tenor, baritone, cello bass and full bass, Anglo, duets and English. Parts will be between four and six. Often they were named after brass band parts so a baritone player may well be nominated as euphonium, or a treble players as cornet.

The style of play is detached, to get maximum verticality through the parts, develop discipline and listening skills. Notes are often popped rather than drawn out. Because different machines have reeds that speak faster or slower, the effect overall is crisp and smooth and note clashes are avoided.

This week end will be held in Mexborough, home of the mexbrough Concertina Championship Marching Band, famous through out the UK in the late 1800's to the 1st world war. It never really recovered from its losses of players once the young men had returned. but it did continue after that war and I have talked at length to the last surviving member, Archie Watson. Drafted as an infantry bugler, and cornet player in the army, came out and played English treble as a cornet in the Mexborough band because he knew the march parts.

His style is to often play a 3rd or 5th under the pulse notes to give the solidarity of power to the march beat.

All good stuff!"
---